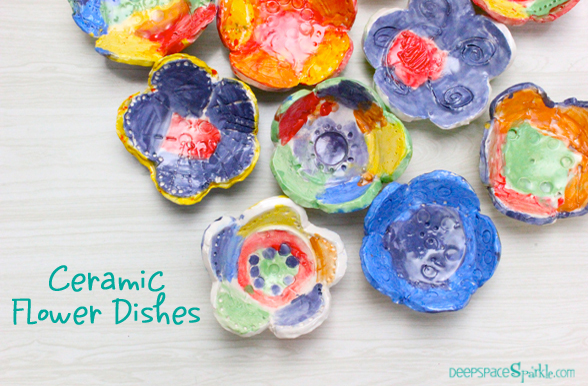 While two of my Kinder classes (ages 5-6) created Ceramic Fish Dishes, my other Kinders created beautiful flower dishes. The children used the same steps to create their flower dishes using the same clay and underglazes. There have been lots of suggestions from readers to try different glazes for ceramic projects and I have to admit, I'm very curious to try two: Mayco Stroke and Coat and Creatable Colors by Laguna. Apparently, you only need apply one coat of color to achieve a shiny glaze. This means only one firing if you apply the underglaze directly to the greenware.
About applying underglaze to wet clay
I have heard this is the preferred method for applying underglaze to any ceramic piece. It is a method I have used many times with my sixth grade students with their Ceramic Murals. The idea is to build your clay piece, then apply the underglaze either while the piece is still wet or when it dries. I have never applied the underglaze in the fragile greenware stage, because it's hard to expect children to be careful enough with the peice that they don't break it. But I have painted on wet clay before and it works really well.
I don't do this method with my lower grades (K-5) as I feel it is so much easier to paint on a fired, hard clay body. No fingerprints, smears, etc.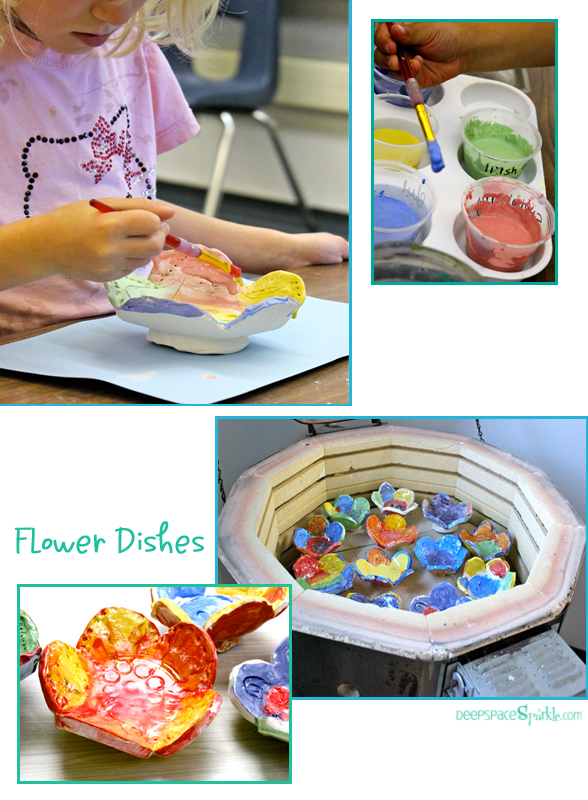 Back to the flower dishes
I used a multi-slab cutter to cut my slab into 25 tiles. I roll the tiles out slightly to remove any air bubbles and then the kids are ready to go. The process is the same as the ceramic fish, so I won't bother to repeat the steps. One thing I didn't have the children do, was to fold down or manipulate the clay leaves so the leaves/petals look more natural. One child sat quietly at one table and created this look all by herself and when she came up to have me write her name on the back, I marveled at her natural looking petals. It was a great idea and next time, I will add that small detail into my demonstration.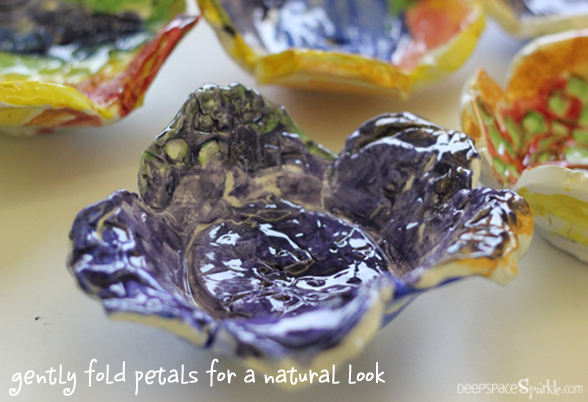 Enjoy!
This post contains affiliate links.
---
Want a free download to another Deep Space Sparkle ceramic lesson? Click the yellow download button below and we'll send you a PDF lesson plan on how to make a ceramic snowman!