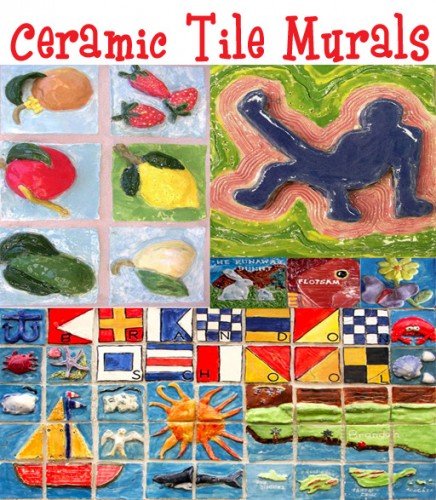 Ceramic murals or clay projects are truly one of the most cherished of all creative keepsakes in elementary school. And for good reason. Those treasured plaques, handprints and pumpkins are simply adorable. And they're fun to do. I've never had a child balk at the sight of clay. Instead, most children can't wait to mold, sculpt and shape their visions into permanent pieces. Now take  those clay projects a step farther by creating a beautiful ceramic tile mural.
You can do it.
Many of my readers have asked me to explain all the steps involved in making a clay project, but to do so properly, would make a very long post. I've also received many, many queries regarding the murals, and now I can finally share what I've learned from my fantastic ceramic mentor, Catherine Vallance. It has taken years to accumulate the photos of the students work, showing visually what to expect every step of the way. This is an information dense packet that will guide you through all the steps. I know you will love it.
Just look at the murals my classes have made throughout the years.
California Fruit Inspired Mural
The students at Brandon School chose the theme "California produce" for their annual ceramic tile mural project.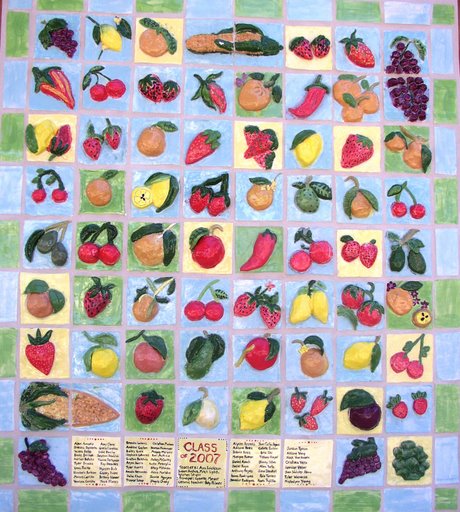 The students began the project by first drawing their chosen California produce onto a 5″ x 5″ piece of paper, then turned the one-dimensional drawing into a 3-dimensional tile by pulling, attaching, molding and texturing. Most kids really got into this tactile art project and created beautiful, realistic avocados, husks of corn, bunches of grapes, cherries, artichokes, Meyer lemons and naval oranges!
The tiles were laid out to dry for about two weeks then fired in our on-sight kiln. After the first firing, the students painted their tiles with underglaze and dipped them in a purple glaze. The results were fantastic and the students were pleased.
The mural is mounted just outside the Principal's office on the inside wall of the bowl.
Ancient Greece Ceramic Tile Mural
Capping off the 6th grade promotion festivities was the reveal of the annual 6th grade mural. This year we chose to do Ancient Greece, with many student's incorporating mythological creatures into their tile creations.
We used terra cotta clay to create our tiles. To save time and to take advantage of the sgraffito technique, we painted our underglaze directly onto the greenware. This is sometimes difficult as kids have a tendency to leave many fingerprints. But that's easily remedied with later touch-ups.
2012 Greece Tile Mural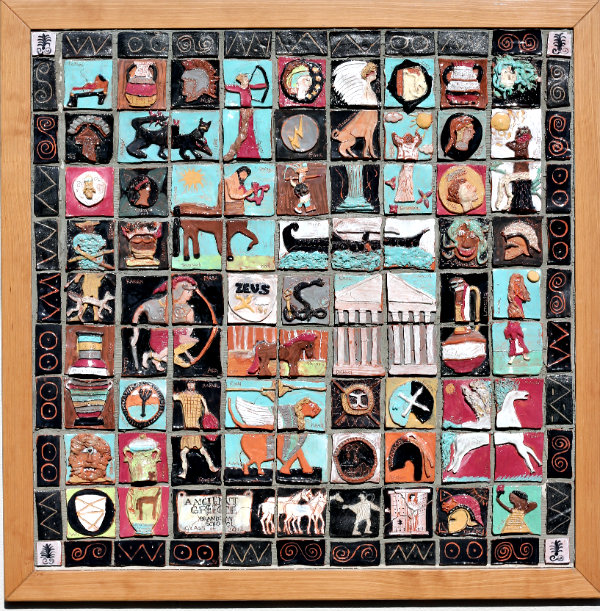 Car-themed Collaborative Ceramic Tile Mural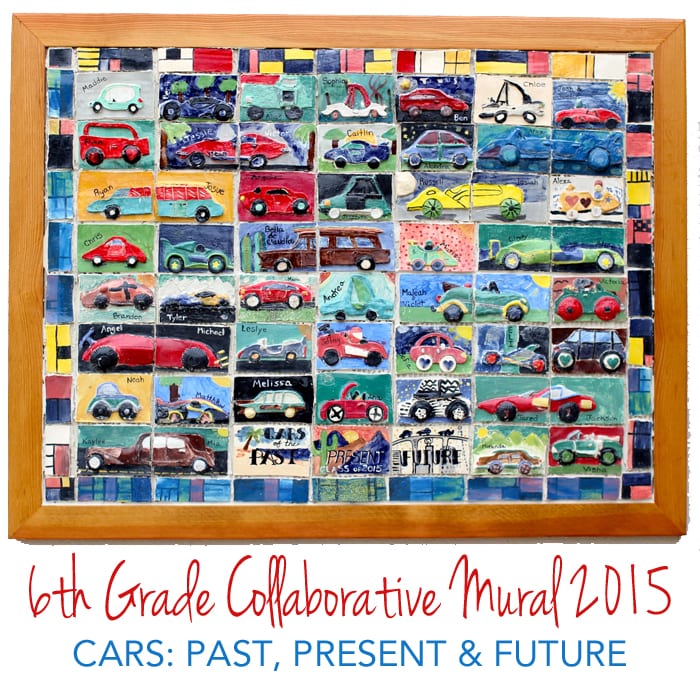 The 6th grade car mural completed in Spring 2015, marked the 10th year I facilitated a collaborative ceramic tile mural project. Within that span, 12 murals were created to help graduating 6th graders leave their mark. It's been the most wonderful experience; bringing parents, teachers, district personnel and students together.
America the Beautiful Ceramic Tile Mural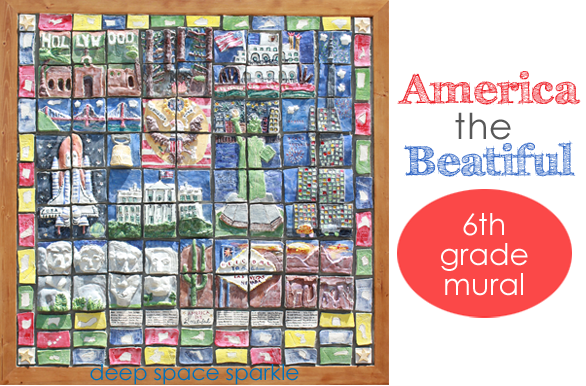 This project had it's challenges: our kiln wasn't reaching high enough temperatures to fire the glaze properly and as a result, most of the tiles are a bit cloudy. But I imagined that a lovely "fog" settled over our beautiful tiles creating a soft lustre.
It always takes a little bit more time than what you expect to pull off a mural like this, but plan on some set-backs and start the process early.
California Marine Life Ceramic Tile Mural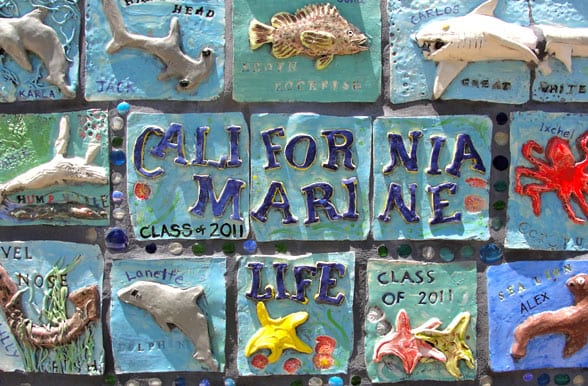 Our school's interior "bowl" now boasts five murals. This mural is extra special as it's my daughter's 6th grade class and my last year as a parent of an elementary school child. Our theme that year was California Marine Life.
---
ARE YOU A SPARKLER? Over 300 art lessons are available inside the Members Club. Access to videos, resources & trainings for one low monthly fee.
CLICK THE IMAGE TO SIGN UP FOR NOTIFICATION OF OUR NEXT ENROLLMENT