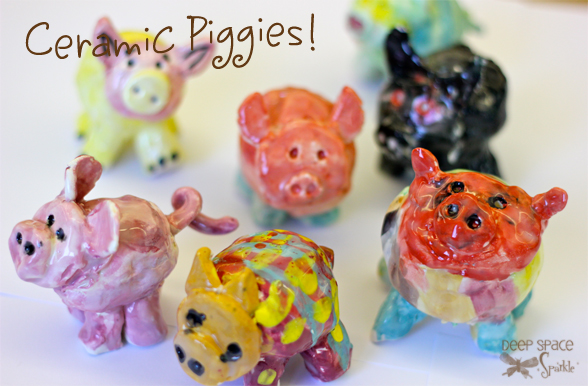 It's never to early to teach little children how to make a basic pinch pot because when they master one, they can make just about anything in ceramics. This little pig is two pinch pots scored together, with added legs, head, snout and in this case, a curly tail.
How to make a pinch pot
Start with a ball of clay about the size of a golf ball. Push thumb into the ball to make a hole. With a pinching motion, begin shaping the hole to create sides. Be careful to show the children that pinching just the top of the pot results in very thin sides. They must pinch near the base as well.
How to make a hollow ball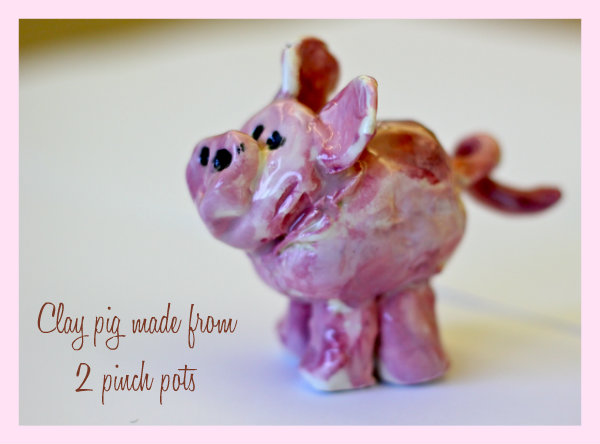 Make two pinch pots and then tap their openings onto the table. This helps flatten the tops so when you "scratch-attach" the two tops together, they stick well. Use a bit of water to moisten the clay and then use a plastic knife or clay tool to smooth the edges together. The resulting shape should be a hollow ball.
How to make a pig
Now that you have a hollow form, it's important to provide an air hole. Stick a needle tool or some other small object into the form so that air can escape while in the kiln. Take a small wad of clay and form into a small ball. Flatten this ball into a small cookie. This is the head. Add another similar shape, but smaller, for the nose. Remember when you attach tow pieces of clay, you must provide a good seal.To make the ears, create one more small ball, flatten it and cut in half. The two ears can be shaped first and then stuck to the head. Legs are 4 small rectangles rounded to form cylinders. Scratch-attach to body. The tail is slightly more difficult. Making the tail isn't so hard but in order to attach it, you must create a hole in which it can be stuck into. A little "slip" (dried up clay mixed with a bit of white vinegar and water to form a soupy mess) creates the much needed glue.
Under-glazing and Glazing
These little guys need to dry completely for 7-1o days. Fire to cone 05 and then paint with underglaze. I dip the pieces into Duncan Dipping glaze and then fire again to cone 04.
Making ceramic pieces requires more work than just about anything else, but who can resist these cute little guys? Worth it for sure!
---
Download this free lesson guide on our Chicken Little template for more farm animal art inspiration!