With great skill and enthusiasm, my Kinder classes created ceramic snowmen as gifts for their parents this holiday season. For art teachers, this is a fairly easy lesson to do.
I chose to do it with my kindergartners but it would be even better for first or even second grade. Some little ones with no play dough experience, had a tough time rolling out the balls. Most did okay, but that's one thing you have to watch for.
WATCH VIDEO TUTORIAL

CREATING THE SNOWMAN
This is an easy lesson for most Kinders with the only difficult part being the creation of the hat.
I had the children roll out 4 balls: 1 large (golfball size or smaller), 1 medium and two small balls. One of the small balls can be pinched to form a top hat (or a sunhat or knitted hat, whatever it ends up to be). Once all the balls have been formed, children place the balls on top of one another and press down slightly. This is important as you want the base of the snowman not to roll around.
I teach the kids the "scratch attach" method of scoring the balls together, but of course, this is something the art teacher needs to check on afterwards.
After poking a pencil up through the entire snowman (helps keep the snowman from falling apart, helps the clay dry faster plus prevents the snowman from blowing up in the kiln), I then poke holes into the sides for the arms which will be put on later with twigs from my backyard and hot-glued in place.
To create the nose, the kids rolled out a tiny piece of clay, poked a hole into the face of the snowman with a wooden dowel and slipped the nose into the hole. I had the kids dip the end in water before putting it in the hole.
Two firings needed: one after the clay has dried and the second one after the kids used underglaze. I use a Duncan dipping glaze after the underglaze is applied.
If you chose to just fire once, then you can use watercolor paints and even tempera paints finished with a good coating of glossy mid-lodge. I'm beginning to like this as an alternative as firing twice can be time consuming.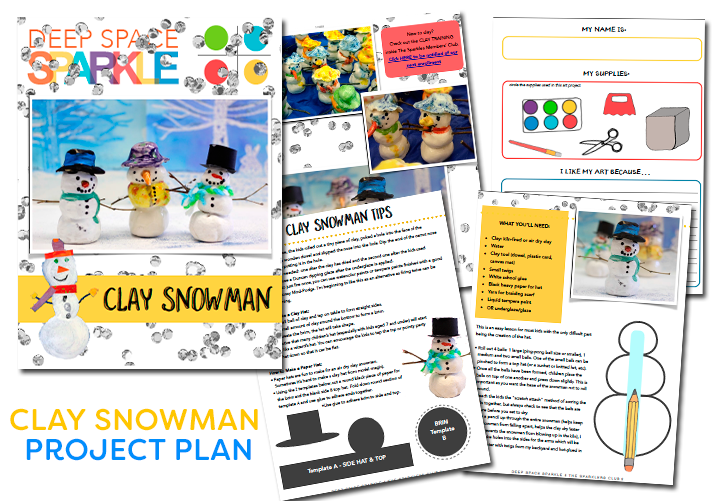 Download the CLAY SNOWMAN PROJECT PLAN:
Happy winter days!