Chalk is an underused art medium. Too dusty. Too messy. High maintenance. And spraying? Forget it. But with these chalk flowers…
I say ignore the bad rap and go for it. Chalk pastels, also known as soft pastels, are an incredible product for kid's art-making. Similar to old school finger-painting, chalk is truly like painting with your fingers. Kids love it. And when I say that, it's true. In all my years of teaching, I've had maybe two kids who didn't like the feel of chalk. They totally get into it and come up with the most beautiful expressions of art.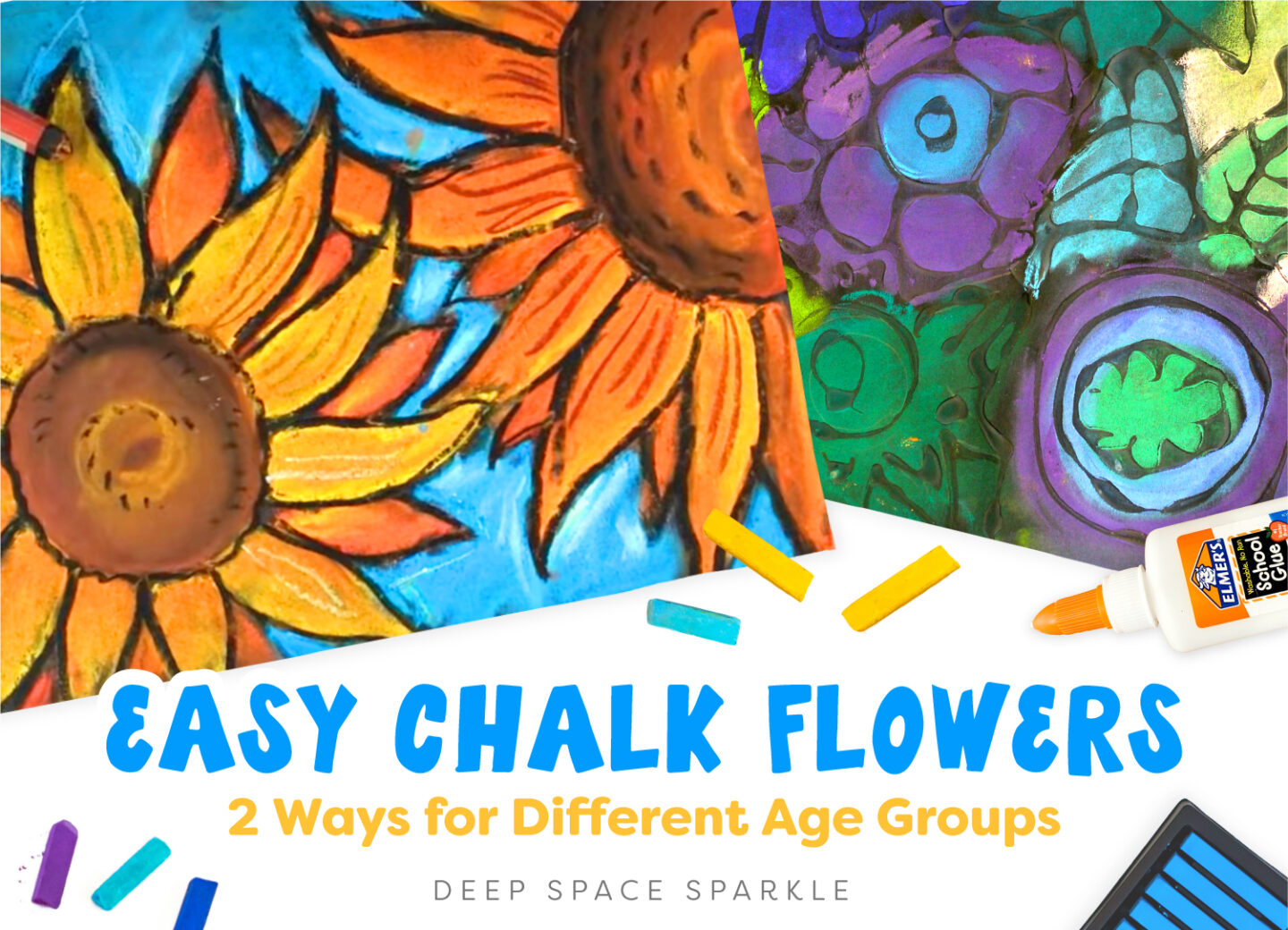 If you are wondering if you should spray chalk art, you can read this post.
Here is one of my most popular lessons, Chalk Flowers (with the kids!) that uses two techniques:
Pencil, white school glue & black paper for older kids ages 9-12
Black oil pastels on black paper for younger kids 5-8
Sometimes using the right art technique can make or break a project depending on the kids age group. Older kids can manage the handling of the glue better than younger kids. In fact, younger kids can barely brush glue onto paper, let alone draw with it. So unless you want to help your students a great deal, use oil pastels with the younger set.
So much easier and age-appropriate.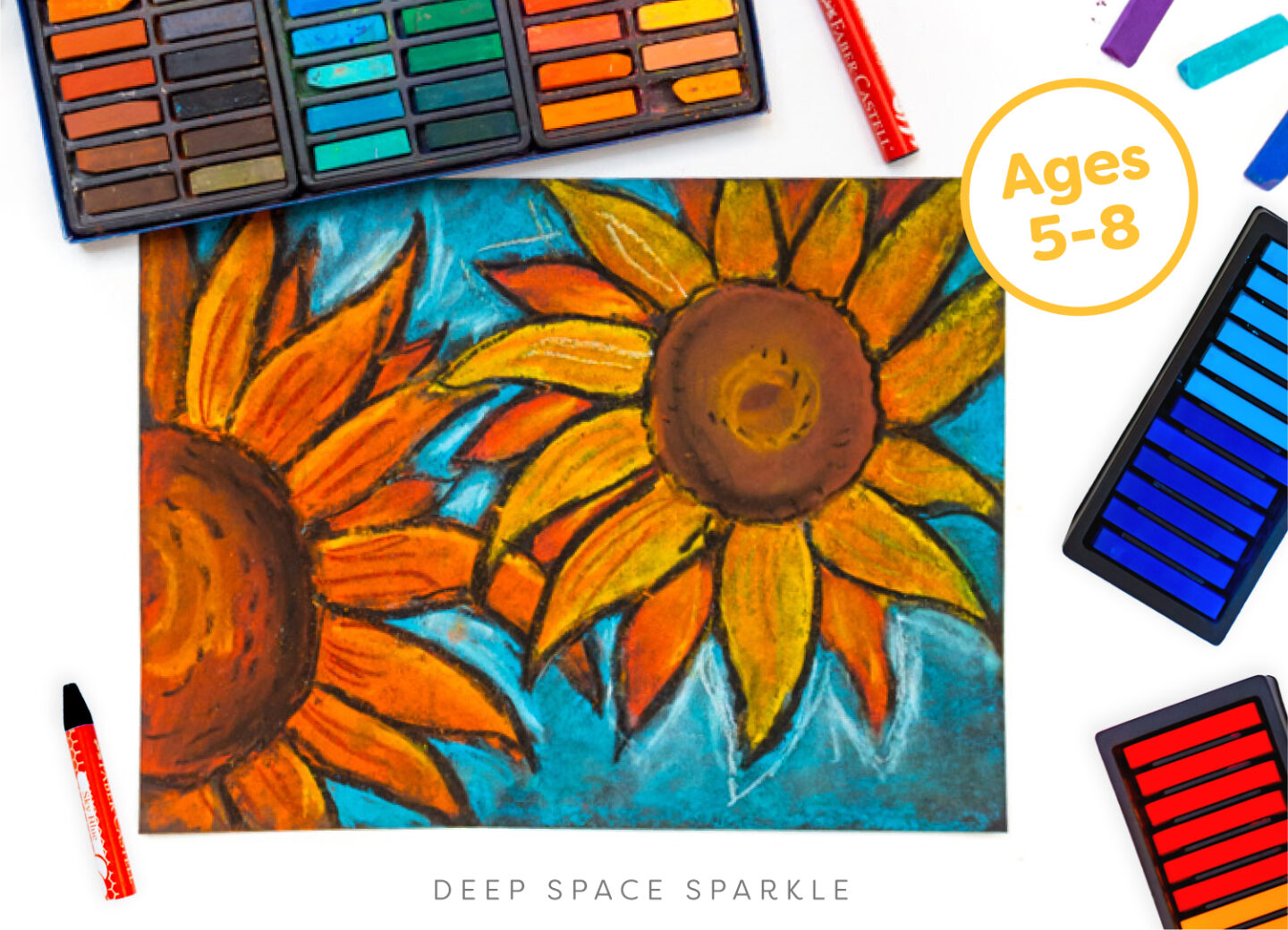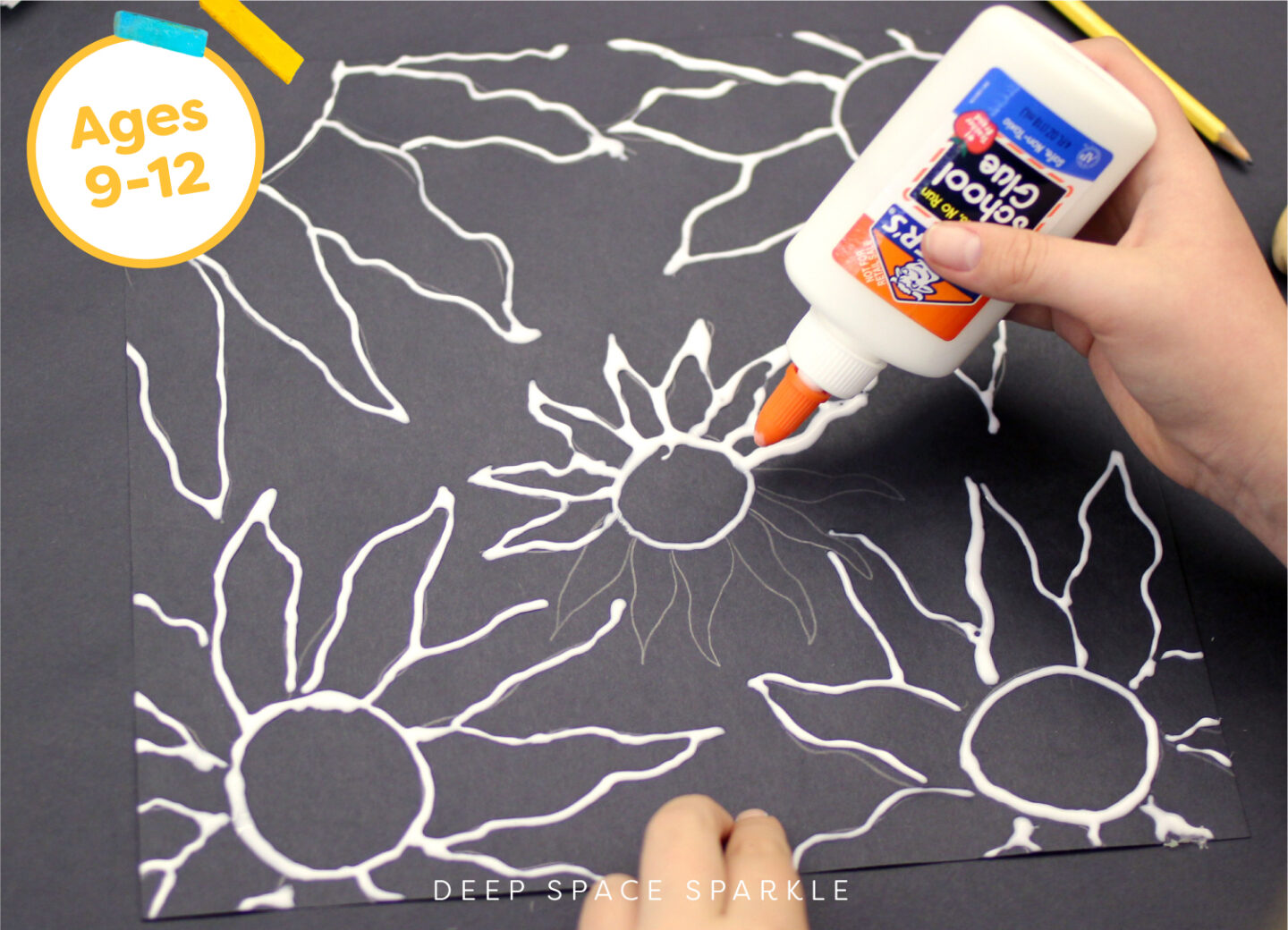 For both projects you'll need black paper. Here's the thing: it doesn't have to be large. I like the 9″ x 12″ size or even 12″ x 12″. This makes it easier for the kids to color the entire paper and not get too bored.
Start with the drawing. If you are using glue to draw with, it's okay to draw simple shapes with a pencil. Some kids may want to skip over this step and draw with the glue. The trick to drawing with glue is to make sure the bottle can squeeze an even stream of glue onto a piece of paper. You should test it first. Then, treat the orange plastic tip as you would a pencil lead and just draw. Start at the left and move to the right if you are right handed.
Let the glue dry over night on a flat surface. Don't use a tilted drying rack. Drips. Drips. Drips.
For the oil pastel option, don't use a pencil at all. Show little ones real or photographs of sunflowers or flowers and start drawing. Really little kids (ages 3-5) can be helped by using a plastic container top to trace the sunflowers center. Then the children can draw their petals.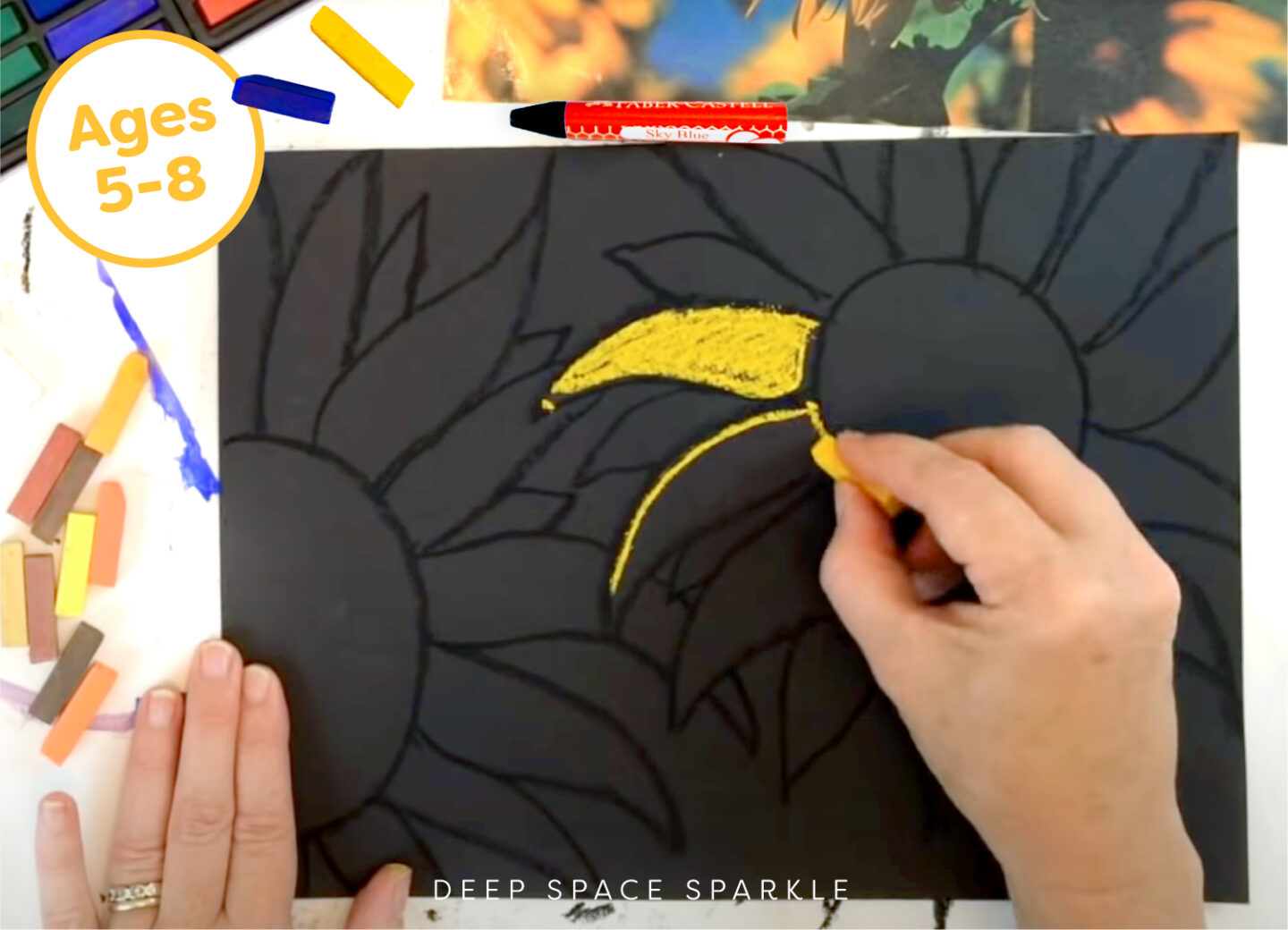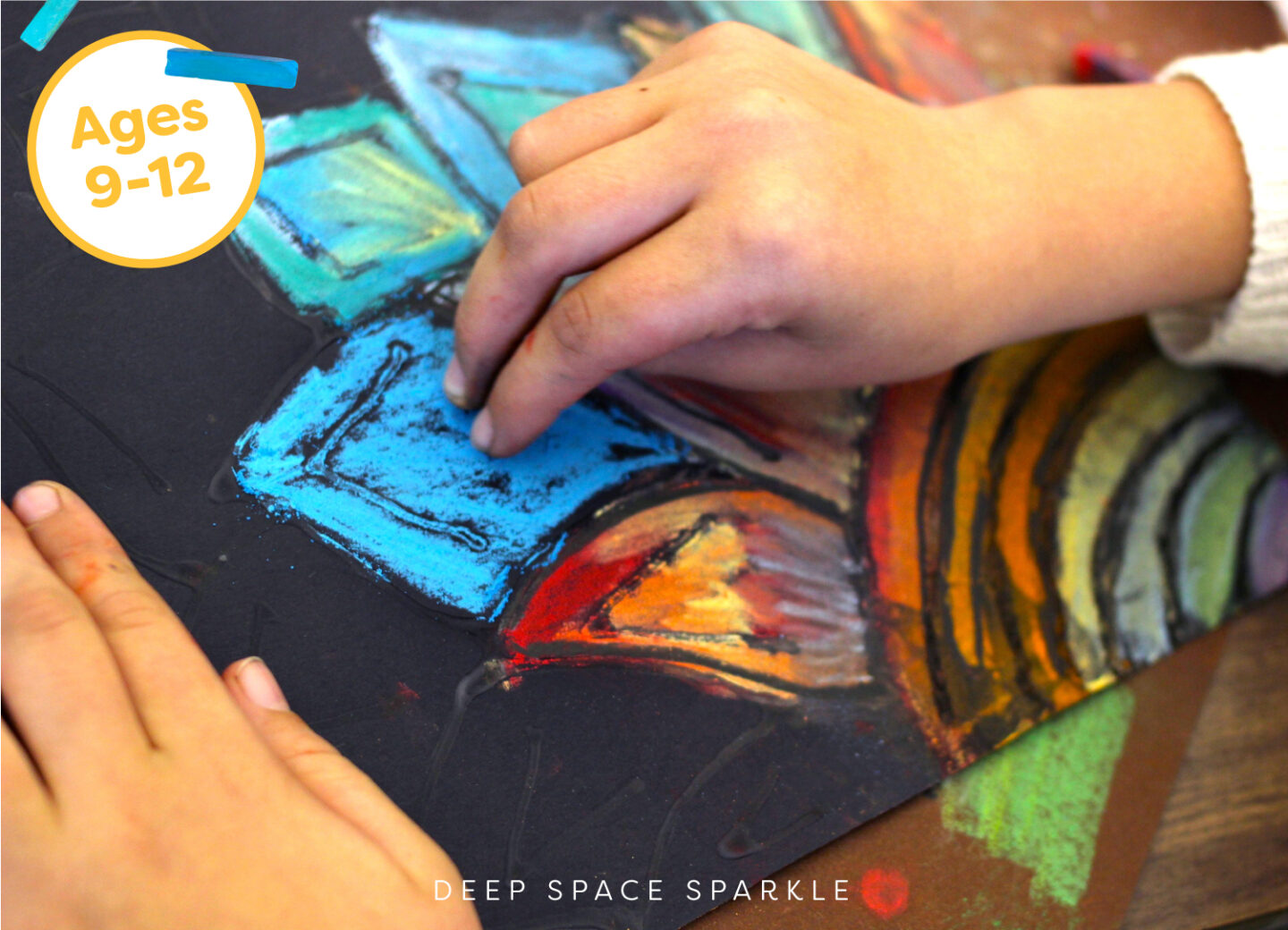 I have tried so many brand of chalk pastels in the last decade. I like the pastels that feel harder as I think they are more vibrant than the softer variety. Start by coloring the petals and then moving to the background. It's really effective if you use a complementary color for the background.
Yellow > Purple
Orange > Blue
Red > Green
In this video, I show you the steps to drawing and coloring a Chalk Sunflower:
Art Supplies in Chalk Pastel Sunflower:
Tru-Ray Sulphite/Construction paper
---
Click the banner to receive your free How to Draw Colorful Chalk Sunflower guide in your email inbox!

---
Chalk flowers with glue (top of gallery) and oil pastel (bottom of gallery). Which do you like? Have you tried the glue method before? Tell me your BEST tip for working with chalk pastels with kids in the comments below…