After a trip to the library, I was inspired by the book Chameleons are Cool illustrated by Sue Shields. I love her use of color and large shapes plus the abundance of watercolor techniques on each page. If I had a color printer at school, I'd photocopy a page and hand a sheet to every student, just so they could be inspired by the wet-on-wet techniques, the wet-on-dry techniques and the splatters!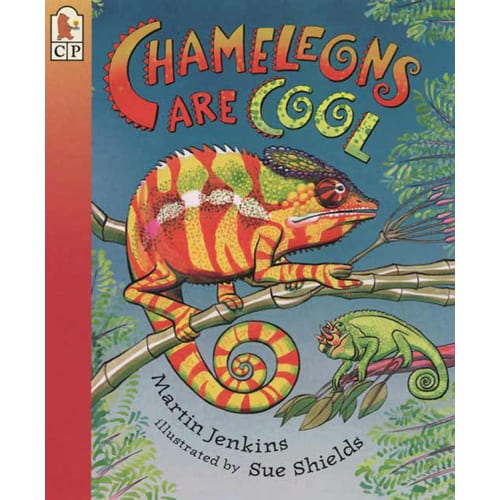 Chameleons Are Cool: Read and Wonder

Pencil Drawing
I demonstrate strategies for drawing the chameleon, looking at shapes and position on page to ultimately create the outline. I encourage the kids to make the subject large, but of course, some students insist on making them small. No problem but we all know it's easier to paint larger items!
Outline pencil lines with indelible black marker.
This takes some time so stress that very little detail be placed inside the outline of the chameleon. Details will come with the watercolor techniques.
Tip: If doing this lesson with younger grades, try using an oil pastel to create the chameleon. Skip the pencil and pen step and have the children draw a large chameleon.
Watercolors!
For each table, I set out a tray of liquid watercolors, a small cup of rubbing alcohol and a small cup of salt.
For the watercolor demonstration, I have the children gather around a table, instead of watching on the board, as the results are so much better up close.
Wet-on-wet: I show the kids how to paint one color, then while the paint is still wet, add another on top to blend.
Wet-on-dry: Since this lesson takes 2-3 classes, once one section of the chameleon is dry, they can then paint over that section to create spots, stripes, dots, etc.
Rubbing alcohol: While the paint is wet, drop some RA onto different sections to create a "scaly" or "rubbery" texture.
Salt: While paint is wet, sprinkle some salt to create small twinkles of star-like dots.
Splatter paint: using a brush loaded with color, run your fingers along the bristle to create large and small splatters.
The results of this project was spectacular. If and when I do this again, I'd recommend that the kids not put in any background details. I think the chameleon can hold it's own!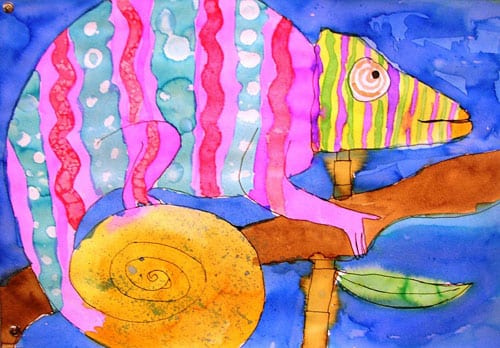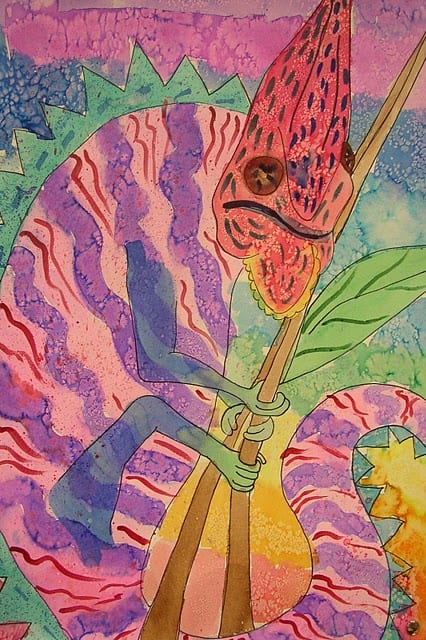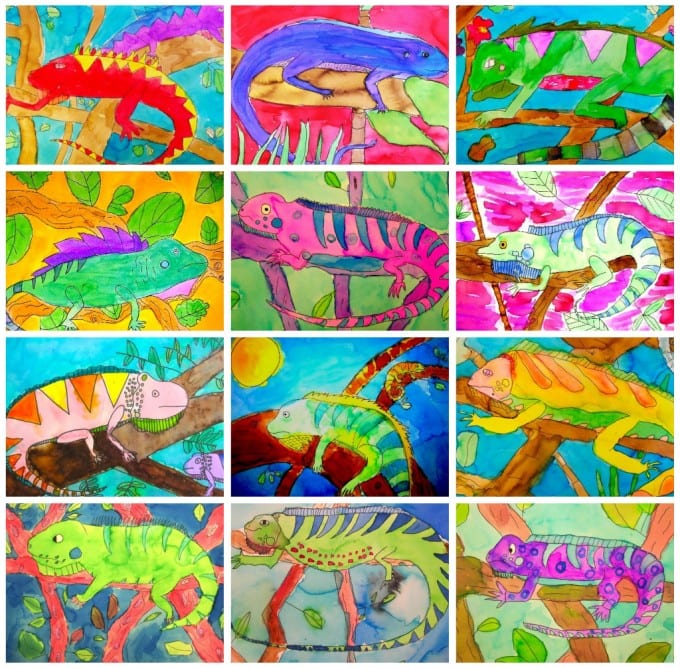 ---
WATERCOLOR TECHNIQUES FOR KIDS
Click the image below to receive our free PDF lesson guide!