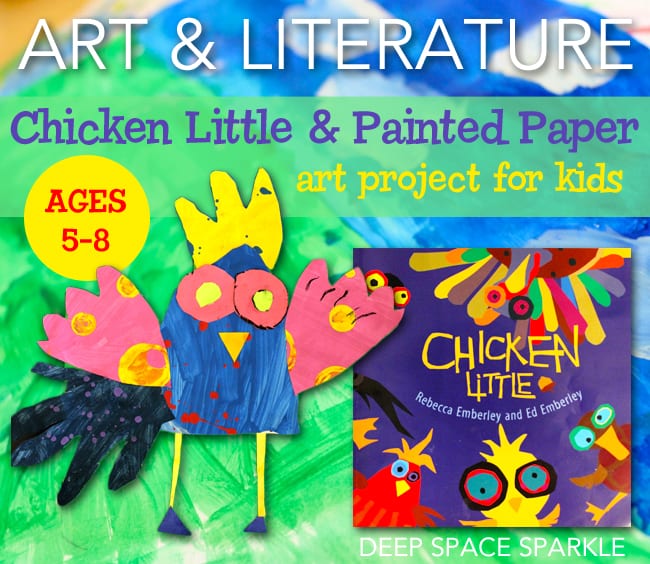 Chicken Little is a folk tale about a chicken who believes the world is coming to an end. Those who study tales in school may have already found ways to incorporate this character into the art room but if you haven't, here is my version…
After reading Ed and Rebecca Emberley's version, the children identified the various colors and shapes in the illustrations of both Chicken Little and Henny Penny. I love this version as the illustrations are colorful, bright and slightly random. Easy for kids to identify with.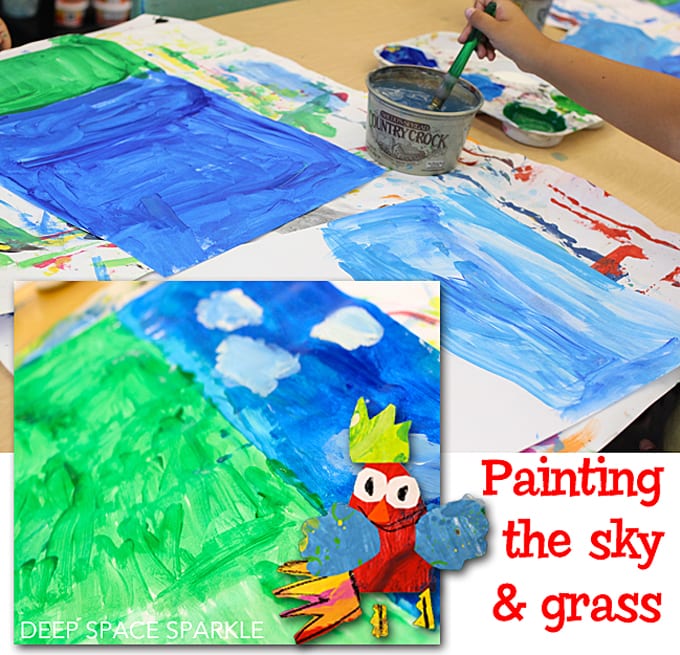 The first step…well, it's really the second step but I'll get to that in a minute…is to paint the background. You can keep this super simple by just using a colored piece of paper (perhaps a turquoise 12″ x 18″ piece of sulphite paper) or you can use white paper and paint a background. This is what I chose to do with my Kinders. This gives me a chance to introduce tints by placing both white and blue in a paint palette and showing how to double-load brushes to achieve a soft blue or pastel.
I showed the kids how to paint a blue sky then add clouds. It's best to let the blue sky dry a bit before attempting to add white clouds as the colors will just mix together. Waiting is hard for Kinders so I told them to paint the sky first, then paint the grass green and by the time they finish the grass, the blue sky would be ready for clouds.
To make clouds, clean brush, wipe away excess water on the paper placemat then dip into a puddle of white, goopy paint. Apply in dabs and blots until you have clouds.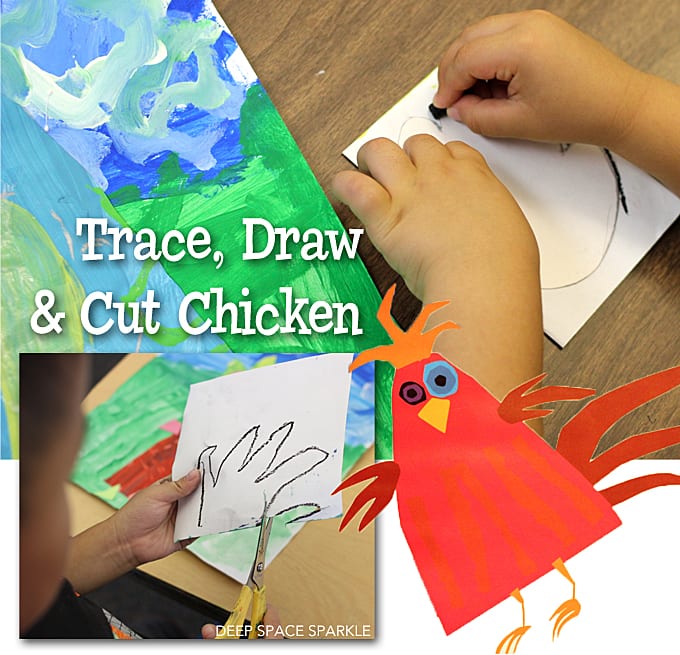 After creating the background, its time to create a chicken. My Kinders created painted paper for their chickens and this is really the first step to this project. I always do a painted paper project at the beginning of the school year with Kinders so this project is for that purpose. But if you don't want to commit to the mess of painted paper (and it is really messy) you can use a color paper scraps. In all honesty, the project would have been a whole lot easier if I stuck with plain color paper, but I didn't, so onwards…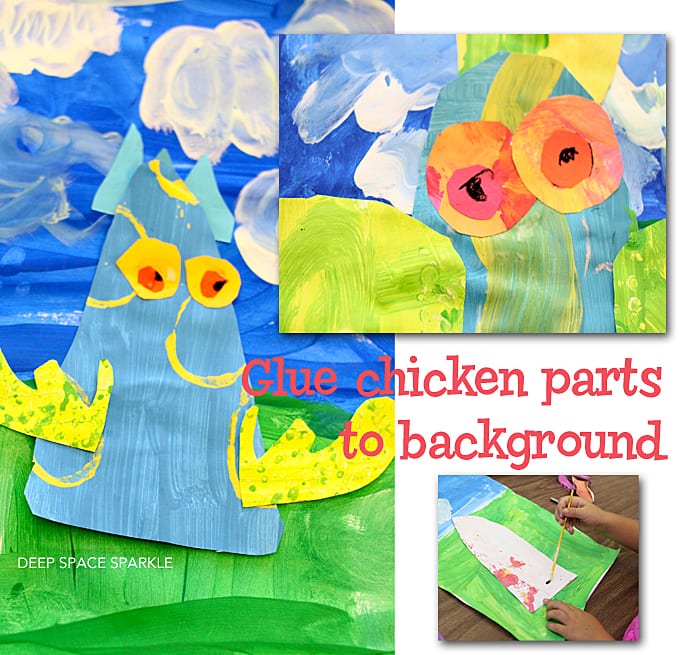 To make chicken parts, you can instruct children how to draw parts of a chicken or you can use templates. I did both. I cut up the painted paper into 9″ x 6″ rectangles (12″ x 18″ quartered). The child could pick any colored rectangle from this pile. Turning the rectangle over so the white part of the paper is turned up, the children used a black oil pastel to draw a tall mountain. Or they could draw an upside down letter "U". Whatever word you use, this ends up being the body for Henny Penny.
I know what you are thinking. What happened to Chicken Little? Well, I'm not exactly sure. I showed the kids how to draw both Chicken Little and Henny Penny but afterwards I decided that Henny Penny seemed a whole lot easier. I also noticed that we didn't have any yellow painted paper so I'm not going to lie…I encouraged the kids to draw Henny Penny.
For the eyes, I placed plastic salsa cups and small baby food jar lids on each table and they could trace the lids to make big, bold and layered eyes. Coloring in a "pupil" with a black oil pastel and maybe adding a few eyelashes really helped give the chicken some personality.
The wings were hard to free draw. I had some wing templates in my classroom from another project so when I noticed my kids struggling a wee bit, I placed a few wing templates on their tables. You can never underestimate the value of templates. From my experience, kids love tracing. They also love it when something starts to look familiar. This is why templates are great in moderation. The Kinders worked hard on the body and eyeballs but needed a bit of help with those pesky and very weirdly shaped wings.
Templates
If you like templates, then you might like to download my FREE template and drawing guide for this project by clicking the banner below.
Just so you know, I'm planning on doing this lesson with my first graders later this year just to see what they prefer: templates or free draw. I might focus more on sweet chicken little as well because he didn't get too much attention here.
To finish up this project, bring out a few trays of oil pastels. I encouraged the kids who were finished cutting and pasting their bodies the opportunities to add details to their chicken like wing patterns or lines or whatever. I loved what they came up with.
Pretty cute, huh?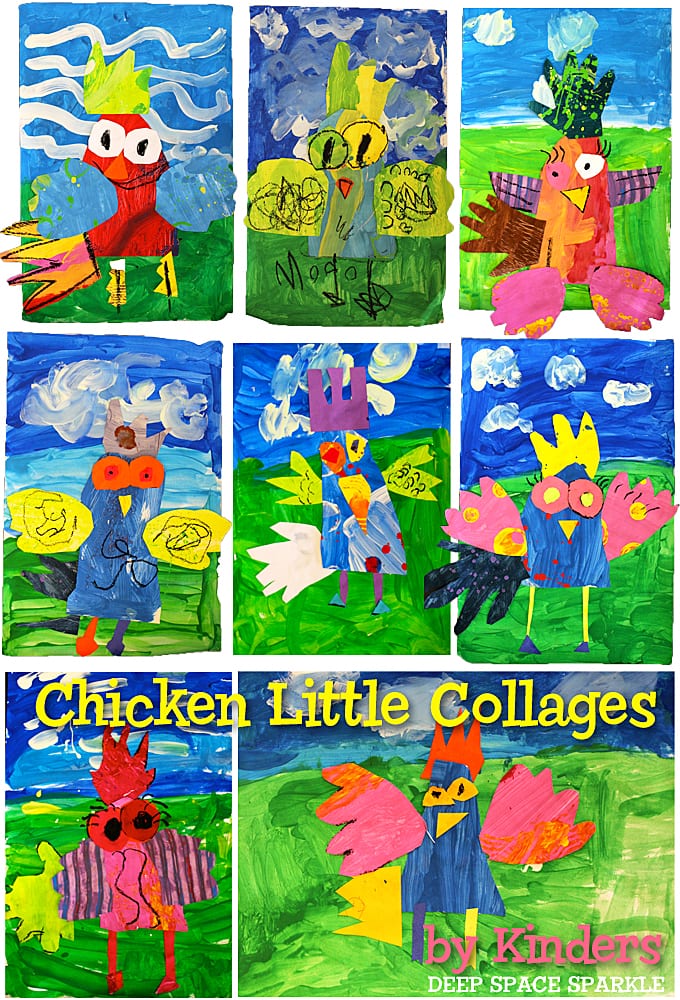 ---
Like Art & Literature projects? So do I. Here is my growing list of projects I did with my students based on popular children's books.