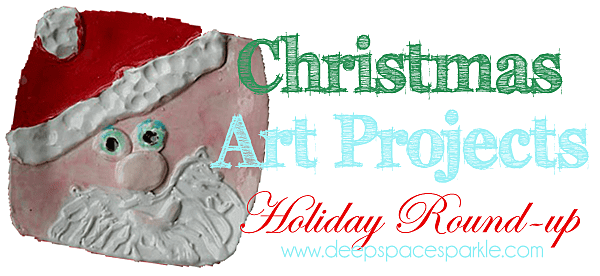 I adore Christmas and all the traditions and festivities surrounding it. Creating paper Santas and collage angels were a favorite activity when I was a child. But today, fewer schools are allowing Christmas based activities and mine is one of them.
So instead of posting a Deep Space Sparkle Christmas art lesson, I'm posting my favorite finds for 2013. I look for projects that link to sites that offer tutorials so hopefully the links will stay active.
The above Santa Plate from Fun Art 4 Kids is one of my favorites. If I could do an art lesson for Christmas, this might be the one I'd do. Wouldn't this make an adorable keepsake for your child?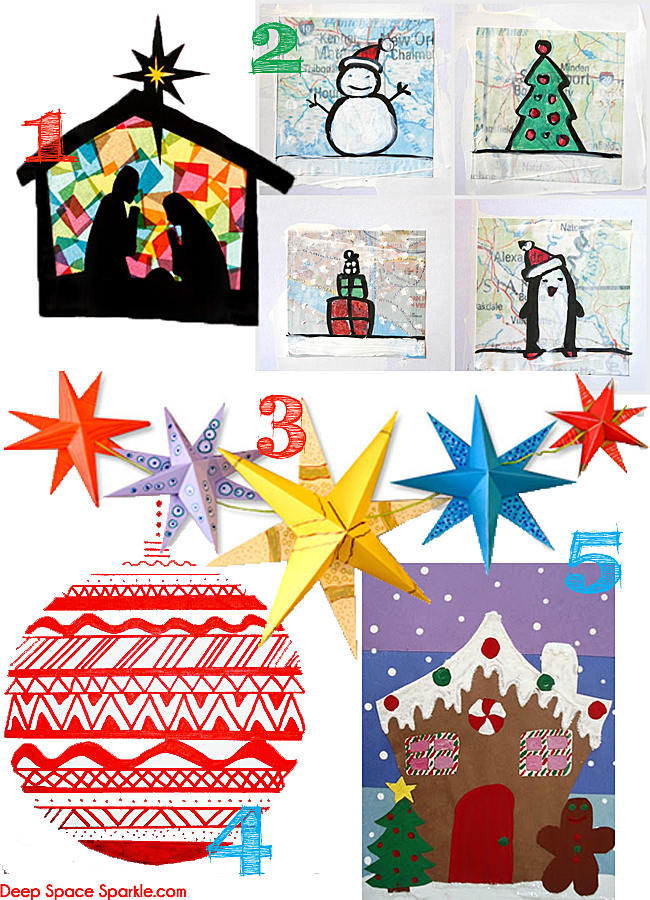 1. This Nativity Scene is beautiful. Younger children can create this with the help of an adult while older kids would have the freedom to draw their own versions. This lesson has many homes. The image above was found on Housing a Forest.
2. Christmas Card Collage from Arteascuola: Although this sample was create by an adult, I think children would love the collage format of this card. I could see children as young as four or five creating cute little snowmen or Santas.
3. Origami Stars from Krokotak: I haven't done an origami lesson with my art students but I know a few teachers at my school who love it. These star banners are simply lovely. In fact, I think I'll gather some paper and give them a try today.
4. Line and Pattern Ornament from Art Expression of Imagination: Perfect combination of an art lesson and a holiday project.
5. Gingerbread House from A Faithful Attempt: Gingerbread-themed projects can be tied to literacy, so it's one project you could do if you weren't certain of your school's policy on Holiday art. I love the idea of creating a gingerbread house with this cool tone background.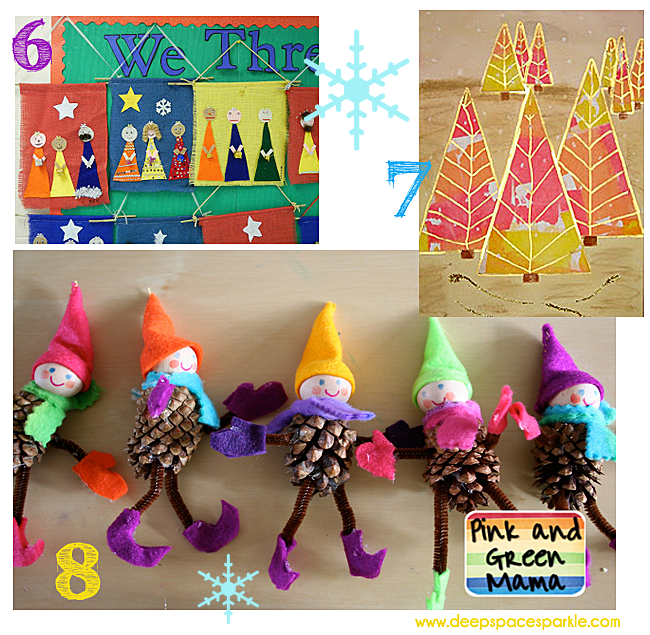 6. Three Wise Men from That Artist Woman: I love this project. It has beautiful art elements and ties in the religion which many of us are not allow to do. These would make lovely holiday keepsakes, too. Can you see that they are hung on dowels? Lovely!
7. Golden Holiday Trees from Kids Artists: Hands down the most beautiful and arguably, the least religious or Christmas-themed of the bunch. There's a great tutorial for this lesson, so make sure you visit the site.
8. Cute-as-pie Elves from Pink and Green Mama: Oh my goodness. Aren't these little elves the cutest little things ever? If you are into crafts, I would think these elves could fill a while morning of crafting with your children. Fun!
Do you have a favorite Christmas project that you do every year? Please share!
---
Click the link below to receive 5 Holiday Project ideas in your inbox.