CLEAN-UP PROCEDURES IN THE ART ROOM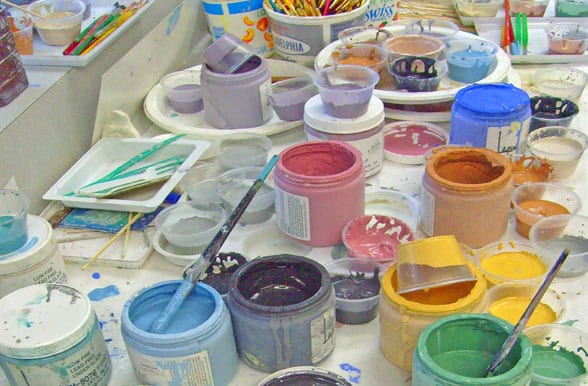 It's 5 minutes before the end of art class and you know what comes next: clean-up time. That little phrase always puts me in panic mode. Why? Because I don't have a system. By the end of my class, the area by my sink usually looks something like the photo above. I've always been honest about this failing of mine. I like to create not clean! But lucky for you, I have good art teacher friends who do this clean-up thing really well. Here is a collection of sites to visit that will give you better tips than me!
Tips from Fellow Art Teachers
Karen at Mrs. Hansen's Art Room has a great post on art room clean-up procedures.
Jessica at The Art of Education is a clean-up queen. I would love to see this gal in action. I think she might be everything I'm not: organized, structured and very clean! Thanks, Jessica for a great article on art teacher timesavers!
Jennifer over at Got Art has some great tips for art room clean up.
Okay, so even though I didn't create this list, my Deep Space Sparkle's Facebook page has readers chiming in to give their best tips for easy classroom clean-up.
Tips for Art Room Clean-up
Teach Kids Art refers to paper scraps on the floor as tickets. Read her post Many Hands Make Light Work.
Organizing your Art Room
If you want to go a step further and try to minimize clean-up problems, it's a good idea to have a place for everything so that everything can go back to its place. The Incredible Art Department has a great post on organizing your art room.
Ms. Novaks at Organized Chaos has clean-up and organizing tips. Super woman!
Mrs. Picasso's Art Room is gorgeous. I have a feeling that the kids who enter this room know exactly what to do when art time is over.
So now it's your turn….what is your absolute best clean up tip for the art room?
---
New to teaching art in the classroom? Download my free classroom art teachers toolkit by clicking the yellow box below! Or click HERE for some helpful advise on your first day of teaching art.