Kinders had a terrific time creating their collage snowman. It's a very simple lesson to do with this age group. You'll need two, 30-minute sessions.
Art Supplies:
12″ x 18″ white or light blue sulphite paper
tissue paper (cool colors)
white, black, orange, red, blue liquid tempera paint
liquid starch (available in the laundry supply aisle of your supermarket)
sequins
medium sized all purpose brushes
Creating the background
Cut small pieces of tissue paper (violet, blue, pink and any other cool colors) and arrange on trays. Set tray in the middle of table for each group of kids. Demonstrate how to apply tissue paper to 9″ x 11″ white or light blue paper using liquid starch and a small brush. Encourage the kids to add tissue paper even to the edges; they can be trimmed later.
Painting the snowman
Put out a few colors of tempera paint (white, light blue, red, orange, black) and demonstrate how the kids might paint a snowmen. They have their own ideas, so I usually don't force them to stick with the three-circle theory! You may want to consider placing the white tempera paint in a separate container. The children will use this color first and then, after they are finished with it, you can remove it from the table. Another good tip is not to add any water to the white tempera paint. You want it to be thick enough to cover the tissue paper.
Final details
Place a small container of snowflake-shaped sequins on each table. The children can use white school glue to add dots to their artwork and place sequins on white glue dots.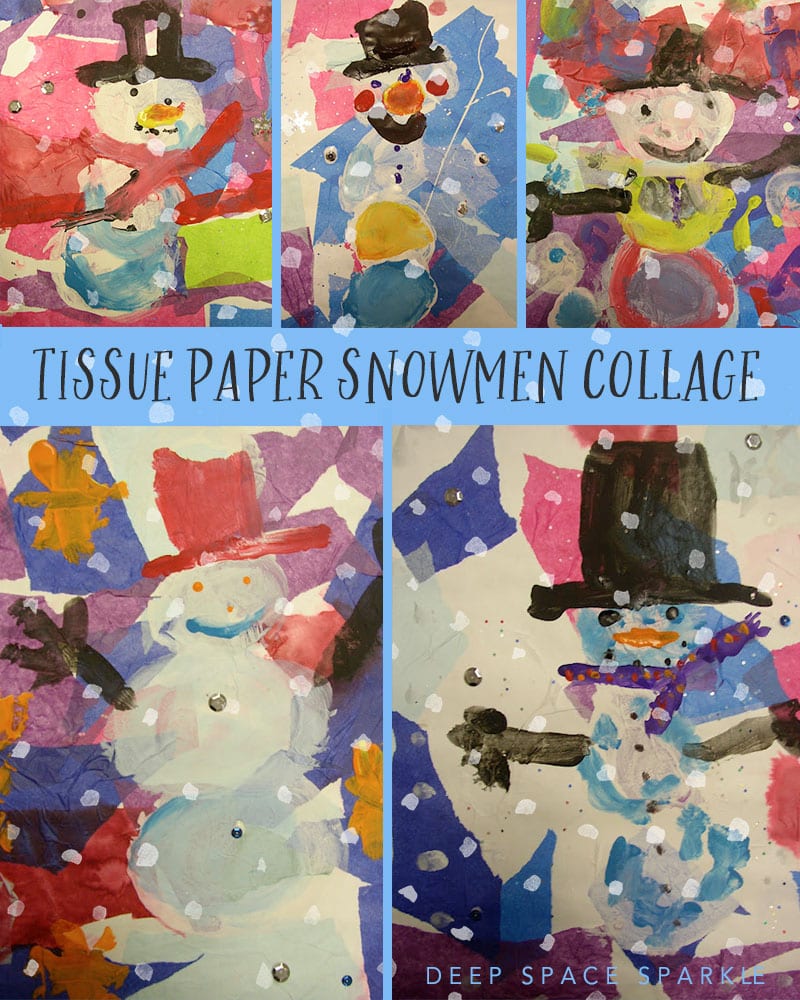 ---
Want more ideas for holiday art projects? Download this free lesson plan by click the yellow button below and we'll send it to you!