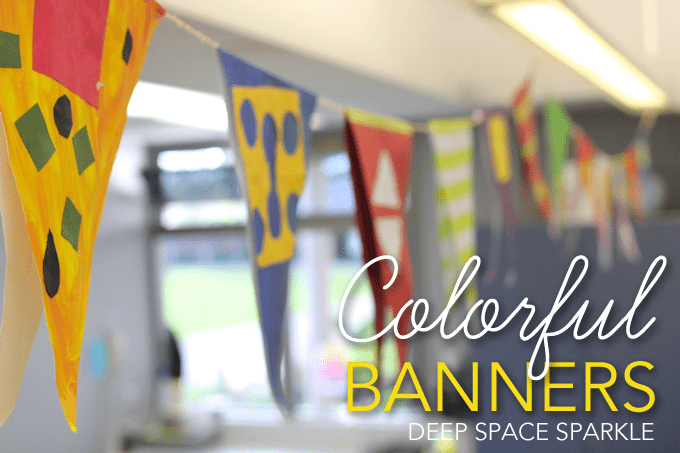 I'll admit it. My art room is looking pretty darn ugly. The walls are bare, stacks of paper are shoved against the walls and half-empty paint bottles are jammed onto open shelving.
It's a sad state of affairs.
I know what you are thinking. You probably thought that I had the most beautiful art room in the world but I'm afraid I don't put much effort into the aesthetics of this creative oasis.
Time to change that…
I enlisted the help of my students to help paint a colorful banner that would stretch from one side of the room to the other. I've always loved the look of these preppy pennants and figured they would be a cinch to make.
They were and were also an excellent way to use leftover paint and engage children during free-choice time.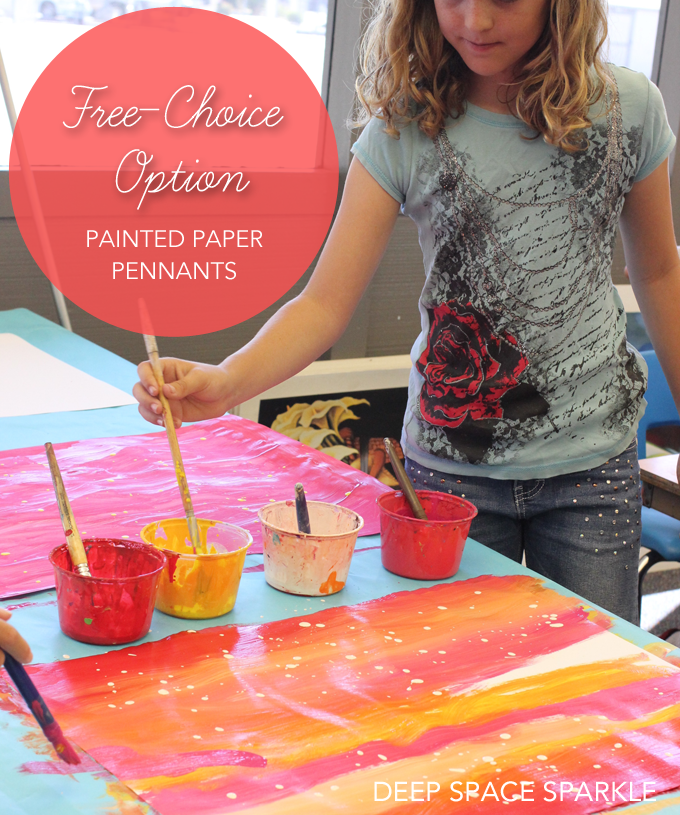 How to Make Colorful Banners
Using large sheets of white paper (18″ x 24″), I asked kids to paint an entire sheet with one or two colors. I place a few tubs of old paint of a table in the back of the room and left it at that. No instructions, just paint away.
After the paper dried, I created a stack of completed papers (which contributed to the mess) and when I had enough, we created pennants.
To make the pennants, fold the paper in half width-wise and trace a triangle near the edge. I created one triangle and used this as the template for all others. Trace and cut two more triangles. You will have one triangle that has an open end which you will need to tape shut. I used colorful masking tape and made it part of the design.
Using a tray of scrap paper, children glued on organic shapes, shapes, created stripes with tape and a number of other random things. No rules or requests…just color.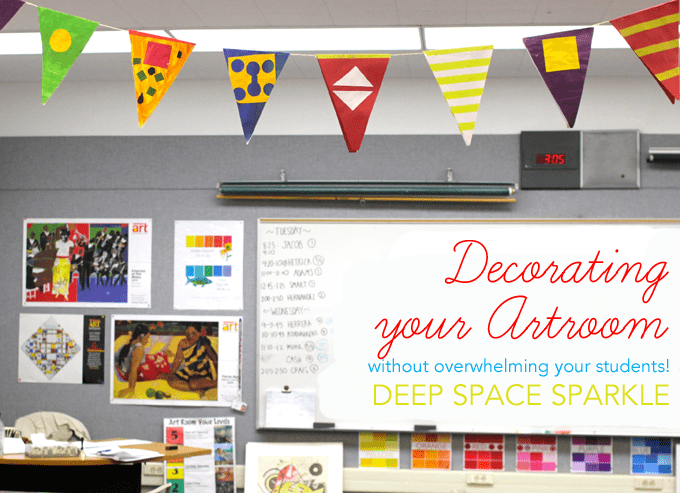 With the addition of this one banner, I already feel more artsy!
Posters or No Posters…
I always have a color wheel and my voice chart that I bought from the fabulous Theresa Gillespie on Teachers Pay Teachers but the rest I try to switch up.
The above photo shows one corner of my art room where I add posters. The other walls of the room are lined with cabinetry or reserved for artwork.  My goal when I created this corner was to change the poster anytime we focused on a different color scheme. Right now, its primary color-focused, but soon it will be secondary and then tints and shades.
I made some color charts for the underside of my whiteboard so my kids would have something to look at while sitting on the floor. These don't serve a huge purpose but they are helpful when pointing out color variations when a student asks.
Bit by bit I hope to make better use of my art room. Sometimes it takes a pair of fresh eyes to see what needs changing.
Have you ever switched things up in the middle of the year?