I wish I could remember the website where I found this lesson! It's one of my favorite kinder lessons that incorporates a color wheel. This lesson is a bit involved. It usually takes three 30-minute classes to complete this project but it's worth it.
You'll need the following:
– White card stock with a color wheel pattern (I made mine by tracing the bottom of a container and adding the lines).
– Plain white card stock (for the head)
– Small pieces of leftover construction paper in a variety of colors.
– 12″ x 18″ colored construction paper for each child.
– Glue sticks
– Red, yellow and blue tempera paint
– Pencil, scissors and a plastic cup for each child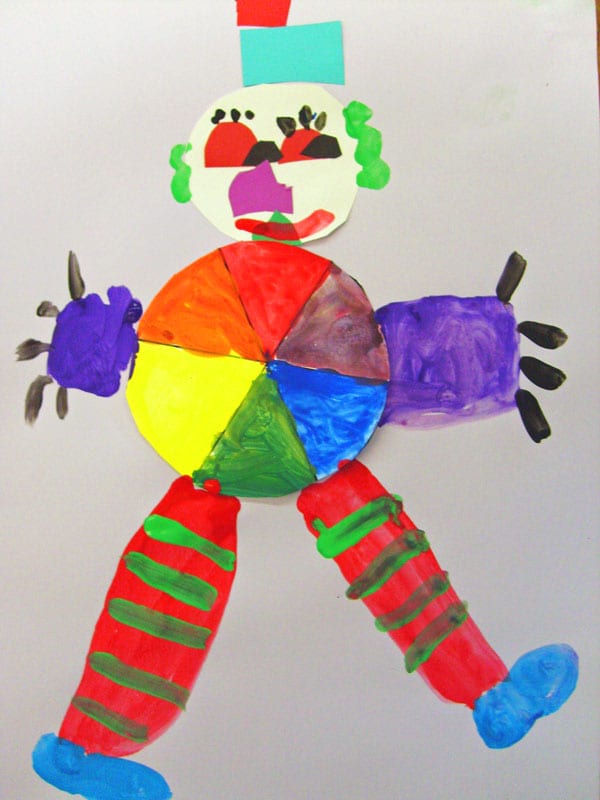 Making the color wheel
Pass out a blank color wheel to each child. Each child should have their own paper plate with a small dab of yellow, red and blue paint, a small paint brush and a container of water to share.
Instruct the children to paint one "pizza" slice yellow, then red, then blue. Next, ask the children to paint a slice with the color orange. They'll tell you that they don't have any orange paint so you'll show them how. Do the same for purple and green. Set the color wheels to the side to dry.
Next, have the children trace the opening of the plastic cup onto the blank piece of paper. This will later be the face. If there is time, cut out the face.
Adding facial features with paper
Now that the color wheel is dry, the children can cut around the edges. Glue the face and color wheel (belly) to the colored sheet of construction paper. Make sure to glue the head first and demonstrate the proper place to glue it.
Once the face and belly are in place, the kids can use the small bits of colored paper to add eyes, a nose, a mouth and even hair to their clown's face.
Painting the clown's outfit
Using tempera paints, paint hair, arms, dress, pants, clown shoes, etc. on construction paper. Encourage patterns like polka dots and stripes.
---
FIND MORE COLORWHEEL LESSONS IN THE MEMBERS CLUB. CLICK BELOW…