COLORWHEEL BOUQUET ART LESSON
This is a great lesson to teach the colorwheel, reinforce cutting and pasting skills and sharpen color observation and recognition. I did this lesson with my Kinders at the at end of the school year. They had a whole year to become familiar with cutting, pasting and sorting, so they were quite capable of understanding and completing this project. Allow two 40-minute class times.
Art Supplies:
Pre-cut rectangles of primary and secondary colors
12″ x 18″ white paper
Glue stick, pencil and scissors
Scraps of warm and cool colors (I have these separated into 2 boxes)
Small square of gray paper
Small plastic dish or lid for tracing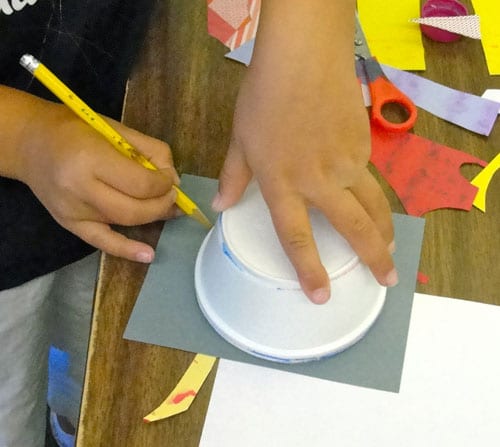 Using a small round container, trace a circle from the gray paper and place in the center. Then, if you have time, ask the children to make stems and leaves.
Using a poster or other visual aid, discuss the color wheel and how/why colors are arranged. Having worked with colors the whole year, most kids are very familiar with the formulas for making secondary colors.
Place the primary colored rectangles on the student's desks and show how to cut into a petal. Glue the three petals onto a piece of white paper with the yellow petal pointing to the top. Repeat steps for creating petals for the secondary colors.
Hunting for colors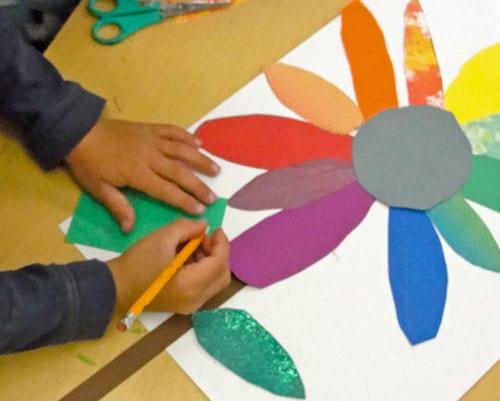 This is the fun part. I tell my students they are going on a treasure hunt for colors to place in between their petals. I fill two boxes with cool color scraps (greens, blues, painted paper scraps, etc.) and one warm color box. The children are responsible for searching through the box to find the perfect red-orange or blue-green. If they are having trouble understanding this concept (which some of my Kinders were) then we brought over their flower to the scrap box and tried out different scraps.
Kinder colorful colorwheel bouquets!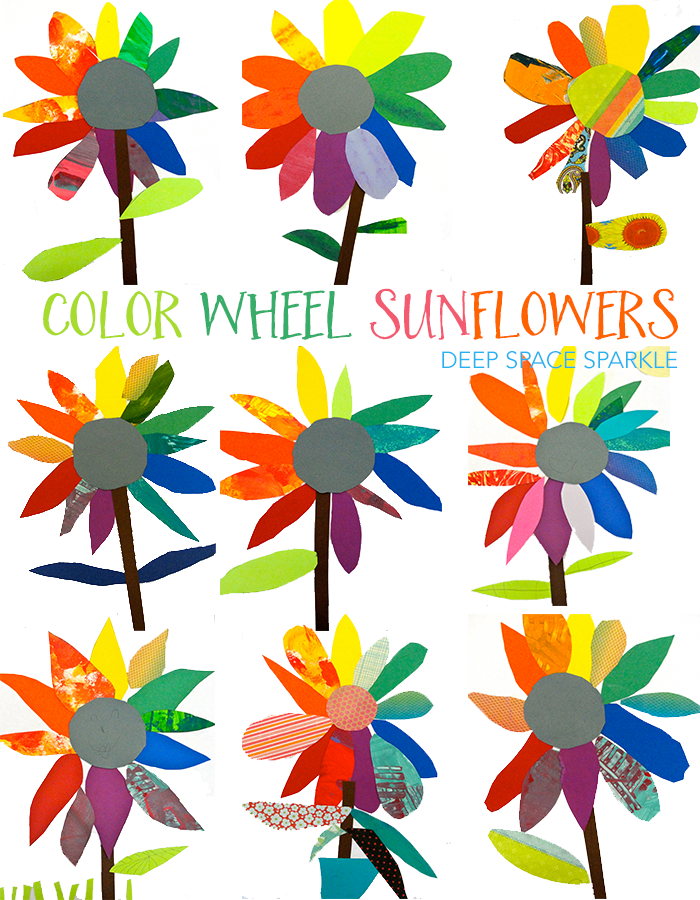 ---
Enjoyed this Colorwheel Bouquet flower lesson? Click the download button below to receive another free sunflower lesson with chalk pastels! (We recommend using Chrome or Safari for this download!) Or click HERE for a Play-doh Colorwheel Activity.