This is an easy lesson to do with any grade level. I introduced this to third graders who seem to really grasp the chalk techniques.
WHAT YOU'LL NEED:
– Black oil pastel
– Black paper
Starting with a black oil pastel and a piece of black paper, I had the children draw rolling hills, rounded mountains and finally, a sun/moon with concentric circles.
I encouraged the children to press hard with their oil pastels. Next, I brought out boxes of chalk pastels. Because the chalk was new, the colors were already divided into warm and cool colors. Easy! But if you have a hodge podge of colors, review what makes a cool color and what makes a warm color.
Now the kids have a choice. They can either color the mountains with warm or cool colors and then the opposite with the sky. Cool colors turn the sky into a night sky, warm colors turn it into a daytime sky.
Finally, the last and most important step, trace over the oil pastel lines again with the black oil pastel. If you have time, add white highlights with white chalk.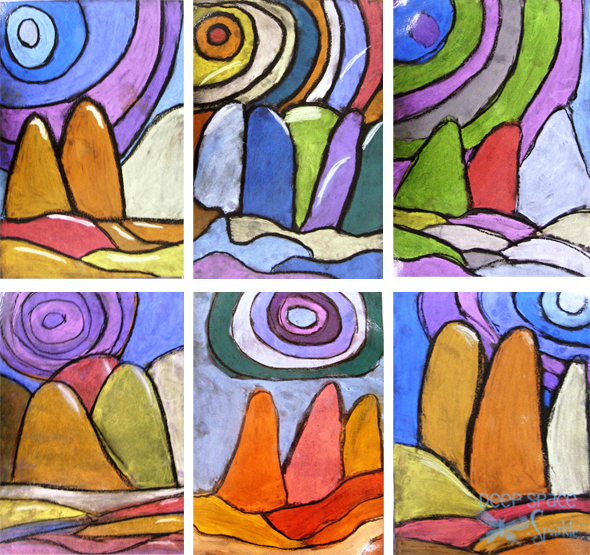 ---
ARE YOU A SPARKLER? Over 300 art lessons are available inside the Members Club. Access to videos, resources & trainings for one low monthly fee.
CLICK THE IMAGE TO SIGN UP FOR NOTIFICATION OF OUR NEXT ENROLLMENT