A menorah is used to celebrate Hanukah in the Jewish Community. There are 9 candles with the center one used to light 8 candles for each day of Hanukah.
This project uses symmetry and a folded paper technique to create a menorah to hold painted paper candles.
Follow along with me, step-by-step in my full YouTube tutorial video…
For more videos like this, SUBSCRIBE to my YouTube Channel HERE.
For this project, you'll need:
– 12" x 12" black or colored sulphite paper
– 12" x 7"- 9" colored paper for the menorah
– 2" x 4" colored paper, painted paper or craft paper for candles
– piece of yellow paper
– white school glue
– scissors
– crayons or markers to decorate
* optional: Posca paint pens or metallic markers for design details
Download the Menorah Drawing guide by clicking on the link below. Select a design or make up your own.

CREATING THE PAPER MENORAH: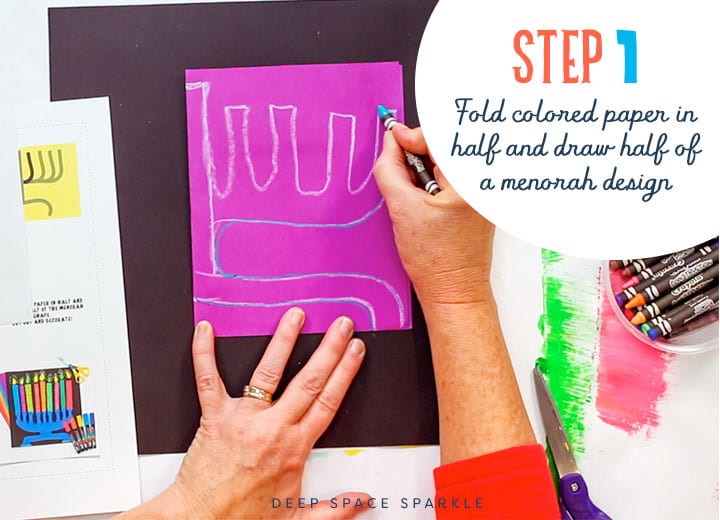 Fold colored paper in half and draw half of a menorah design on the paper with the middle candle and center of menorah along the folded side of the paper.
Once satisfied with the design, cut along the CONTOUR line. Open up menorah and glue to black paper.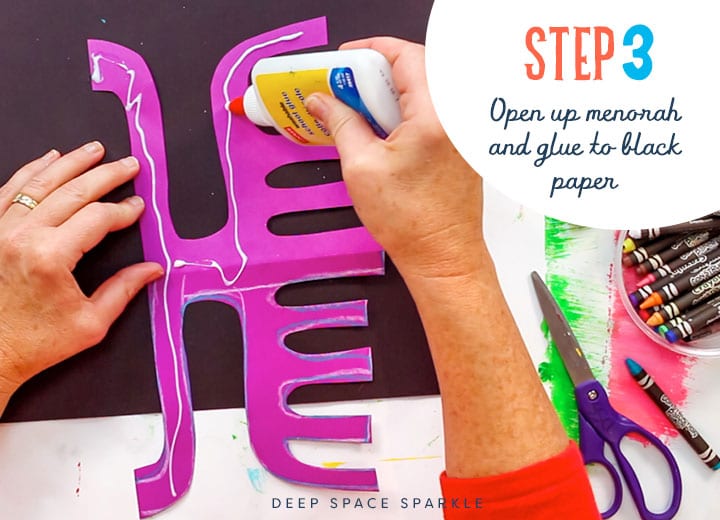 Making the Candles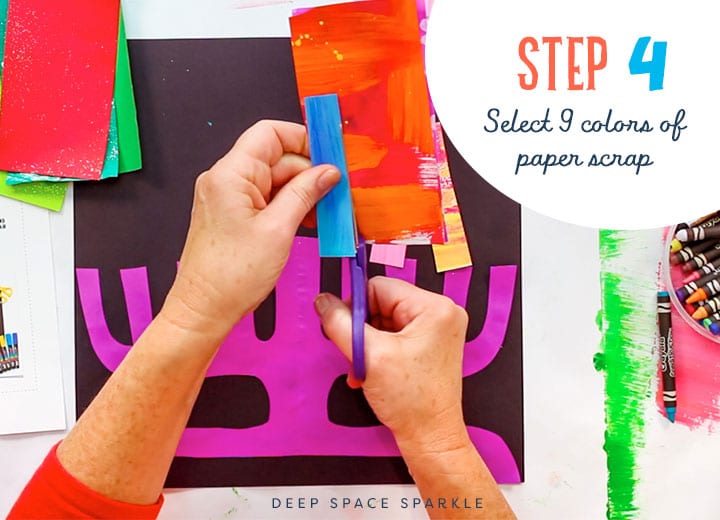 Select 9 colors of paper scraps. Have fun with your selections. You don't have to have a perfect selection or assortment of colored paper. Anything will do: newsprint, paper wrapping, bags, etc.
Lay the first piece of paper next to a candle holder and measure for size. Generally, the candles will be a thin rectangle about ½" x 3". But kids can create their own to suit their artwork.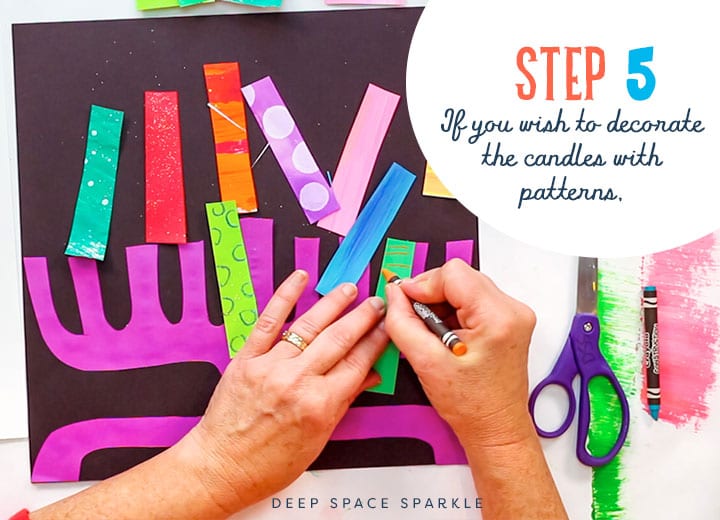 If you wish to decorate the candles with patterns, do before gluing to the main composition.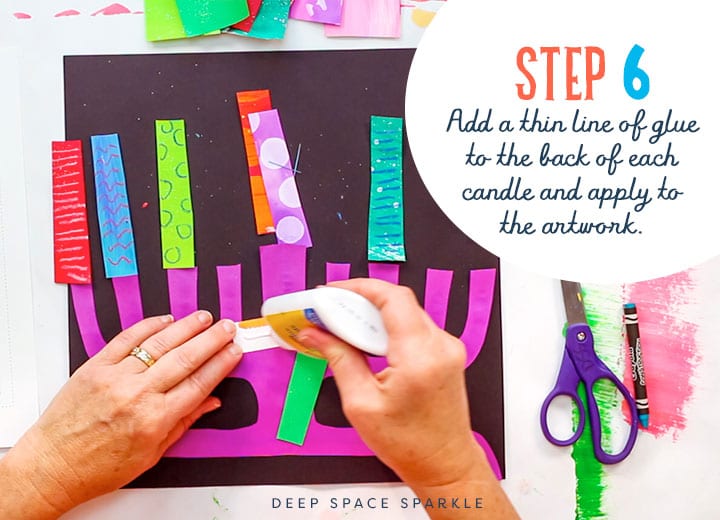 Add a thin line of glue to the back of each candle and apply to the artwork.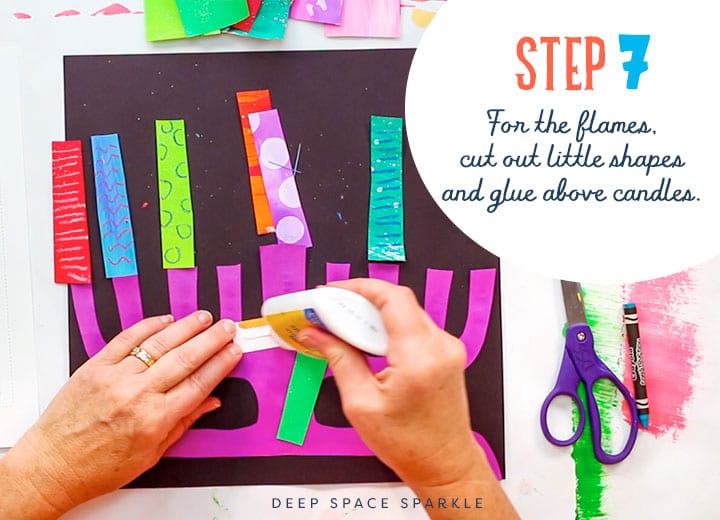 For the flames, cut out little shapes (watch the video to see how I do it) and glue above candles.
Need more details?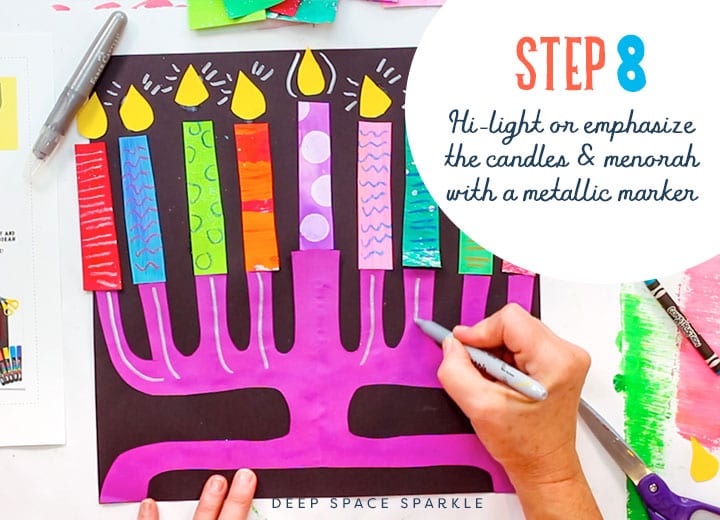 Sometimes it's hard to resist adding a little more bling. If you have a metallic marker, consider adding details to the menorah or even to hi-light or emphasize the candles.
I can't wait to see what your students have done!
What is your favorite part of this project?
DOWNLOAD the handout below by clicking the yellow button. Add your name and email and we'll send it straight to you!

PIN ME!