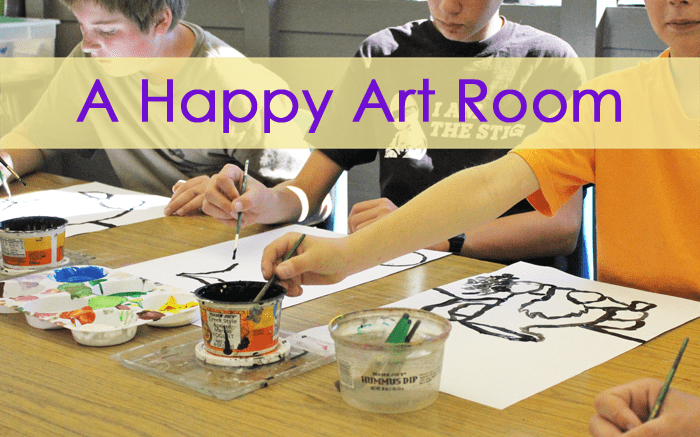 There is no worse experience for an art teacher than when a child cries during art class. We've all been the witness to crumpled paper, crayon throwing and plain old meltdowns. Our heart breaks for the little one and often we blame ourselves.
This post examine the reasons why some kids have meltdowns and what you can do about it.
---
As I was poring over my inbox after vacation, this email from Ashley stood out….
Help! I am used to teaching middle and high school students and I am not familiar with teaching little ones. I read your post about managing an art room last night and went in today feeling better. I had one child start crying mid-way through class because he didn't like any of his artwork. We had just read "Beautiful Oops" and I tried to convey that mistakes are OK and can become something nice in their work. He ended up crumpling his drawings and throwing them on the floor. I tried to get him to keep working through it but he was frustrated. He told me the Sharpie (marker) was too fat for his hands and he couldn't use it. He is a third grader. Have you ever had a student frustrated and/or crying?
I'm pretty sure that every art teacher reading this has experienced this scenario. I've had kids from almost every grade level break down occasionally. The most important thing for Ashley to consider is whether or not crying is a common occurrence in her classroom or if the episode was rare.
---
Here are a few things to consider:
Although teaching art is fun, it's not always easy.
When we think of elementary school art, we conjure up happy images of children blissfully working with paint, pastels and paper. Pinterest, art ed blogs and other forms of media all contribute to the fantasy that if we introduce a fun subject, every child will be engaged. The truth is, idyllic classrooms can happen, but it's not without years of practice.
My mission for my art classes is to inspire creativity. That's my main goal and whatever it takes to get kids to experiment, learn, take risks and relax into the process, I do it. This for me means lots of reflection and questions. If a lesson doesn't connect with the students, I ask why. Was the technique too hard? Was my demonstration too hard to follow? Did I have too much expectation for the lesson? Was the lesson subject boring?
Note: Be careful of portrait making at the beginning of the year. Most classroom teachers do some type of beginning-of-the-year portraits and many art teachers do a portrait project every year. I bet if you surveyed a bunch of 6th graders, they will say that portraits are the most boring subject!
Make sure you allow time for your own lesson/teaching reflection. If you are open to the possibility that your presentation, delivery and execution could use work, you will become a stronger teacher fast. Listen very carefully to the feedback from staff members, parents and children. Some people won't say negative things directly, but they will bury them in comments that suggest that the lesson was too hard (wrong project), or that the kids were overly rowdy (class room management needs work) or the some kids were too hard on themselves (you might be too hard on them). These aren't 100% accurate, but you get the idea. Be gentle on yourself, but never stop learning and growing as a teacher.
---
Take the advice from people who really know.
I'm not credentialed which means the classroom teacher must be present in the classroom. If a child starts to cry, I'll often shoot the teacher a glance and the teacher will indicate whether or not the child needs to be left alone (he's having a hard day), if the crying is chronic (nothing I should do at the moment) or if the child is frustrated (my clue to step in). This is wonderful for me but what if you don't have the inside scoop on the child?
– Watch for the pre-cursors for a strong reaction before it happens. Other children will often tip you off to a child who is having problems. You might hear comments about a child commenting negatively on someone else's work. Or a child may stop working and look for the teacher out of concern for his frustrated table-mate. Or maybe you'll see some kids huddled over one child who is experiencing the frustration. These are all signs that something is amiss. Step in a very calmly and assess the situation. I don't like to embarrass the child by bringing unwanted attention to his frustration. Sometimes, it's best to ask the child to help you with something and then you can talk in relative private.
– Consider the development of your group. If you are a new teacher, this is hard to do, but if you have had these kids before, you know how much instruction they need. This is not as easy as it sounds but if you can start the year off with easy, no-fail lessons like painting paper (messy but extremely fun and satisfying for a beginning of the year project), you will reduce the potential crying rate. Starting the year with a directed line drawing is great, but make sure it's easy and make sure you know how to deliver a good directed line drawing. Ask the homeroom teacher about the kids and how well they can sit and listen to instruction, or if there are any kids that might need some additional help.
Bottom line: if you don't have a relationship with the teachers at your school, develop one as soon as you can.
---
Some children will respond differently to instruction.
I once stayed at work late to work on some projects. I sat in the back of my art room while an after-school art program was being conducted. The instructor was doing a directed line drawing and was particularly picky about everyone following along at the same moment and making sure all lines were similar. This was not necessarily her art philosophy but part of the art franchise expectation.
There was a little kinder boy who absolutely went crazy with these limitations. The instructor couldn't stop the class to attend to him, but his outburst was very painful to witness. He was crying violently, he was shaking…utter turmoil. Because I was not the teacher delivering the lesson, I felt no personal responsibility and was therefore able to really see how the child was suffering. The instructor called the office and sent the child there to cool off. When the child came back, the process started up again. I asked the art teacher if the child could work with me in the back of the classroom. We worked on something non-related to the lesson. He calmed down immediately. There was something about the art lesson that triggered his negative reactions.
All night I wondered about this child.
Was he a perfectionist?
Did he suffer from a disorder?
Was an after-school program too much for him at this age?
I then wondered how this child would work in a group supported by his peers. I went online and google "collaborative art lessons".  Circle paintings came up and after looking at various ways to conduct a circle painting class, I put it on my schedule.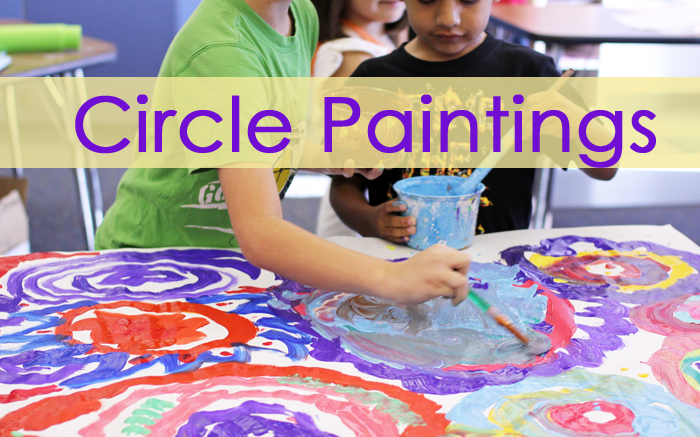 The next day, the kinder class came in. I explain the "rules" for completing a circle painting (basically none). You can see my post about the process here. This child's experience was beyond amazing. He was cooperative, gentle, creative, complimentary and most importantly, calm. I could see his little body relax and I knew he was experiencing joy.
What did this teach me?
Kids will react to situations differently because of simple things like the time of day, hunger or if they had a bad experience before coming to art. Or they child can be a highly sensitive child (like this little guy) and they need different types of lessons. That doesn't mean he needs a special program, but he needs to have equal opportunity to enjoy an art lesson that suits his temperament every once in a while.
---
Sometimes the best reaction is no reaction
Just like I said before, intercepting the strong reaction before it happens can be effective with little ones, but sometimes, not over-reacting to the frustration is equally as effective. Older kids who grow frustrated do not need an art teacher sitting beside them telling them that mistakes are beautiful. But tapping him on the shoulder and asking for help with paints is a good way for the child to regain composure. There is no artist on earth who hasn't had a strong reaction to his work and wanted to crumple it up (including many of you!). It's natural and sometimes, you just don't need to make a big deal about it. Respect the process and move on.
Your turn…
Now it's your turn…how often do you experience crying in the art room? How do you handle it? I can't wait to read your responses. Let's help Ashley out.