Latin American and Mexican cultures celebrate Dia de Los Muertos on November 1st and 2nd. It is a joyous occasion where loved ones who have passed on, are honored and remembered. Fantastic art is created for this vibrant holiday and I just couldn't help join in on the fun. I rarely create holiday based art lessons.
Many cultures and ethnicities are represented in our school and holiday theme activities usually present more problems than they are worth. But since one of my schools has a large hispanic population, I thought I'd be safe. Not really. I had a few students who couldn't take part and for that, I felt badly. Be sure to check with the classroom teachers or principal before doing this sugar skulls project…
SUPPLIES:
– Black construction/drawing paper
– White oil pastel
– White tempera paint (not watered down)
– Paint brushes
– Trays of tempera paints mixed with white tempera paint (they should look pastel)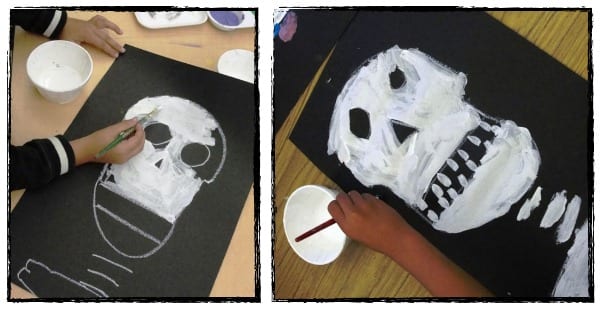 Draw the Skull
Using an oil pastel, draw a skull. Use any teaching method that works for you. I demonstrated how to draw a simple skull, then let the kids do their own.
Painting the Skull
Paint the skull and "bones" with white tempera paint.
Adding the Details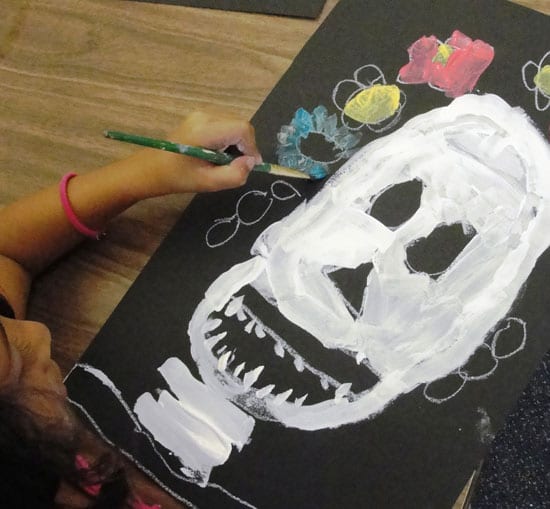 Add "teeth" with the tips of the brush then add flowers, sunglasses, earrings, necklaces, etc. When making flowers, give kids the option of drawing some flower shapes with the oil pastel or they can wing it, like most of my students did.
Tip: When painting the flowers, show the kids how to squeeze the water from their brush. You don't want a wet paint brush when painting flowers…the black paper will show through. I encourage you to try the consistency of the paint first just so you get a feel for it.
First Grade Sugar Skulls!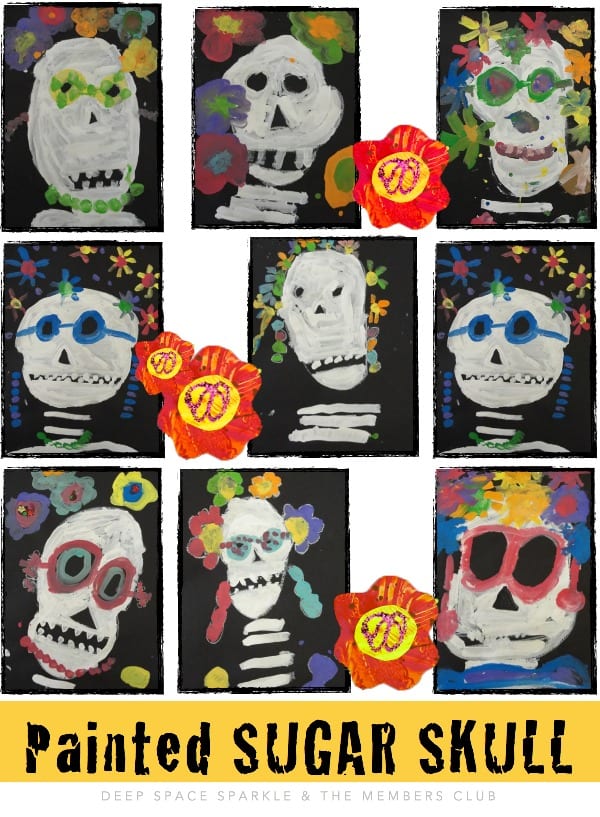 ---
Download a free Sugar Skull line drawings guide by clicking the image below. Enter your name and email and we'll send it straight to you!