Dia de los Muertos (Day of the Dead) is a spectacular event. Not to be confused with Halloween, Dia de los Muertos is a Mexican holiday on November 2nd that honors deceased loved ones. Traditions include decorating alters with sugar skulls and marigolds as well as food and pictures. The art itself is vibrant, detailed and rich in history.
The sugar skulls fascinate me the most. They aren't meant to be scary, but rather fun and celebratory. Still, relaying that message to young kids can be tough. Inevitable, someone (usually a boy!) will want to create the scariest skull possible–blood, vampire teeth and gore. Oh well. I suppose that can be fun, too. I just prefer the flowers and glitter!
So here's what we did: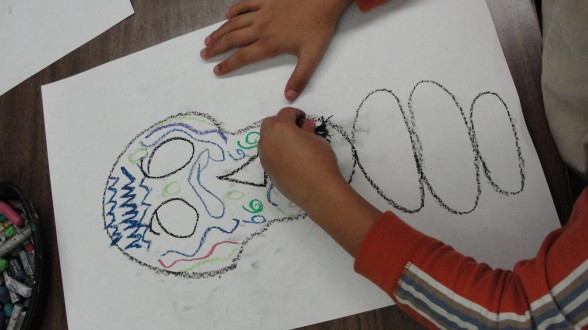 On a sheet of white 12″ x 18″ drawing paper, draw a skull and spine with a black oil pastel. Using oil pastels, add lines, patterns, flowers and any other decorative lines to the skulls.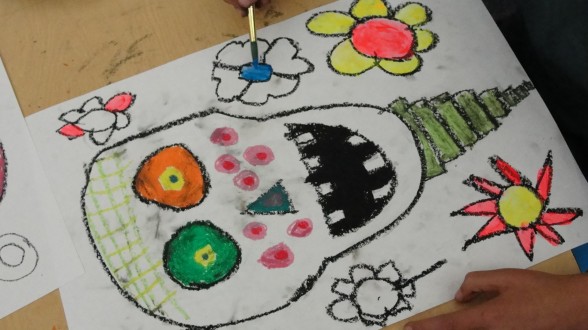 Along the side of the skull, draw large and small flowers. Marigolds are the traditional flowers but I encourage flowers of any design, even a venus fly catcher was the case in one class! Using oil pastel or bright colored paints (my choice), paint or color the flowers. I bought a set of florescent paints this Fall, so I used a few colors in this project. Worked well, but regular tempera paint would have been fine.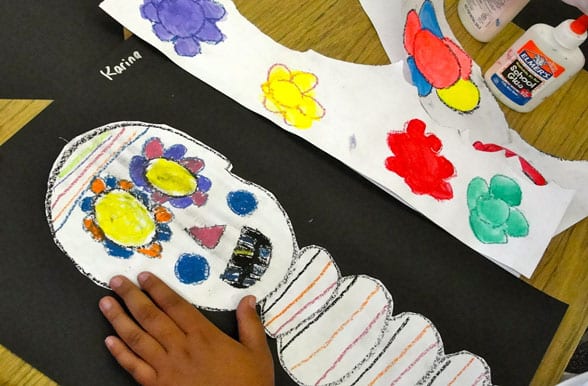 After the skull and flowers are painted and colored in, cut them out. Glue onto black drawing paper. Encourage some overlap with the flowers, especially if a child has many.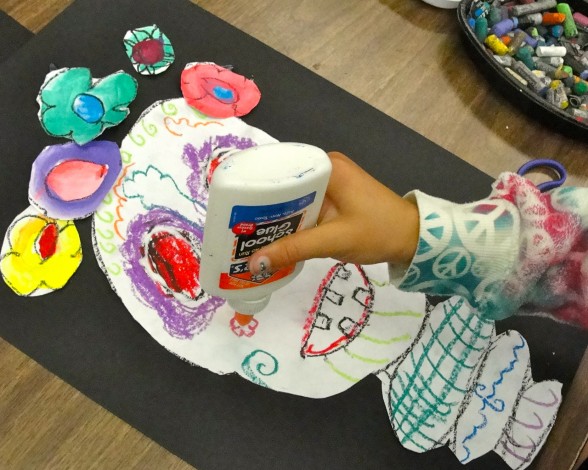 As a final embellishment, set out a tray of craft jewels and allow kids to decorate. For glitter, use white school glue to draw lines around shapes and then sprinkle and shake with glitter! Sparkling, messy and a whole lot of fun!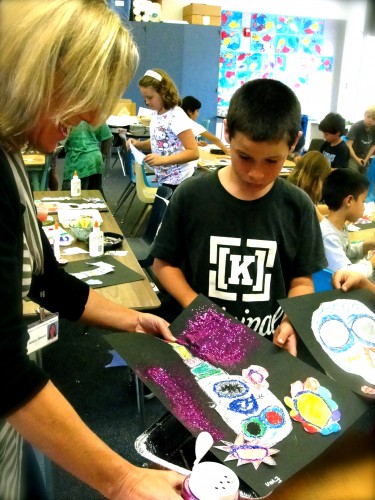 Note to teachers in large classes: It's my best advice to allow only an adult to sprinkle the glitter. Utter chaos could result if thirty 3rd graders are left in charge!
More Day of the Dead Art Projects
Day of the Dead Katrina Doll (3-D Papier Mache)
Day of the Dead Painting project for younger children
---
Download a free Sugar Skull line drawings guide by clicking the image below. Enter your name and email and we'll send it straight to you!