Diego Rivera is one of the most famous painters in the twentieth century. After studying in Spain and France, he returned to his homeland of Mexico. There he travelled across the country, exploring the cultures, architecture and history of the different regions. Returning to Mexico City, Diego began painting murals for which he became famous.
His painting "Mother's Helpers" contains all the wonderful elements Diego Rivera is famous for: deep, rich tones, depiction of Mexico farm life and dark outlines.
The Drawing
Fourth grade students used a black oil pastel and purple 12″ x 18″ sulphite paper to sketch the woman and child. I helped them along by drawing the steps on the whiteboard how to draw the girl and the woman. Take some time to point out the gentle slope of the woman's head, shoulders and back. The line extends from the top of her head to the curve of her knee. So simple and beautiful. Point out that the heads are out of proportion with the bodies and that children shouldn't worry if their bodies and heads are perfect. If it works for Diego, it'll for for them!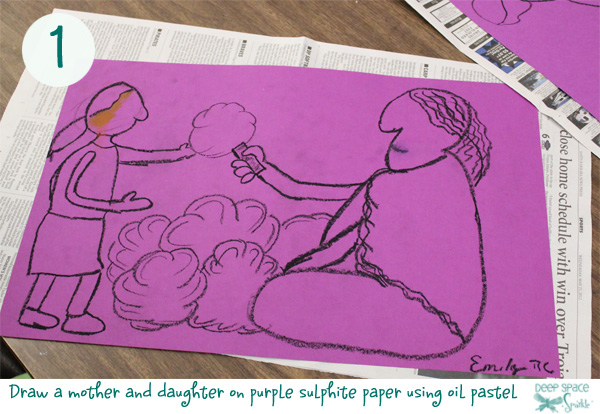 The Coloring
I place trays of chalk pastels on each table. Use newspapers to cover the desks. Here are a few tips for working with chalk:
Understand that chalk is a messy medium and that it's okay for a child to get messy. Clean-up is easy with baby wipes placed at the end of each table.
Use one finger to blend chalk. Think of moving the finger around in little circles, pressing the chalk into the paper fibers.
Use a flat end of the chalk whenever possible for this lesson. Children will want to avoid using a sharp angle to color as it takes longer.
Spraying often distorts the artwork so I rarely spray. Instead, I use newspaper to cover the artwork.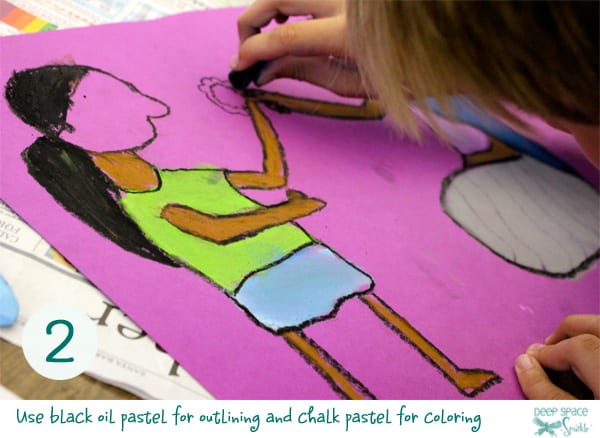 The Outlining
The final step is to use a black oil pastel and a black chalk pastel to outline and to add shadow and depth. This is one of the few times I allow my students to use black chalk pastel. Most of the time, it is hidden away in a separate box!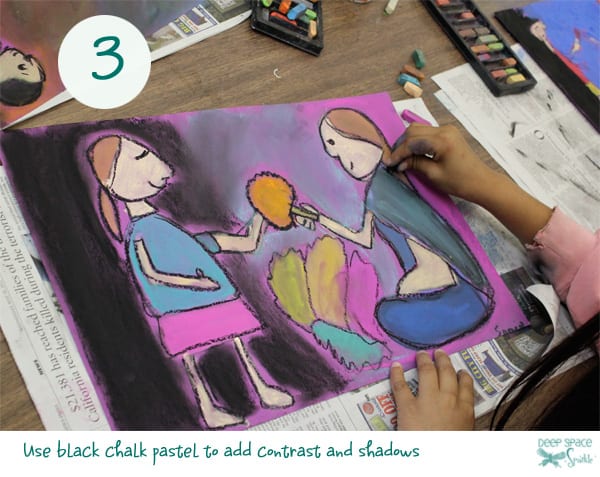 Fourth grade Diego Rivera chalk drawings…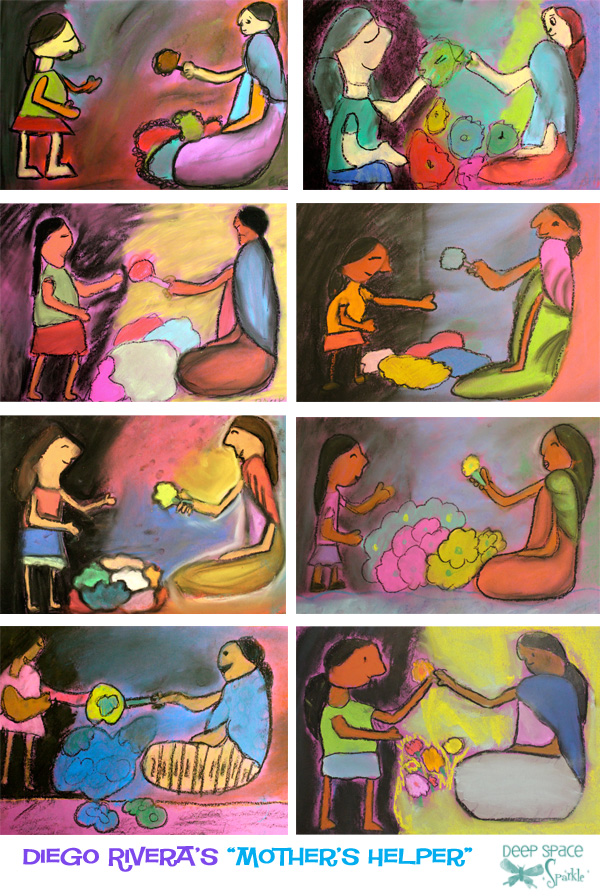 ---
Want another lesson idea for your Mexican art unit? Download this free PDF by clicking below and we'll send you our Sugar Skull Drawing Guide!