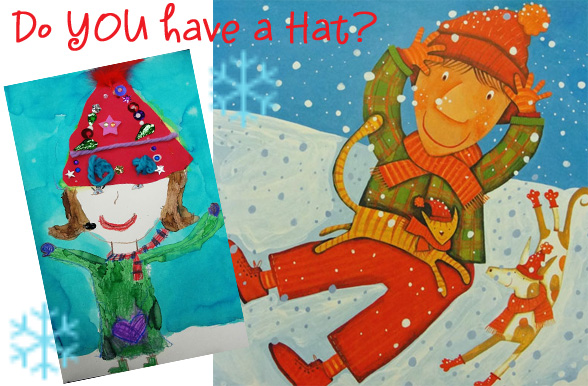 A while ago, I stumbled across the most adorable children's books. Do You Have a Hat? written by Eileen Spinelli and illustrated by Geraldo Valerio features the hats of some very famous individuals: Goya, Lincoln, Carmen Miranda to name a few. It's a great read for the classroom; funny, brief, historical and visually dynamic.
Since the book was written for the younger elementary student, I geared the art lesson for 1st grade.  I created hat templates for the children to trace and decorate (sombrero, sunhat, cowboy hat, top hat, winter hat, etc). After tracing the hat onto a sheet of paper, the children then had a good starting point to draw the rest of their body. This turned out to be a perfect combination of literature, craft (hat decorating) and art (drawing and watercolor resist).
After doing this lesson a few times, I realized that instead of using all the hat templates in one lesson, you can break the lesson down into seasons (winter hat art project, Fiesta, Summer Fun, etc.) In a way, it makes it easier to help the students. This lesson is featured in The Members Club!
Here is a sampling of my first grade student's work….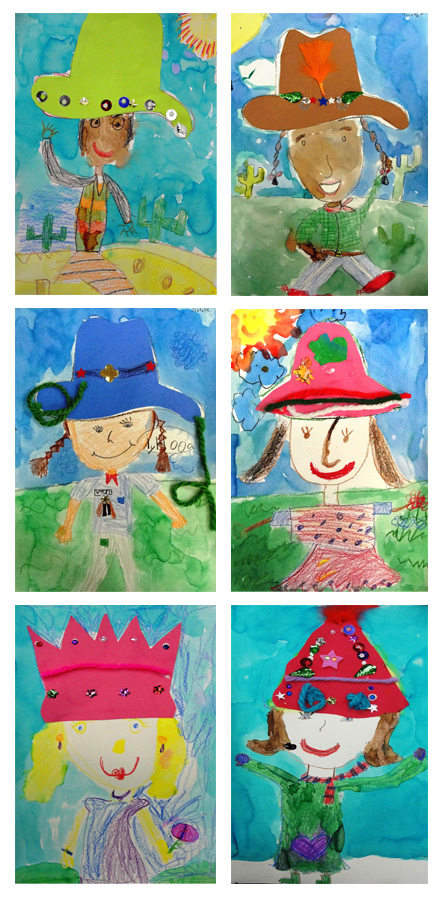 *This post contains affiliate links.
---
FIND THIS LESSON AND MANY MORE BY CLICKING BELOW…