Double loading is a painting technique I use in all my art classes. It's super easy, eliminates some common painting problems like using too much water, plus it's truly beautiful.
After many requests asking me to explain how I teach this cool technique, I have finally done it! Here is a short video (1:45 seconds) showing how the the process works…
This is my absolute favorite tempera paint technique. The name comes from the simple description of adding more than one color of paint to a brush. Most lessons ask that a child dip their brush into a single color then paint onto a piece of art paper. Or instructions ask the student to mix paint onto a palette to create a color. Double-loading is a bit of a hybrid.
The idea is to not only create beautiful, interesting colors but the benefit is that it saves a whole lot of time. Mixing paint on a palette is a rewarding experience but it can take a while to complete a painting. When time is not on your side and you have 30 kids to move through the painting process, the double-loading technique is your best friend.
Here's what to do:
Start with 3-5 colors of paint. I like to include white into this mix.
Dip paint brush into one color (say red) then scoop up a tiny amount of another color (say white). You will see two colors on the brush.
Brush paint onto a paper surface noticing how the colors appear on the paper. The more times you brush the paint onto the paper, the more it will blend. Sometimes it's nice to leave the application alone so you can see the striped effect of the two colors.
Try loading the brush with three colors.
The tip for making this technique work really well is not to use too much water in between paint colors. The idea is to have remnants of color already on your brush so that after dipping into a paint color, a new color appears.
Here are some art lessons that use the double-load technique: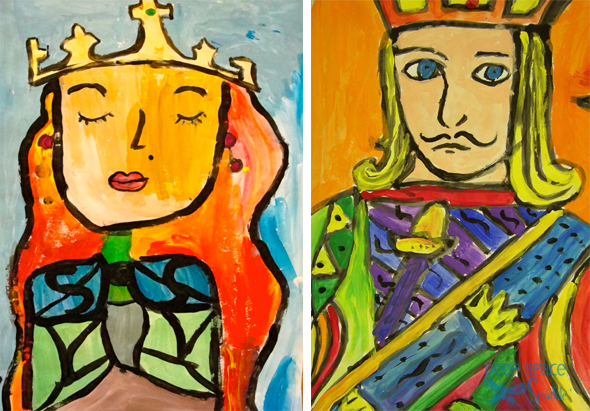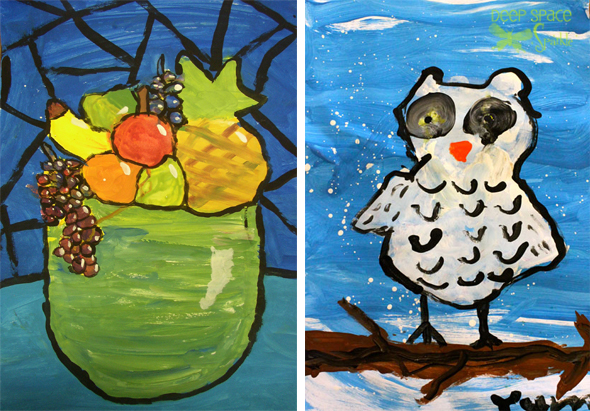 Here are a few art lessons that use the double-loading technique…
Sixth Grade Rouault-Inspired Kings & Queens
Fifth Grade Stained-glass Fruitbowls
---
New to teaching art in the classroom? Download my free classroom art teachers toolkit by clicking the yellow box below!