After a few years from conception to physical book, I was ready to give this sparkly baby a birthday party. Draw, Paint, Sparkle was published August 21st by Roost books and since then has landed in the hands of art teachers and artsy mamas all over the world.
I couldn't be more proud to help parents introduce art to their kids. It's always been my dream to facilitate this in some way. Since I'm no longer teaching children in a school setting, it's been a wonderful experience to be able to inspire a little drawing and painting around the kitchen table.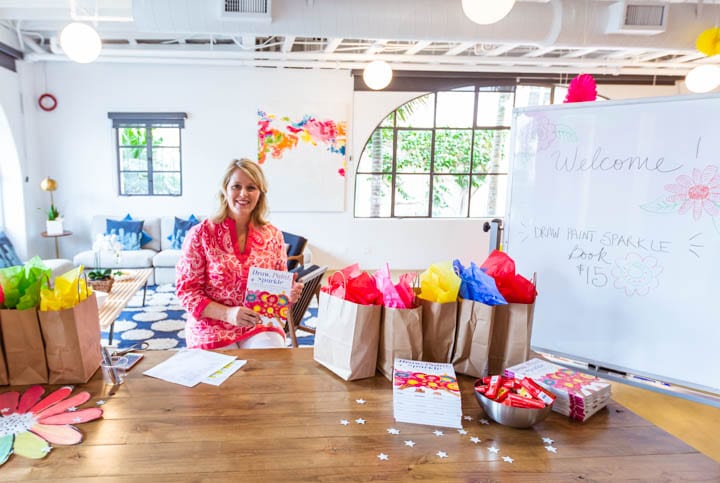 We found the perfect spot to host the party in downtown Santa Barbara. Over a few hours, friends and families of the children who created art for the book streamed in, created art and enjoyed some sweet treats.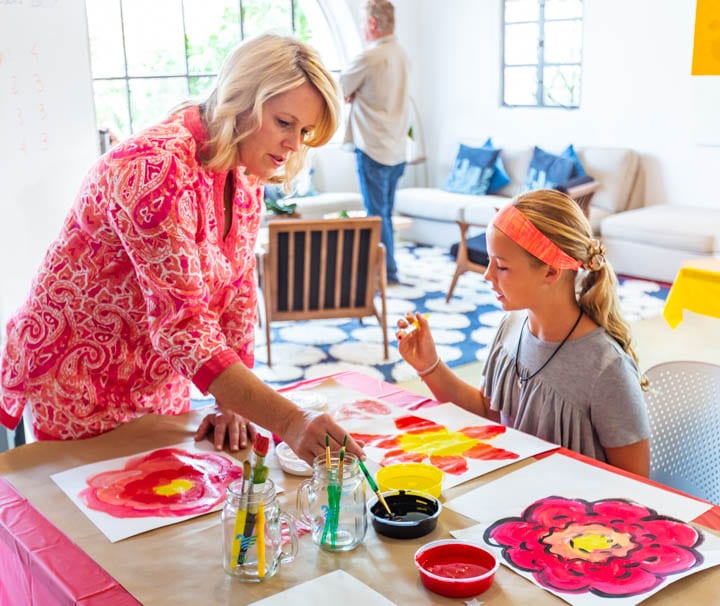 We prepared a few art projects so the parents could sit down and create some art with their kids. My favorite was the painted flowers. This is based on one of the projects in the book designed to get the paint party started…there is no wrong way to paint…but you always end up with a fun flower.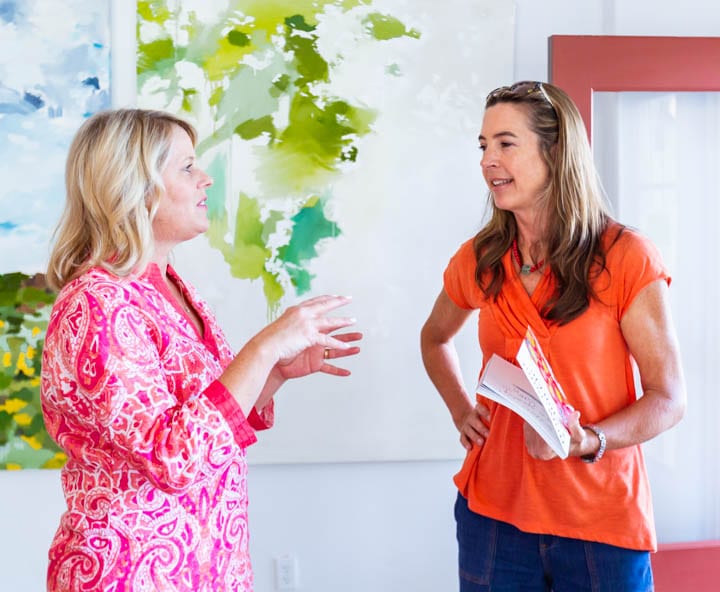 The best part? Meeting local Sparklers!
A few members of Deep Space Sparkle's The Sparklers Club popped in to create art and of course, chat about art. This was especially fun for me as it's always nice to connect with art teachers in the Santa Barbara area.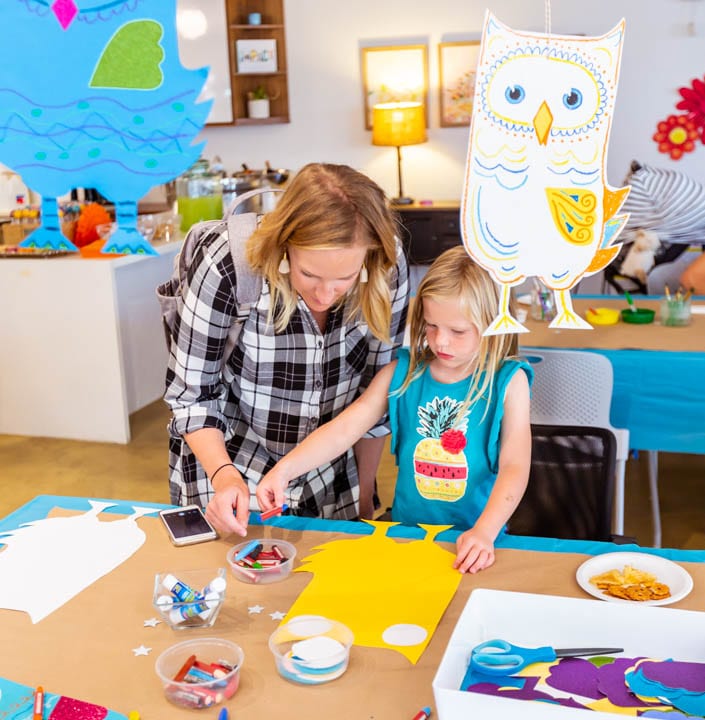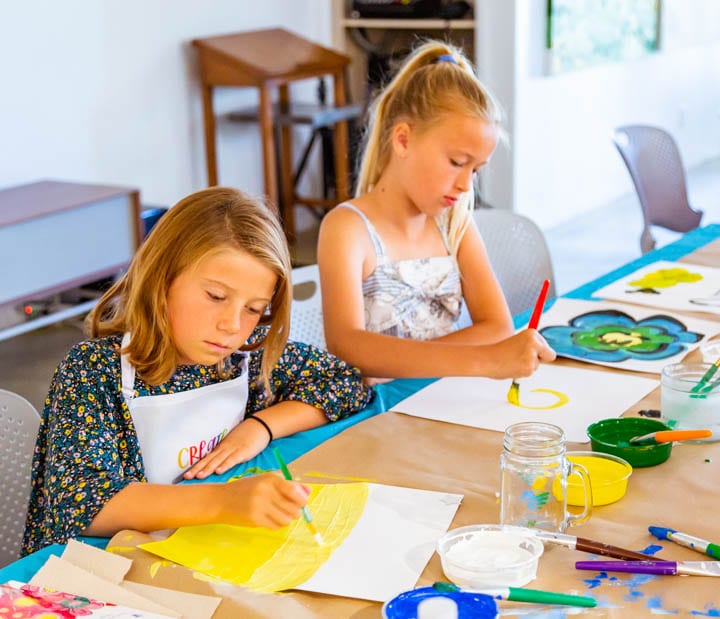 Little ones had a chance to color, paste, and decorate paper owls and cats…which turned into a friendly competition between adult makers. I tell you, it's never too late to indulge your inner artist!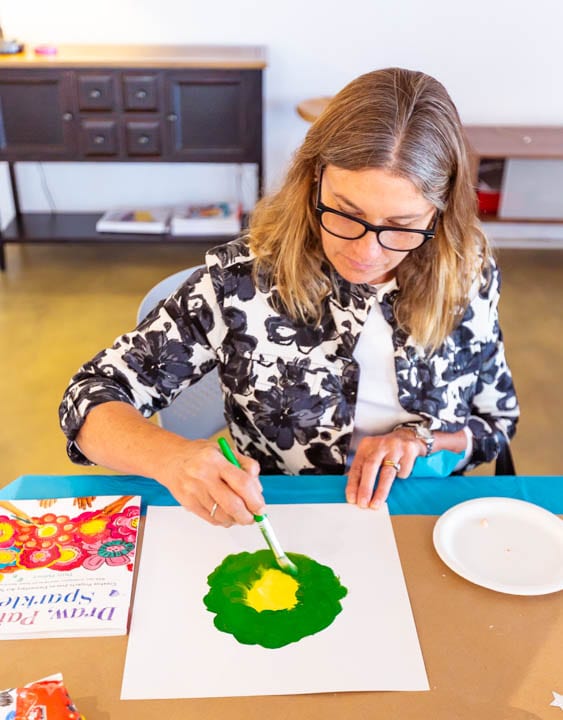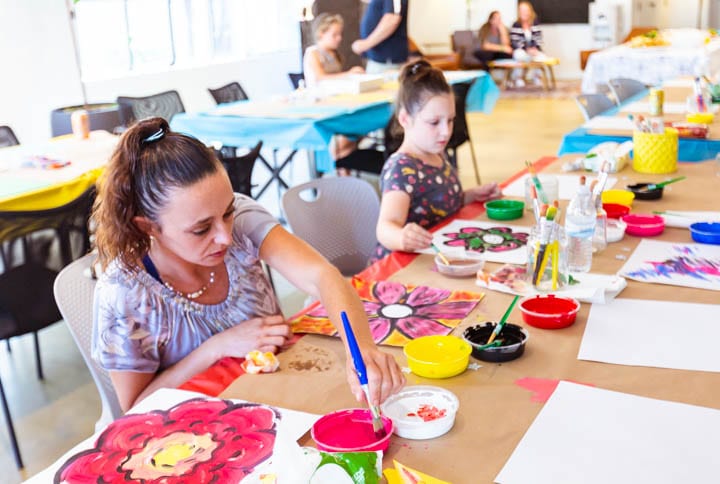 Two years ago when I was coming up with projects for the book, I invited a steady stream of children between the ages of 4-12 to visit the studio and create art with me.
This little one was only three years old at the time and was THRILLED to see her picture in the book. I remember that day…we were painting the big colorful flowers featured on the book's cover and this little one went to town! Splatters, lines, patterns and colors galore. I knew as she was creating her art that I wanted to feature it so I'm glad the editors thought so, too.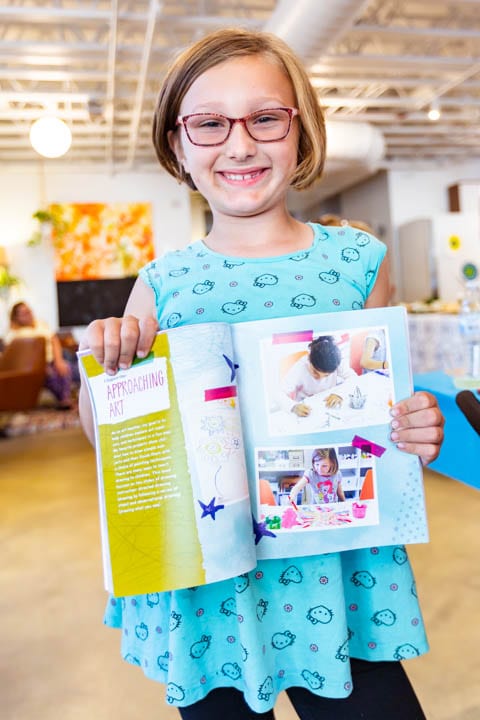 As the room started to fill up and champagne starting flowing, kids left their parent's side and dove into free expressive painting. It was great to see…messy and delightful.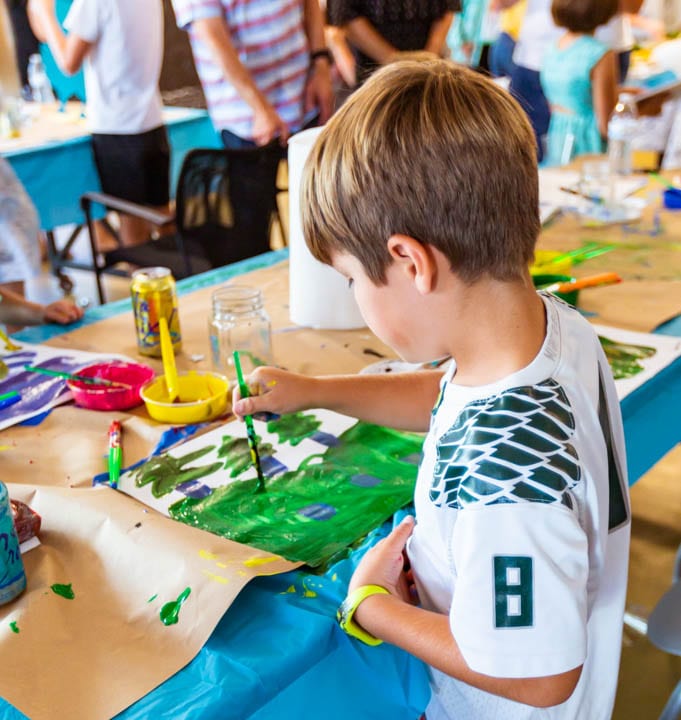 It took a little encouraging to get children to pose with there parents but a few brave kiddos LOVED the attention.
Especially my girlfriends (see below!)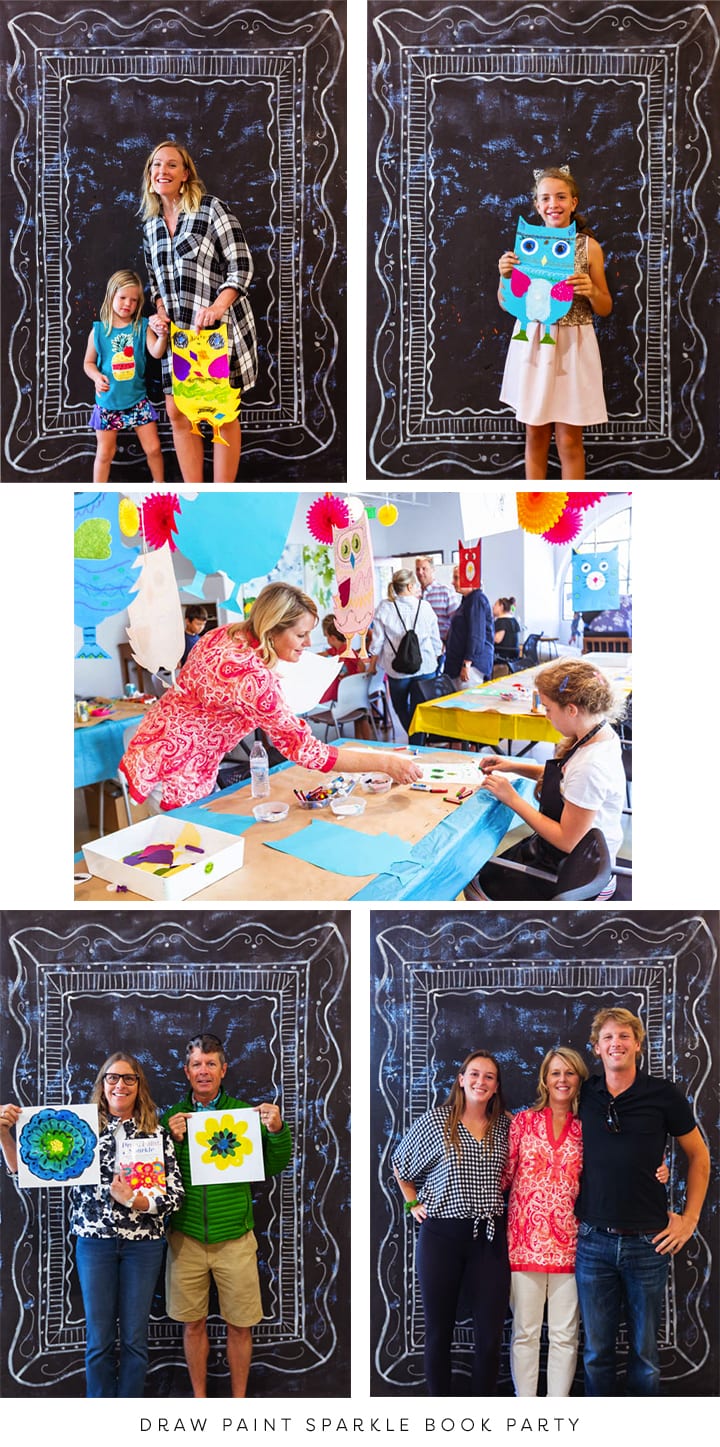 I was happy to have two of my three kids at the event. Newt and Elly came for the weekend to not only help celebrate but did a great job of lugging boxes, helping with decor and chatting with the kids (and adults). Neil was in San Francisco with a buddy and had to miss the event. Believe me…this was a good thing. He's been with me every single step of the way and deserves a break.
As I walked around, I was reminded me of how much I loved watching kids create art. I don't do much of that nowadays but it's still fascinates me to see how two children can take the same project and inject in their personality.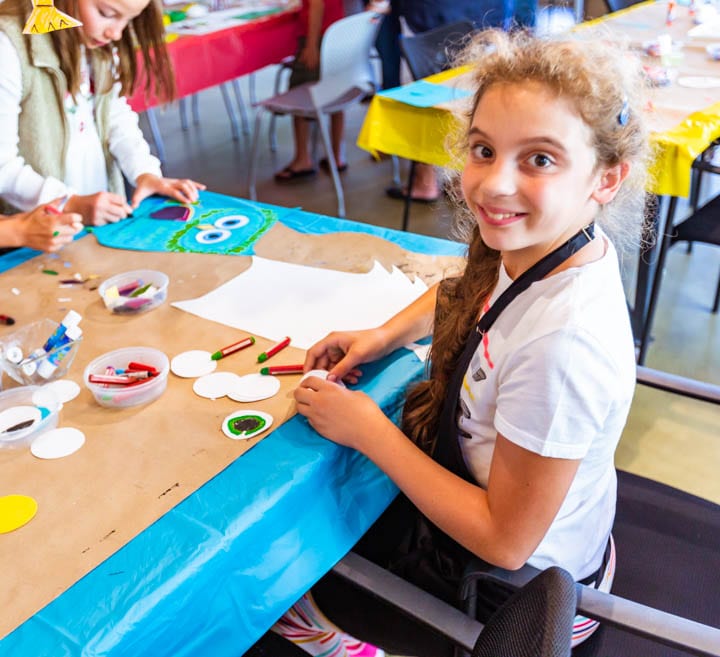 Many of my girlfriend's popped in and helped me (finally) celebrate the book. Another milestone and touchpoint that we can use to celebrate the good things in life.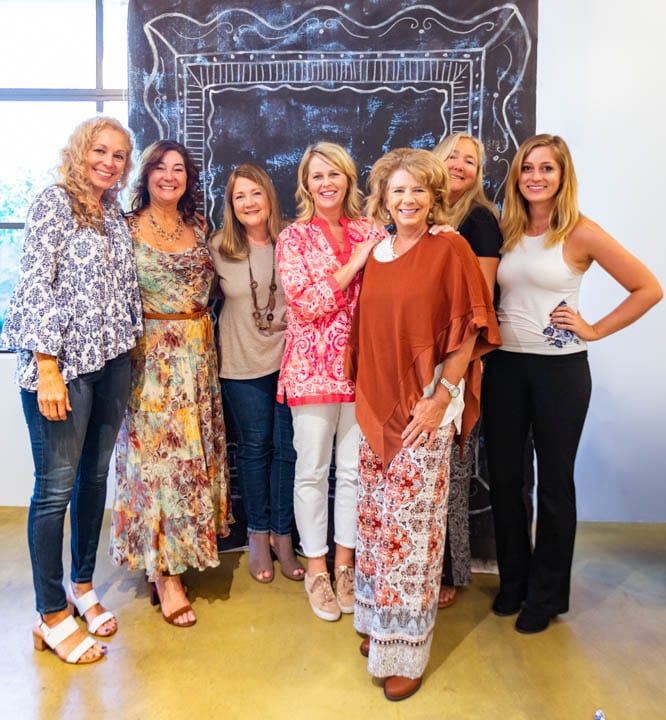 As the day slowed down, a few children hung around to ask me to sign their book. I mean, isn't that the cutest?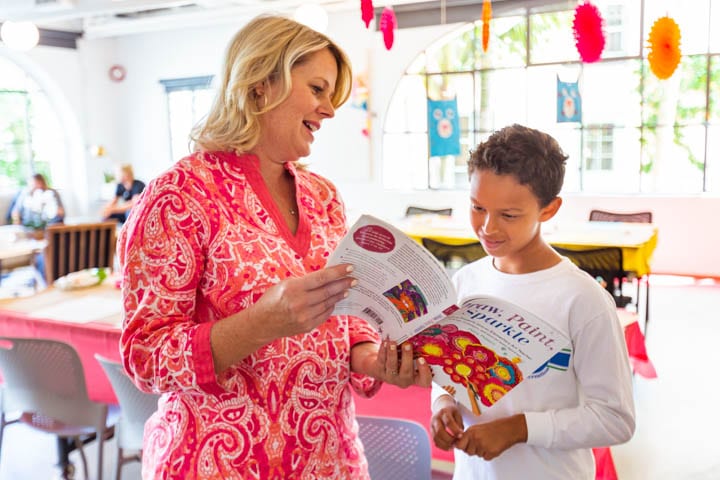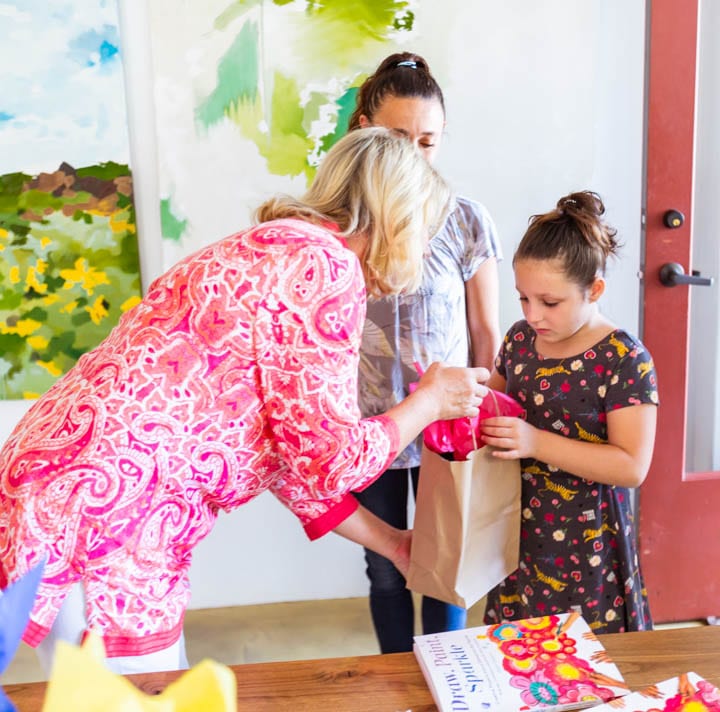 Team Sparkle made me proud…it's amazing to me to be able to work with such enthusiastic women, who are so good at what they do and care so much about our community. Couldn't have done any of this without you.
Thanks to Shannon, Ashley, Emma and Chrystal!
---
Visit the Draw, paint, Sparkle website to download a free project form the book!