Here is a super easy lesson that I snagged from Painted Paper Flicker Page. If you have any desire to be utterly inspired let alone be swept away by color, visit this link. This gal is my ultimate inspiration! Couldn't quite find the "barn" painting to refer you to, but it's in there somewhere!
Anyway…like I said, this project is an easy one and it allows all children to feel like an art star. It's wonderful lesson for all abilities as long as the child can draw a line (and it doesn't have to be straight).
SUPPLIES:
12″ x 18″ white drawing paper
Oil pastels
Tempera paint
Here's what I do:
Set out a piece of 12″ x 18″ white drawing paper and one black oil pastel per student.
On the whiteboard, I demonstrate how to draw a barn, beginning with the square that makes up the front of the barn. Starting at the bottom left hand side (allow room for background), draw a square with an open top. If some kids close off the "square", don't worry.
Now, draw two angle lines to form a triangle (pitched roof).
Place oil pastel on the bottom right hand corner of the "square" and draw a line along the bottom of the paper to form the bottom of the barn.
Then draw another line, parallel to the bottom line in the middle. Then, draw another line along the roof…BUT…stop before reaching the end.
Connect the lines to form a steep roof and side of the barn.
Add a square to form a "loft", a wide double door and windows.
Keep the background simple by adding gently rolling hills, trees or even a fence. I encourage the kids to make the barn the star of the show.
Add a silo.
Don't paint barn boards at this stage.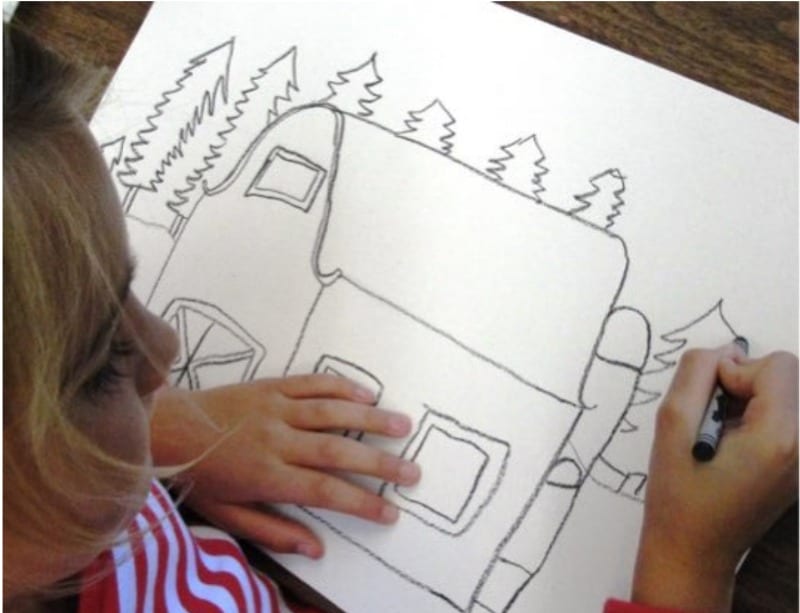 Now, the kids are ready to paint. Set out a tray of white, yellow, red, light blue, dark blue and green.
Teach them how to mix colors directly on the page using the double loading technique with the paintbrush (dip paintbrush with one color, then dip into another color. Be careful not to swirl the paint around!)
Paint sky first. I encourage the kids to paint their sky whatever color they like, but they must consider the barn and the background before deciding. They don't want to use the same colors!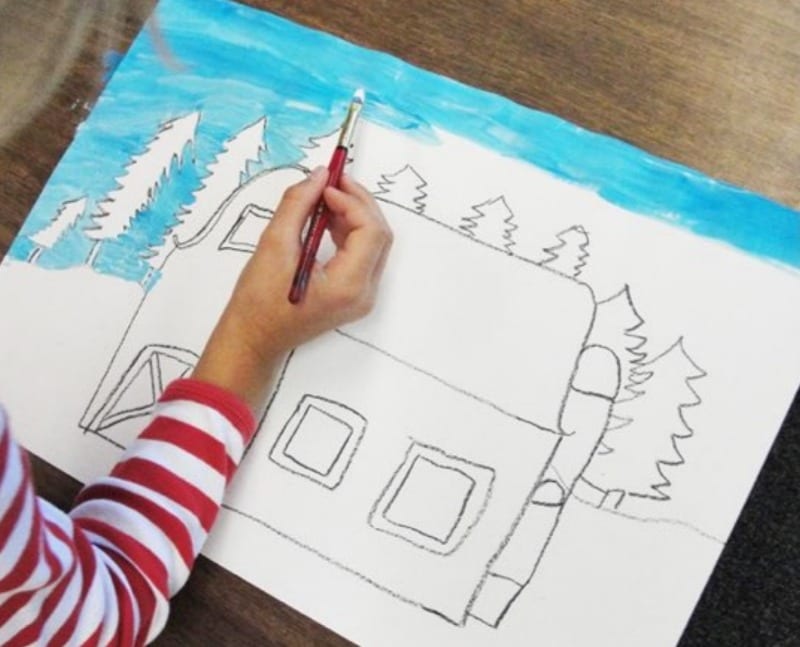 After the sky is painted; paint the barn. Suggest that they paint their roof a different color than their barn.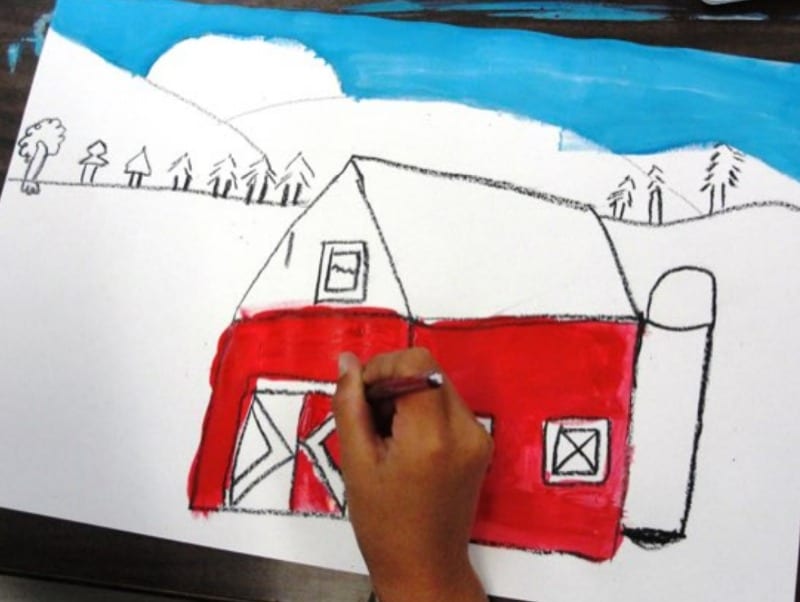 The last step involves setting out little tubs of black tempera paint and small brushes. Trace over every single oil pastel lines plus add lines for barn boards, if desired.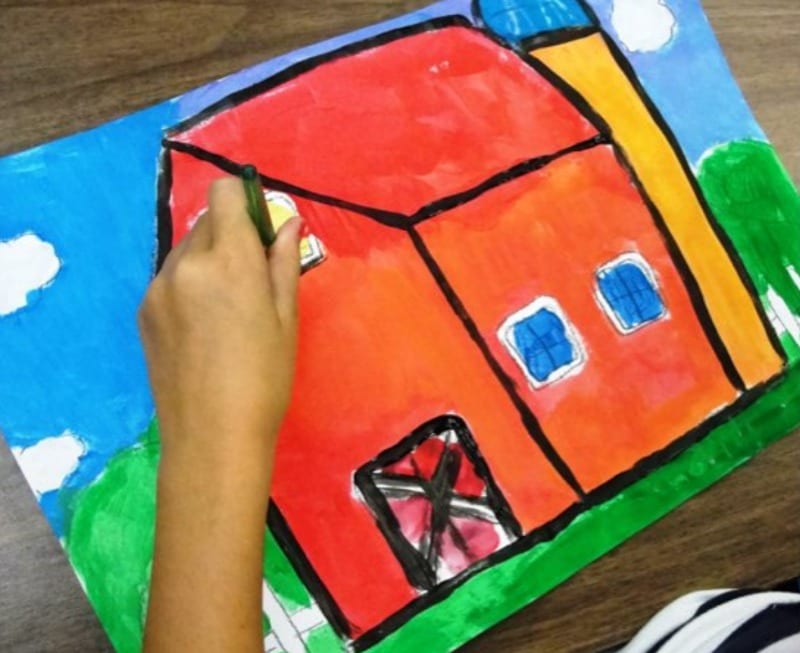 Third Grade Results!!!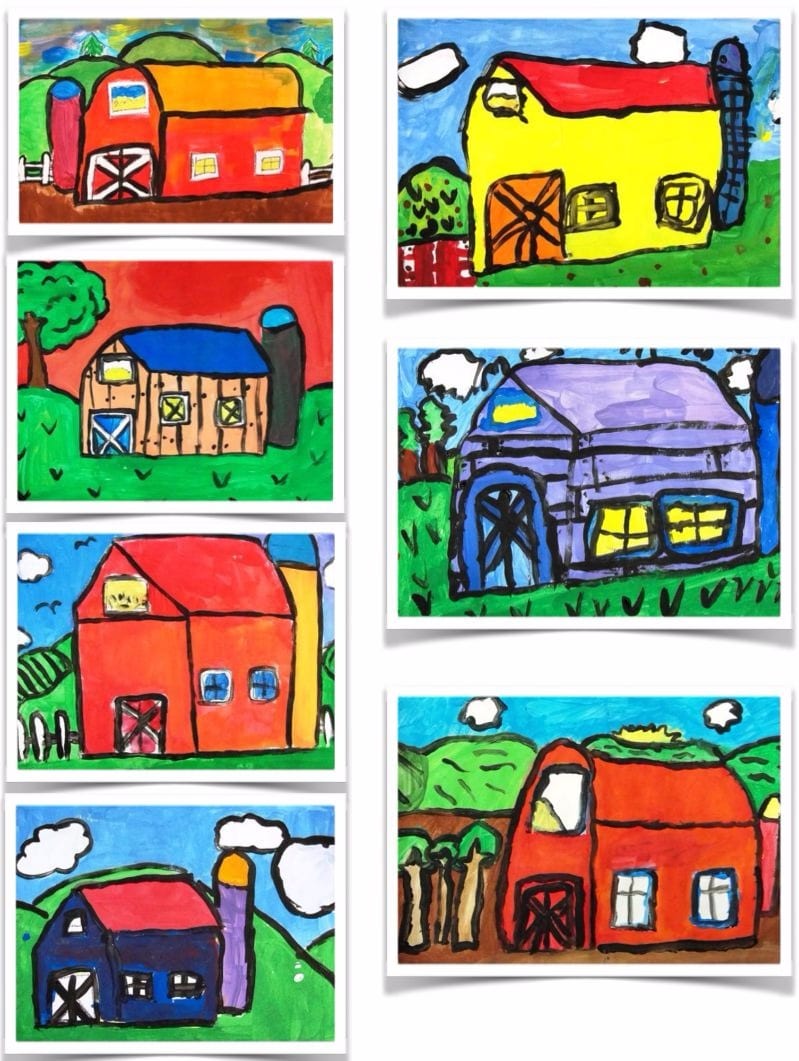 ---
 Download this free lesson guide on our Chicken Little template for more farm animal art inspiration!