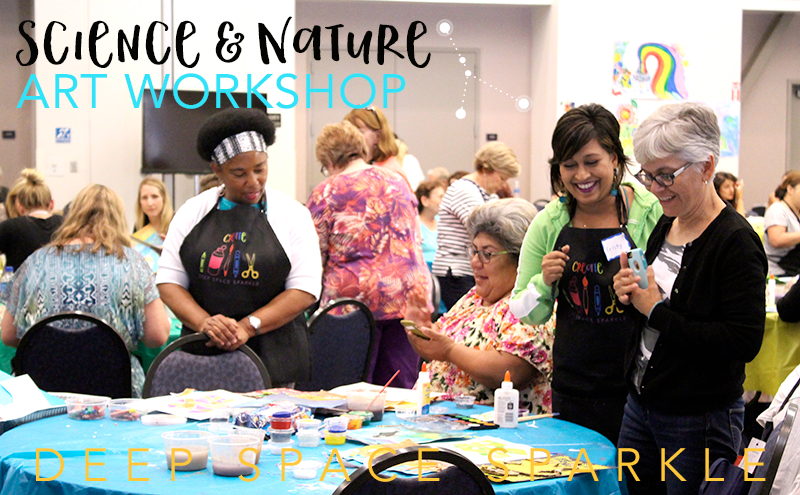 In many ways, a Deep Space Sparkle Workshop is like a wedding. Months of planning, fussing over menus and tablecloths, ordering gifts…and in the end, love erupts.
Team DSS felt loved, appreciated and grateful during the event and after it was all over.
How can we tell our guests how honored we are to create this event for them? Teaching art can be a lovely affair but coming together like this? Well, it's nothing short of magic.
This is how it all went down….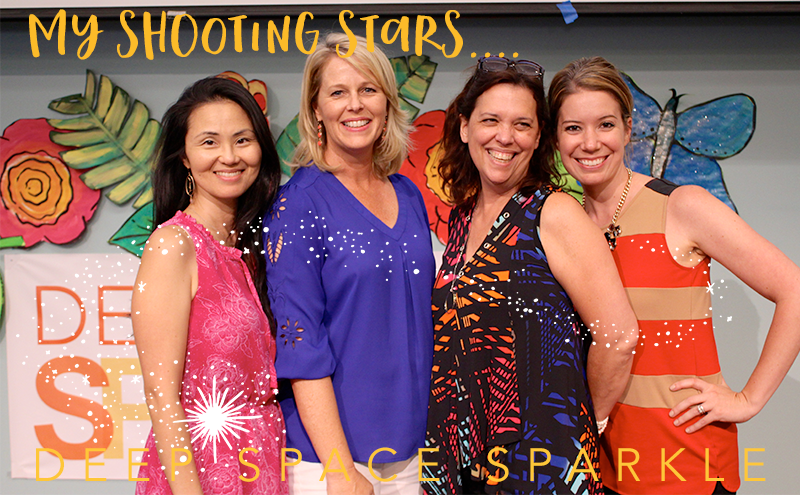 I was so so so fortunate to have stumbled across the lovely Gina Lee Kim through Instagram. I know. What are the odds? Well,  when your genius flows, nothing can stop the universe from  spreading your gifts. Gina delighted the audience with her array of watercolor techniques. We were spellbound and couldn't get enough of what this lady could do with some water and a bit of color.
Sally Haughey from Fairy Dust Teaching  reminded us of the magical stages of childhood and how as educators we can keep the magic alive.
Rachelle Doorley from Tinkerlab showed us how to engage children through thoughtful questions and observation with a fabulous observation drawing with a viewfinder and the most lovely sampling of natural beauties.
And finally Team DSS, Marisa Gebert showed us how to use assessment tools for the lessons. Marisa has created a new done-for-you art curriculum and guide that will be released this August in the Sparkler's Members Club. It's just one of the many assessment tools Marisa has created for all the lessons inside the membership.
Sparkler Morning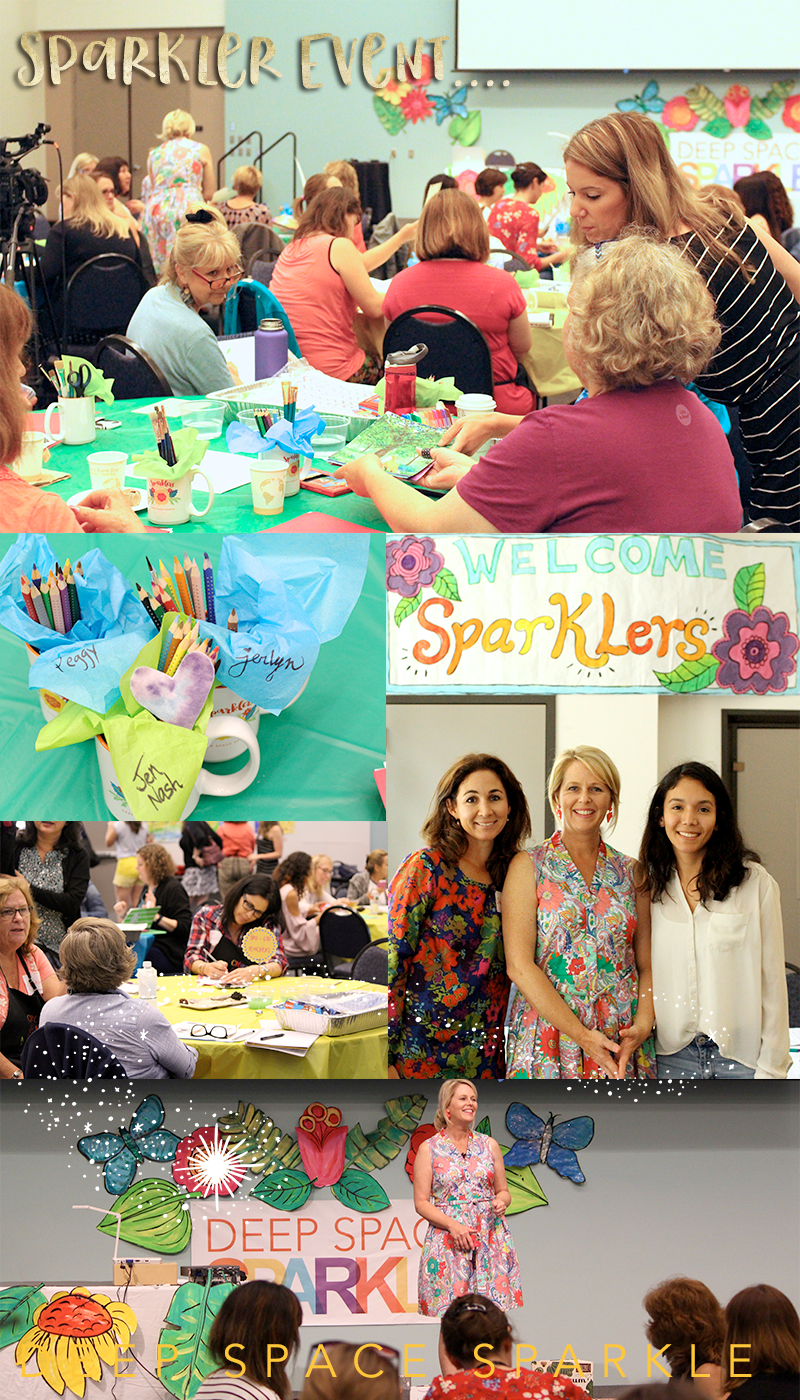 Are you a Sparkler?
It's a bit confusing, right? I mean, everyone who loves Deep Space Sparkle is a Sparkler! But there is a group of teachers who are members of a paid monthly membership group called the Sparkler's Members Club.
We honored those who could travel to the free bonus Friday morning workshop with a breakfast, lunch, an exclusive Sparklers mug, extra swag from Faber-Castell. Being a Sparkler means that you are not alone. It's not just about the fab lesson plans you can download each month, but it's about our community that we created.
I'm so proud of how ALL of these ladies support each other. Friendships are forged and tips are shared.
One of the questions Shannon from Team Sparkle heard a lot was how can we create Sparkler meet-ups all over the country. Shannon is on it and we'll make it happen!
After the special Sparkler morning, we hosted more artsy teachers from across the country for a day 1 ½ days of art-making and learning.
The Dinner
One of the commitments we made from the very first event was to make sure we feed our guest. And by the second workshop we knew that hosting a dinner immediately after the first day of the workshop was an absolute MUST. And you can't have a Santa Barbara bar-b-q without a glass of wine!
The best conversations happen under an umbrella of jacaranda trees and a Santa Barbara pinot, don't you think?
The Sessions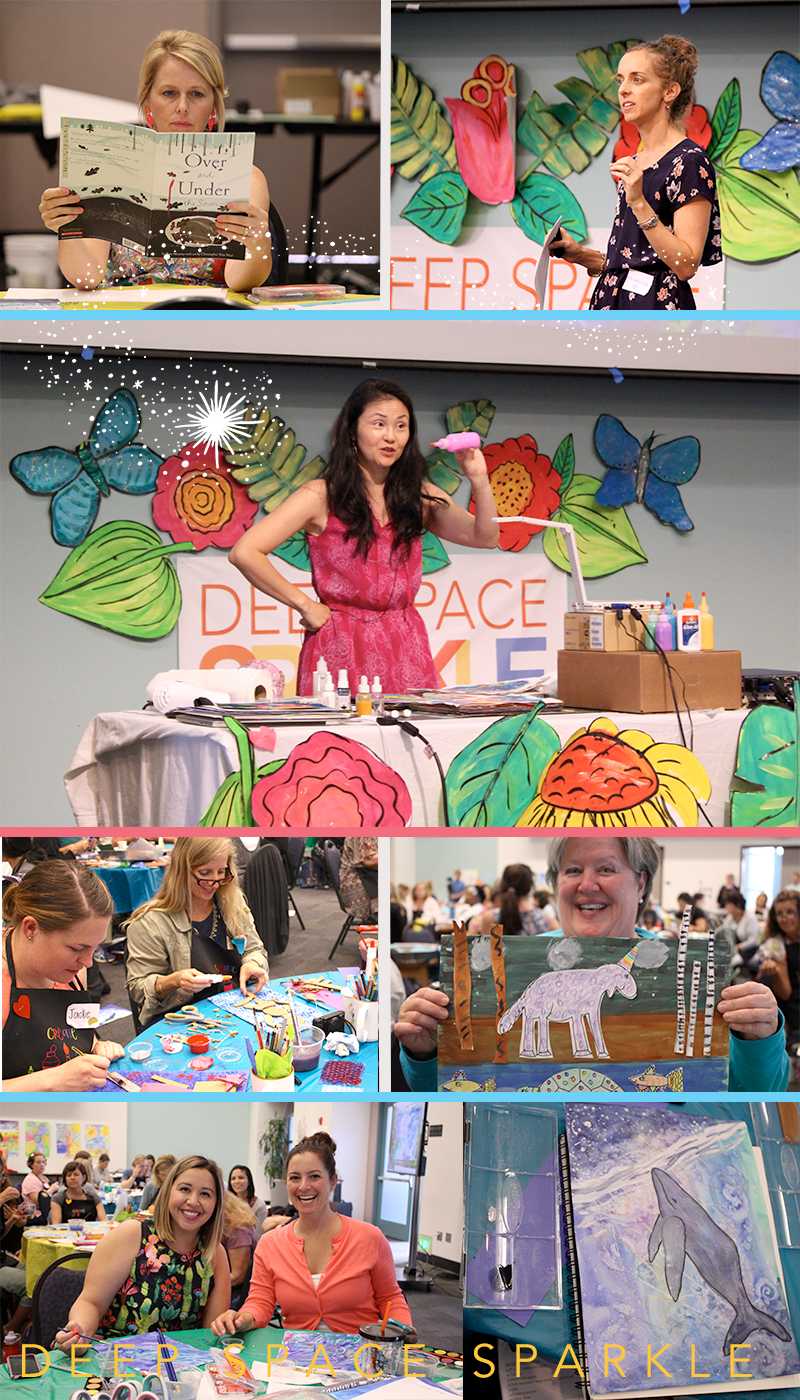 We create art at the workshop. Lots of it.
We use the BEST art supplies from Faber-Castell (who donates a TON of beautiful full-size products  every year for our guests). Big LOVE for them.
We learn tips on how to engage kids.
We share art ideas and strategies for grade levels.
And if you're not an artist, we show you how to teach art even with limited skills.
WE DID IT!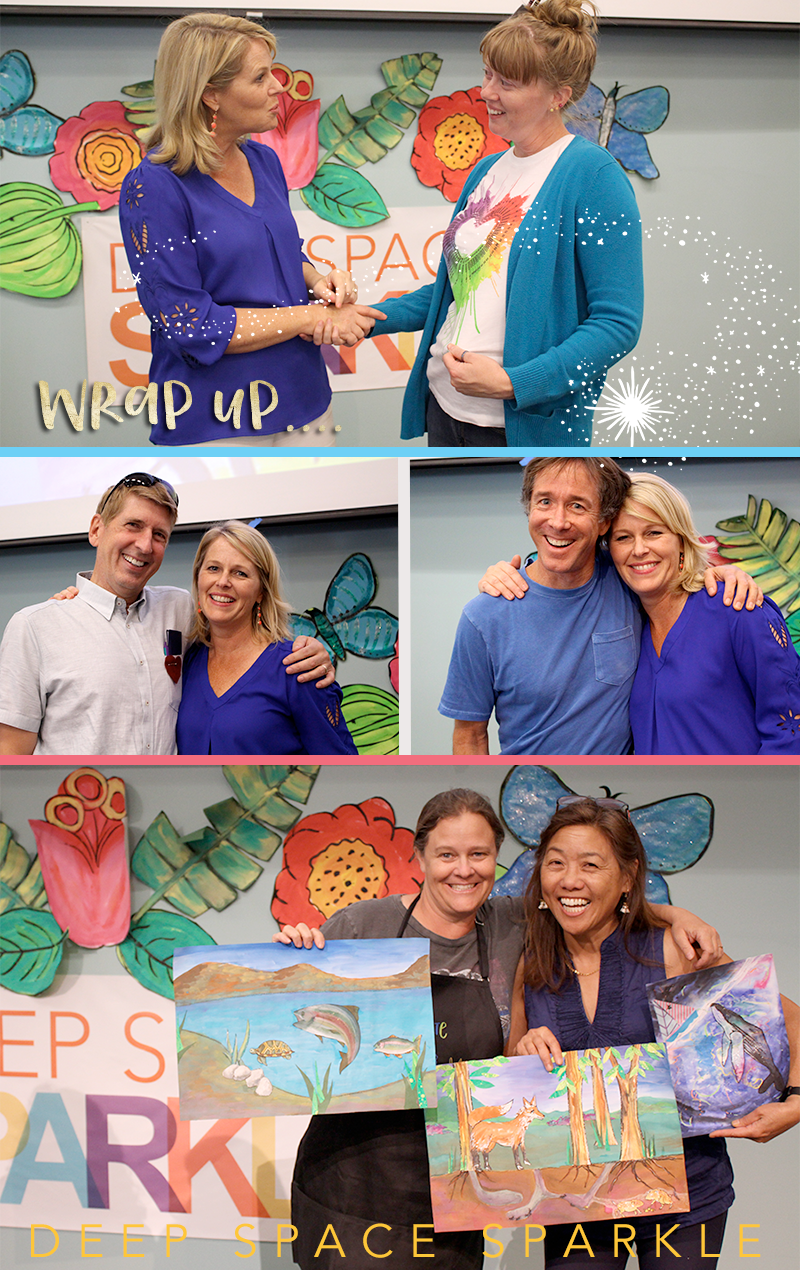 After the tables are cleared, art collected and the last cup of coffee & cookies consumed, the hugs start.
Cameras snap pics of the awesome display of art. Contact info is shared and lots (and lots) of group pictures are staged.
That's Neil and I way up there…and Russ my camera man who has taken video footage of all my workshops…and my fellow art teachers who do the work of inspiring kids.
I LOVE hosting this event for everyone who loves art. We had teachers from as far away as Trinidad! There's no stopping an art teacher when she was inspiration! Thanks Kristy for creating art with us!
Until next year…..