I needed a quick art lesson for my last day of art with my first graders. Something fun, engaging and applicable to our unit on color & line. My Kinders did a similar line lesson at the beginning of the year with liquid tempera paint and oil pastel and it worked really well. To reduce the amount of prep, I used puck tempera paints instead of liquid tempera.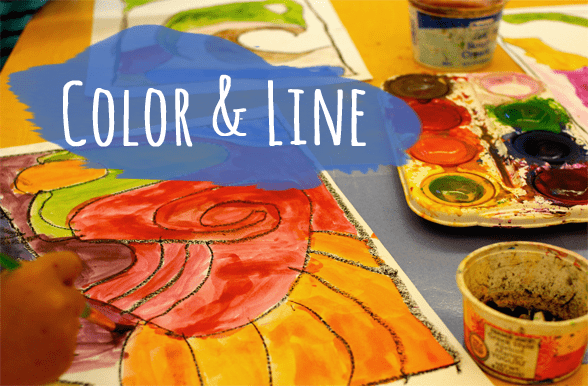 We started by jumping right into taking our line for a walk. No explanation of lines was necessary as this was the last day of art and lines had been covered extensively over the course of the year. But if you do this any other time, looking at a line chart or drawing different types of lines on the white board is not only fun but provides the basis for this lesson.
Taking a line for a walk….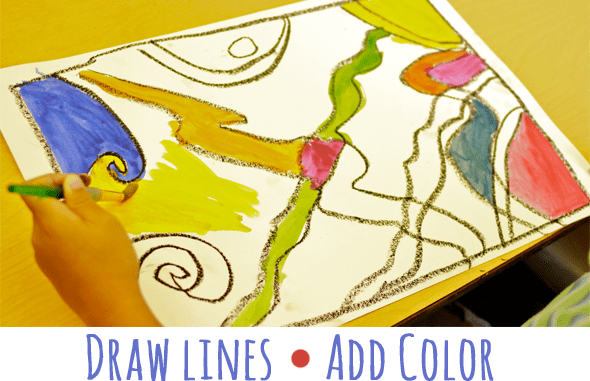 On a sheet of white paper, draw a "frame" or border around the perimeter of the paper.  This is so the kids won't paint off the edge of the paper thus reducing the need for placemats. Hey, what can I say.  It was a busy day.
Starting at one section of the border, draw a line…any old line…and see where it goes. The kids had fun with this and much to my surprise, were quite disciplined with how many lines they made.
After the lines were drawn, the kids painted the resulting shapes with any combination of colors they wanted.
I loved the variety of colors they chose. Each one different and unique to the artist. A great way to end the year.
Check out these finished projects using the element of color & line.