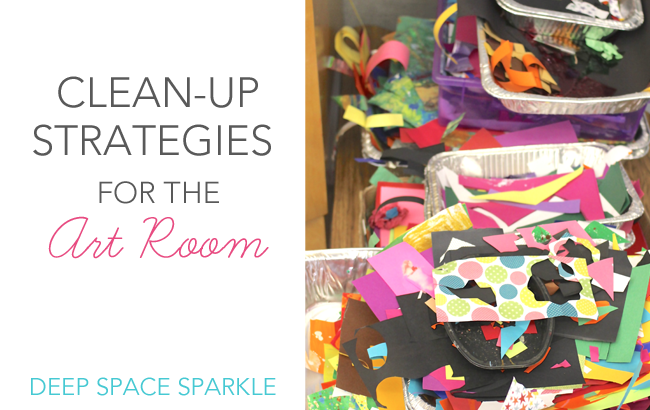 For many of us, the end of the school year is fast approaching. For me, it ended this week and if your art room is anything like mine, it can be overwhelming to think about cleaning up. There are some things I need to do, like get boxes and supplies off the tables and clean up the sink area–things that the office manager assigns in a checklist–but the boxes of dried up clay, the mismatched markers and the boxes of paper scraps just make me want to run away and hide. In fact, I tend to be in the same boat as DSS Facebook reader Leah Keller, when asked what her advice is for the end-of-the-year-clean-up, "Drive away and don't look back until August!"
Actually, there is a lot of truth to her statement. Sometimes, doing the basics is enough for now and when you come back in August–rested and motivated and with brand new supplies–you can really dig in and organize with ruthless abandon.
Here's what I do at the end of the school year: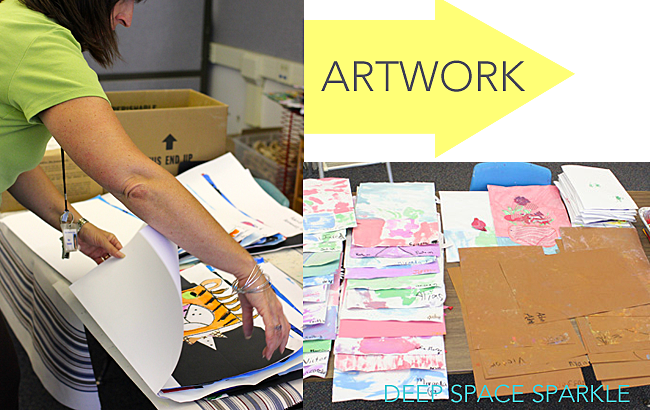 Organizing artwork and returning it to the students is priority number one. Sometimes, I have the students organize the last pieces of artwork into their portfolios, sometimes I do it myself between classes and sometimes the classroom teacher steps in and helps while I teach the class (love my co-teachers!).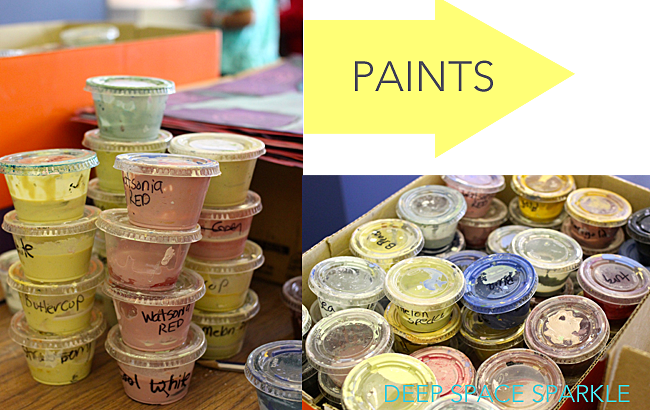 CERAMIC UNIT CLEAN-UP
Because my ceramic unit falls at the end of the year, I have some things that require attention.
Wiping the dry clay bits off my mutli-slab tile cutter, because if I don't, the clay will rust the wire.
Combine underglaze colors together into small condiment cups. Write color name on side of tub. Often the underglaze will dry out, but when you use them again in the fall, just reconstitute by adding water.
Separate clay tools and place in individual trays or containers
Put plastic bags of extra clay into large buckets and add water to the bags. In the Fall, I'll have some students wedge the extra clay into cubes.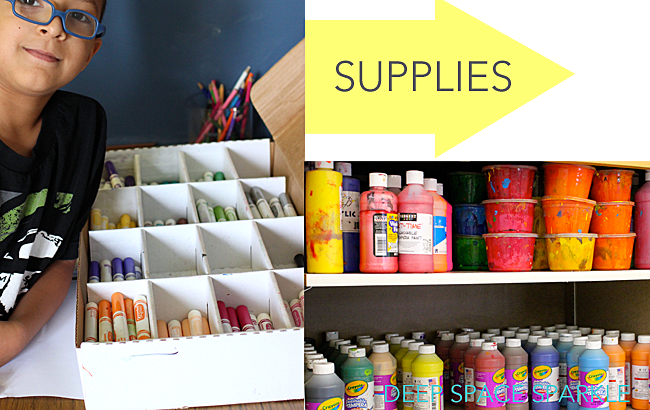 MARKERS/OIL PASTELS/CHALK PASTELS
This is one category of clean-up that I leave until Fall. Students help sort markers but I leave pastels and chalk alone. It's just too messy and overwhelming. I'm far more excited to organize this stuff when school starts back up.
Paints are the same. I throw out empty bottles, I clean a few plastic tubs, but mostly I don't worry about it.
BRUSHES & ART PAPERS
Brushes are quick to organize as I organize them daily. Having brushes sorted and ready to go is part of my prep system so I am a stickler for brush organization. Same for the other things I use everyday like Sharpies, black oil pastels, glue and paper.
WHAT OTHER TEACHERS DO:
Deanne Lawder takes scissors home and runs them through the dishwasher
Laura from Painted Paper uses up leftover paints by having each class make painted paper using different analogous colors
Doris Canfield Bottoni sorts pastel colors into clear acrylic boxes
Mary Rutherford turns old markers into liquid watercolors by soaking the tips in water.
WHAT DO YOU DO?
List your tips for art room clean up below. Personally, I would love to know how you all handle the boxes of paper scraps and oil pastels. My achilles heel!
---
Download this free Art Teacher's Workbook by clicking the yellow button below. We'll send you this 23 page Year-End Review Workbook to your inbox!