Imagine stepping into school on the first day with a clear path for the entire year and the behind-the-scenes knowledge to teach it all successfully. With the EASE art curriculum, you can set you and your students up for a deep dive into art materials and techniques.
The Exploring Art Supplies through Environments (or EASE) curriculum is designed to ease your journey throughout the school year and set your students up for success.
Focusing on both process and technique, the lessons in this curriculum will have your students jumping into art lessons on day one, as the practice and experimentation with each art material is embedded into the lesson.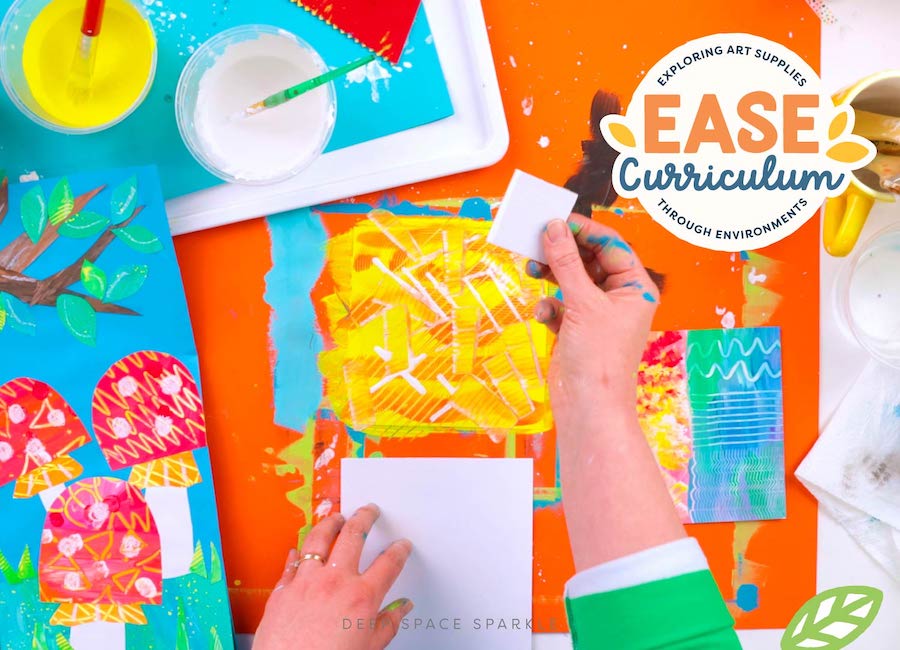 Worried that your students are a bit behind on skills and a set curriculum might be too rigid?
The EASE curriculum uses a careful approach to material introduction so that as children move through the lessons, their skills in specific mediums grow. Paired with an engaging art project, children develop their skills while having fun, exploring art-making processes and igniting their imaginations.
If you find students are struggling with techniques, simply choose a lesson that is one or two grade levels lower. The techniques are sequenced so you can be sure you are truly meeting your students where they are at.

Cultivating Craftsmanship and Skills through Engagement
With a focus on environments around the world, children are immersed in the Grasslands to Freshwater Environments to the Rainforest and beyond.
Each of the 8 lessons inside the 9 art bundles feature art projects that hone in on ONE art material and ONE environment.
Explore the step-by-step progression that will guide young artists towards honing their oil pastels and crayon skills as they illustrate blue gnus, prairie dogs, grasshoppers and birds of prey while they study the GRASSLANDS.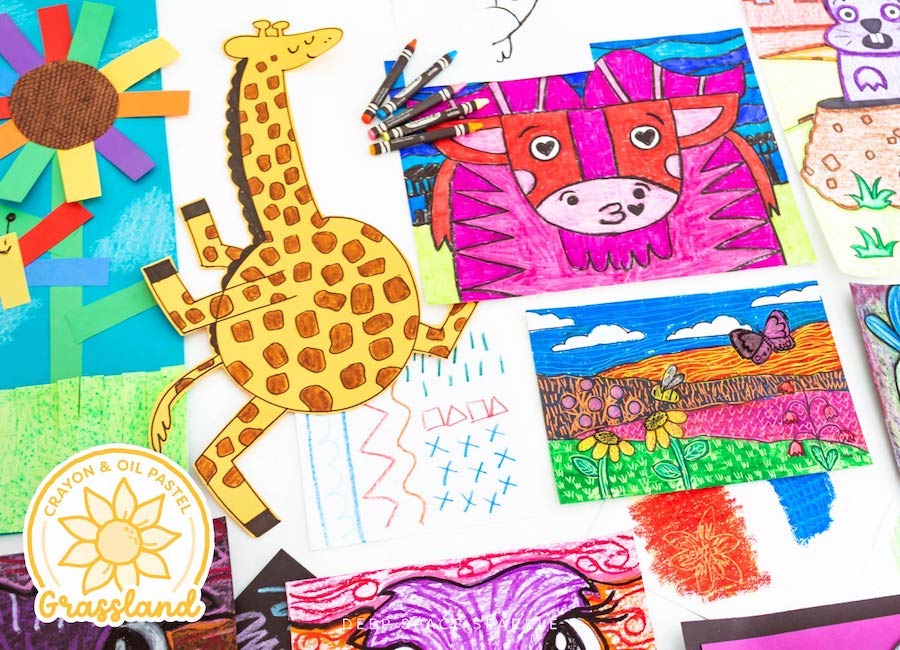 Step into the enchanting realm of the FOREST as we embark on a delightful stroll, encountering the fascinating world of badgers, raccoons, and bears. Along the way, let's turn our gaze to the intricate details of fungi, the intricate architecture of bird nests, and the mesmerizing art of camouflage in animals. We'll bring these wonders to life through the magical interplay of painted paper and collage.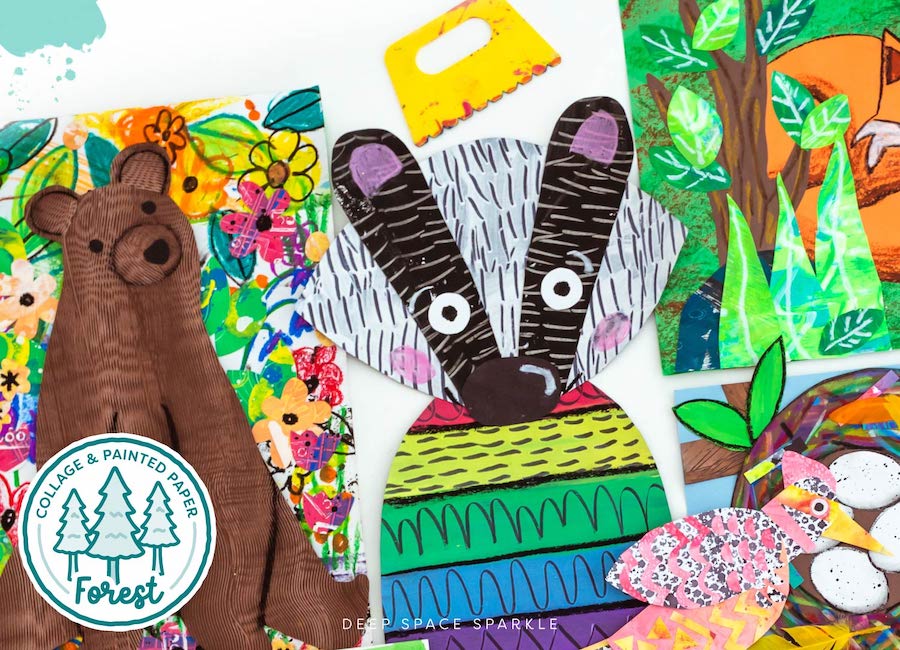 Grab your markers and let's go on a journey to the RAINFOREST. Learn how to draw and color chameleons, caimans and tree frogs while creating detailed habitats and dioramas. Let your creativity flourish as you explore the colors, contrasts and textures of the rainforest through one of the accessible mediums: markers.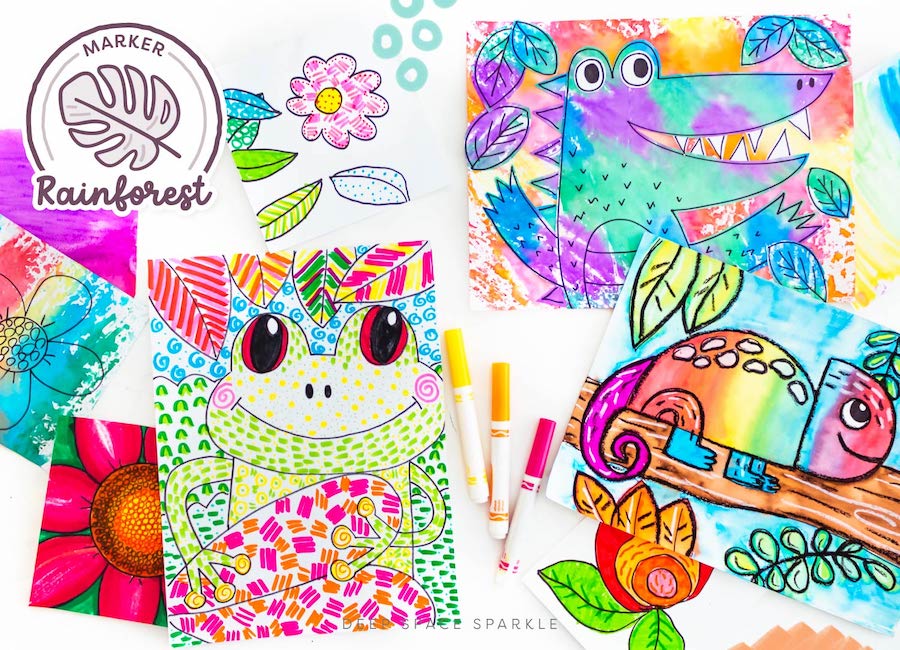 Embark on a thrilling Arctic adventure, where the POLAR regions come to life through the vibrant world of liquid tempera paint. Immerse yourself in a world of tints, shades, double-loading, and a variety of techniques that are specially crafted to capture the essence of this icy wonderland.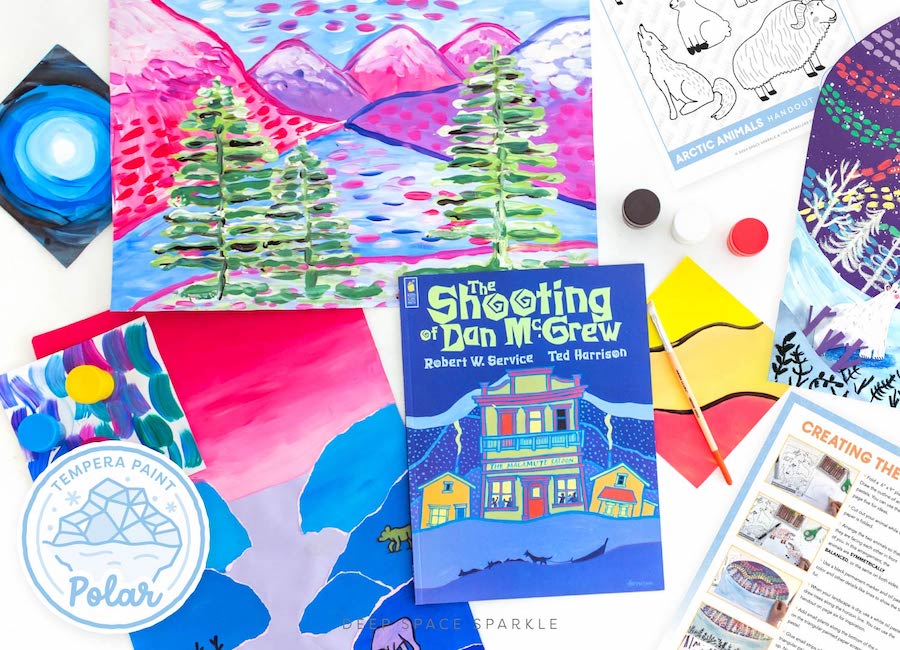 Dive into the deep with a captivating SALTWATER experience with watercolor paints. Learn how to create texture, master light and shadow, capture the shimmer of water and color of ocean animals within our coastal environments.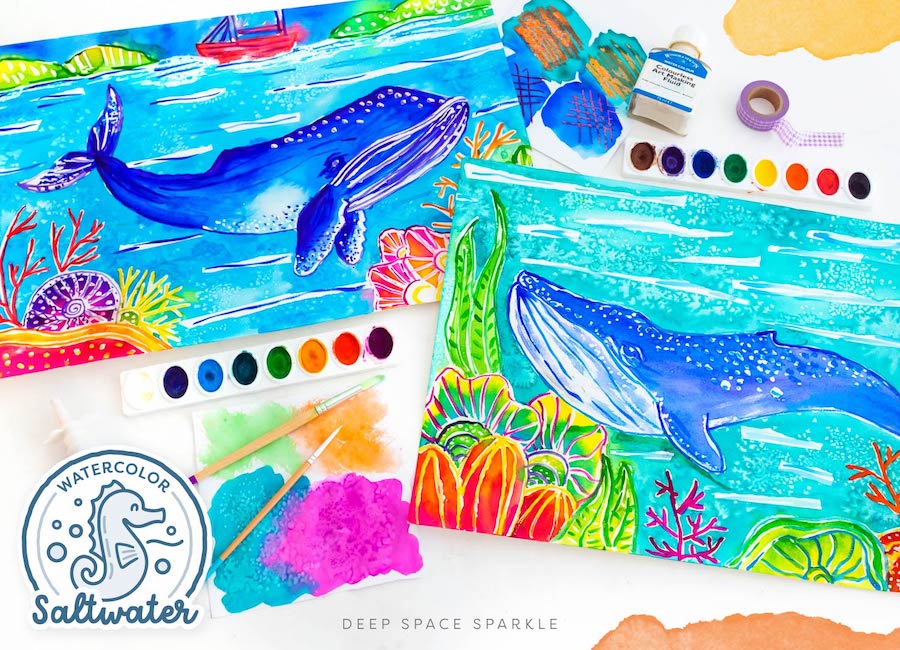 Take a creative journey through the thriving world of our FRESHWATER ecosystems. Discover the versatility of modeling clay, air-dry clay, and ceramic clay as you master the art of coiling, building, slab work and pinching. With these techniques at your fingertips, you'll have the power to mold extraordinary pieces that capture the essence of this vibrant ecosystem.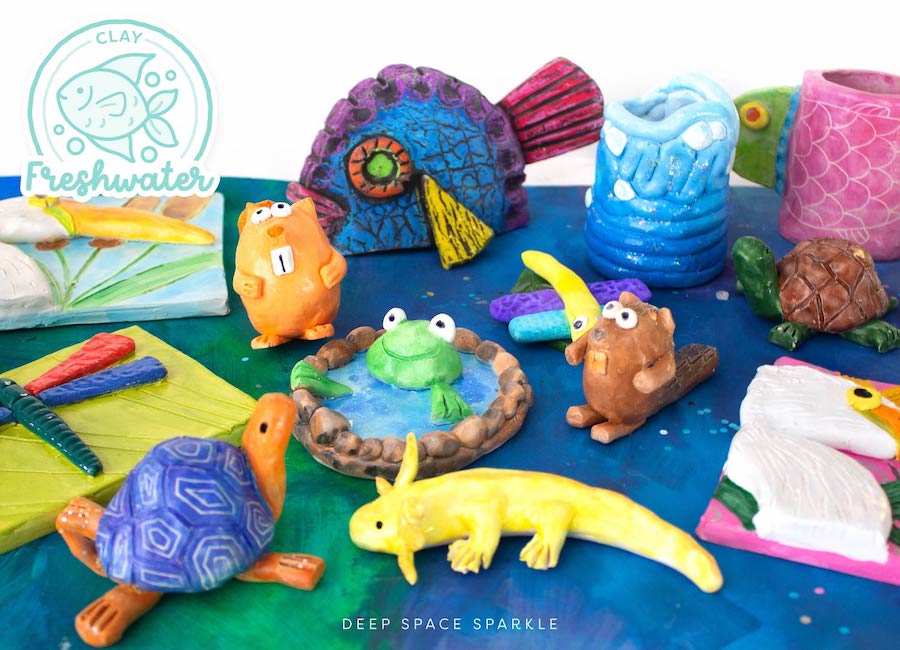 Don your gloves and hat as we visit the working environments that shape our RURAL landscapes. Discover the artistry of printmaking as you craft stunning depictions of tractors, vegetable gardens, windmills, and barns. Expand your knowledge of printmaking techniques with farm fresh projects.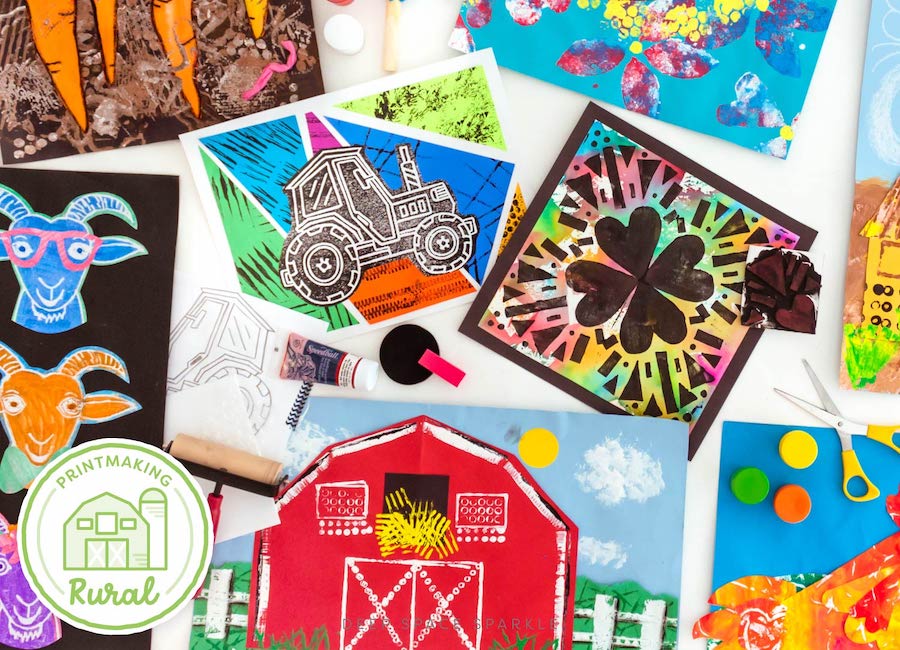 Step into the dynamic world of URBAN environments, where the interplay between human-made structures and artistic endeavors takes center stage. Armed with a simple pencil, artists learn the art of drawing perspective, creating contrast, playing with value, and exploring the intricate details of cityscapes, bustling streets, and architecture.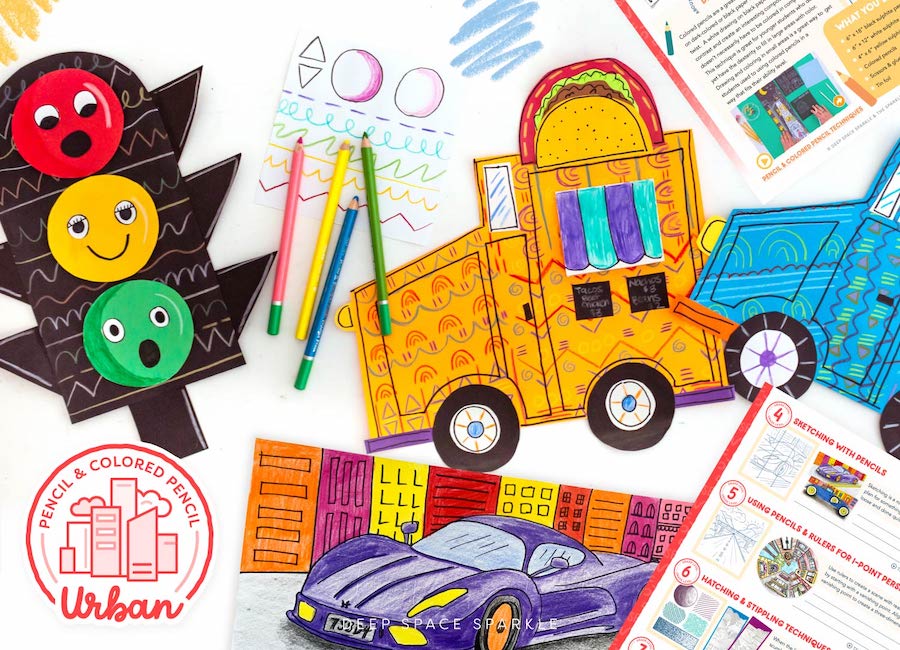 Step into the seemingly barren expanse of the DESERT, where life thrives in unexpected ways. With the aid of chalk pastels, artists delve into a study of natural formations and unique foliage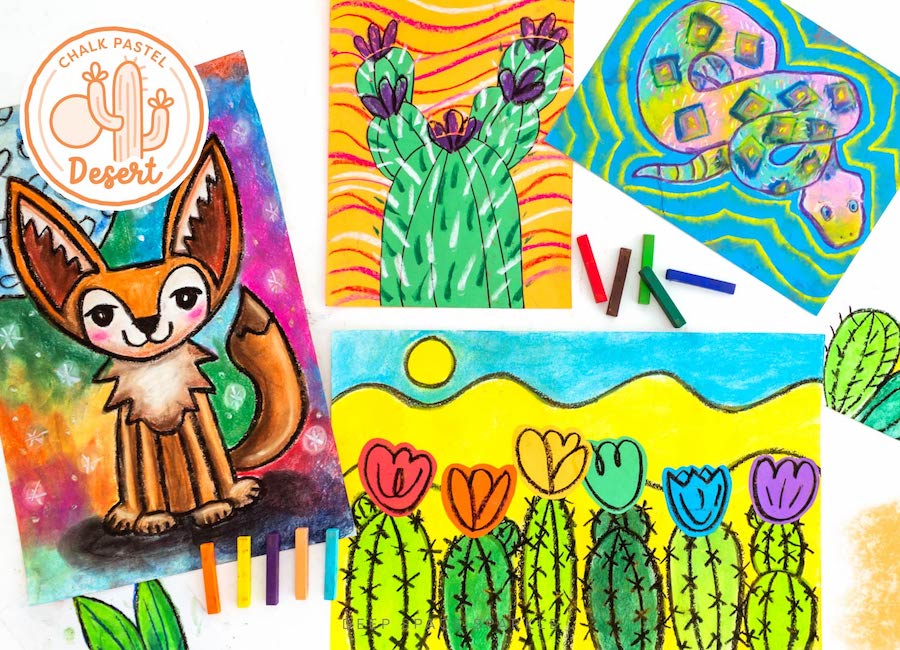 Lesson plans, planning materials, resources, relevant training and PD hours? Yes please!
This is the first time we've combined a course experience with a fully sequenced and resource curriculum, set against the backdrop of the diverse and beautiful environments of our world.
Each of the nine course videos included in the curriculum are packed with real-life tips for teaching grade-specific techniques featuring nine different art materials.
We've chosen to highlight some of the most common art room materials including crayon and oil pastel, painted paper collage, marker, tempera paint, watercolor, clay, printmaking, pencil and colored pencil and chalk pastel.
There's no need for an extensive art supply order, this curriculum is truly back to basics.
In addition to the material of choice for each bundle is a list of 5 basic art supplies to use freely: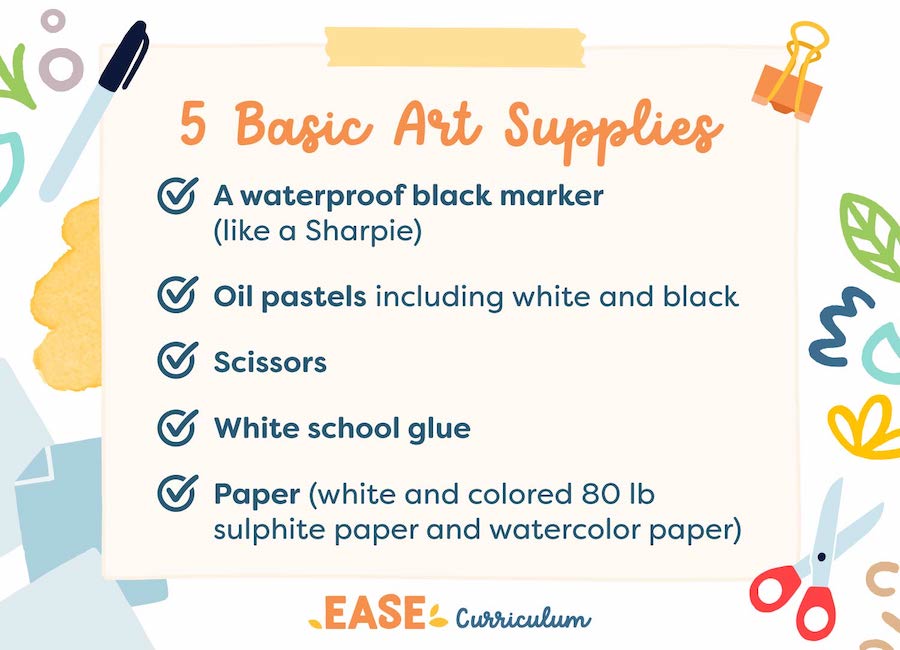 The EASE curriculum makes setup a breeze; align all of your students to use the same materials at the same time; no more running around during non-existent transition times between classes to set up for the next class.
The EASE curriculum includes a full year's worth of lessons for grades K-7 plus coordinating resources including lesson-specific slide decks, special needs adaptations and posters for your classroom.
Interested in learning more about how curriculums can simplify your year?
Click to download our Ultimate Guide to Designing a Curriculum.
The Exploring Art Supplies through Environments (or EASE) curriculum will release on July 1st within our Sparklers' Club membership. Get on our notification list to access our brand new art course and curriculum this summer!