One of my favorite art resource books is Farm Anatomy: The Curious Parts and Pieces of Country Life. Julia Rothman's illustrations are not only helpful but inspiring. I used her Rooster & Chicken chapter to pretend I was an expert in chicken identification, which is helpful when 6th graders start to question your rooster vs hen authority.
Sixth graders used oil pastels to lightly sketch a hen of their choice (I had many photographs to choose from). Using tempera paint, students mixed paint directly onto their paper (regular drawing paper) to create the textures of feathers.
To bring the focus on the marvelous subjects, students kept the backgrounds simple.
Final step is outlining all lines with a small brush and black tempera paint.
I love how these turned out. Some were realistic, some folk art and some picasso-esque! Each hen has her own style.  What more can we ask?
Full Instructions, photo tutorial, how-to-draw handouts plus  student gallery can be found in the Drawing Animals PDF Lesson Plans Booklet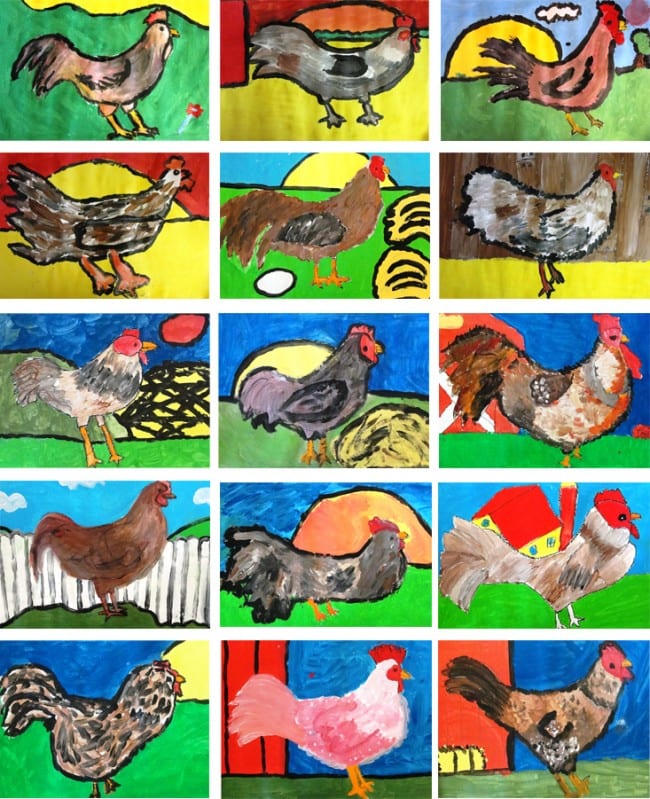 ---
FIND THIS LESSON IN THE FALL & FARM BUNDLE BY JOINING THE MEMBERS CLUB. CLICK BELOW…