Need a beautiful, accessible project for kids? This fall leaves stencil project is perfect.
You'll need to gather 2-4 leaves per child or about 50 leaves for a 25-student class so that each child has a couple of leaves to choose from. Make sure the leaves are fresh, not the crispy dried ones that have already fallen. This is important as the paint must adhere to the leaf well and it will also ensure that the leaf doesn't crumble.
Are you ready for some fall leaves?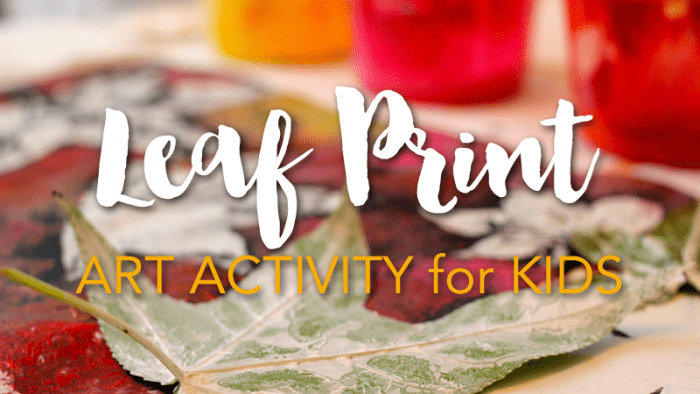 Watch this short (1 min) video to see how to create these beautiful fall leaves…
This is what you'll need:
1 peace of black paper (about 12″ x 15″)
White liquid tempera paint or acrylic (I like tempera best as it's easier to clean)
Flat brush or even a sponge brush
Colorful tempera paints (warm or cool colors)
Leaves
Scraps of white paper
Kitchen sponge for stamping
This is what you do:
Place a leaf and black construction paper on each child's desk/place.
Put a stack of scrap paper in the middle of the table.
Place one palette of white paint with appropriate number of brushes in middle of table.
Demonstrate how to brush the white paint onto the "rib side" of the leaf. Be sure to coat the entire leaf. Place painted leaf carefully on black paper. Cover with a scrap and gently rub the leaf until you are sure all the paint is rubbed on.
Lift up the scrap paper then peel the leaf off the black paper. Wow! The kids think this part is amazing. I do, too.
Repeat step 5 at least 4 times. Encourage the children to go off the edge of the page for an all-over look.
After all the leaves have been stenciled on, bring out the palettes of colored paint along with some small cut-up sponges.
Using just one sponge per child, dip sponge in colored paint and dab around leaves. Kids can use two colors, or more. Leave it up to them.
Tips and Tricks
Many art teachers and parents have asked whether or not they should apply the colored paint to the black paper first. You could but you wouldn't achieve the cool black and white affect with the leaves. If you do paint the background first, limit the color choices so that when you stamp the white leaves in place, they will stand out and contrast nicely.
This is one of my favorites for Autumn! What about you? What's your favorite Fall Leaf project?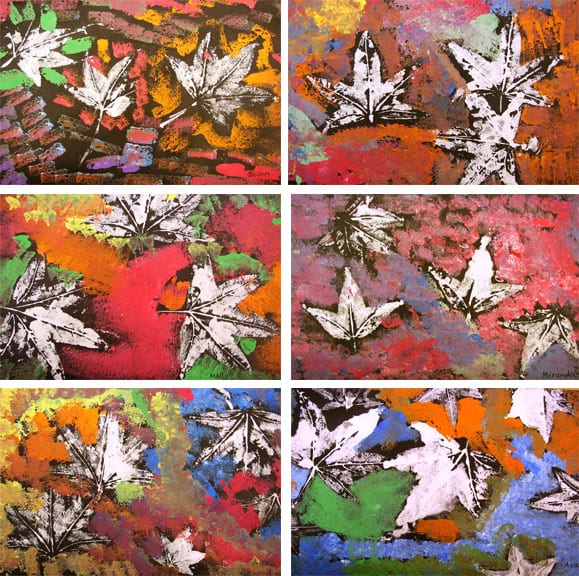 A few more Leaf/Autumn projects for Kinders and First Graders:
---
Want more lessons for your fall art activities? Download this lesson guide by clicking the yellow button below and we'll send you a PDF on How to Draw a Pumpkin!