Drawing perspective is not always easy. It can be confusing to draw nature on a flat piece of paper. Quite honestly, I don't quite trust the "rules". It's funny how that is. Rules and art don't exactly feel like friends. But this lesson is a fun way to get kids thinking about what they see as opposed to what they think they see.
Take it outside
If you have lots of trees around you, take the children outside and lay down under the base of a large tree. It really works if the tree is the type that has a wide base and narrows as it grows taller. Not all trees are like this. Our school grounds have a few trees but they aren't the best example for this lesson.
The idea is to recognize that as a tree grows tall, it narrows. You can replicate this on a piece of paper with some oil pastels, some paint and a bit of black scrap paper.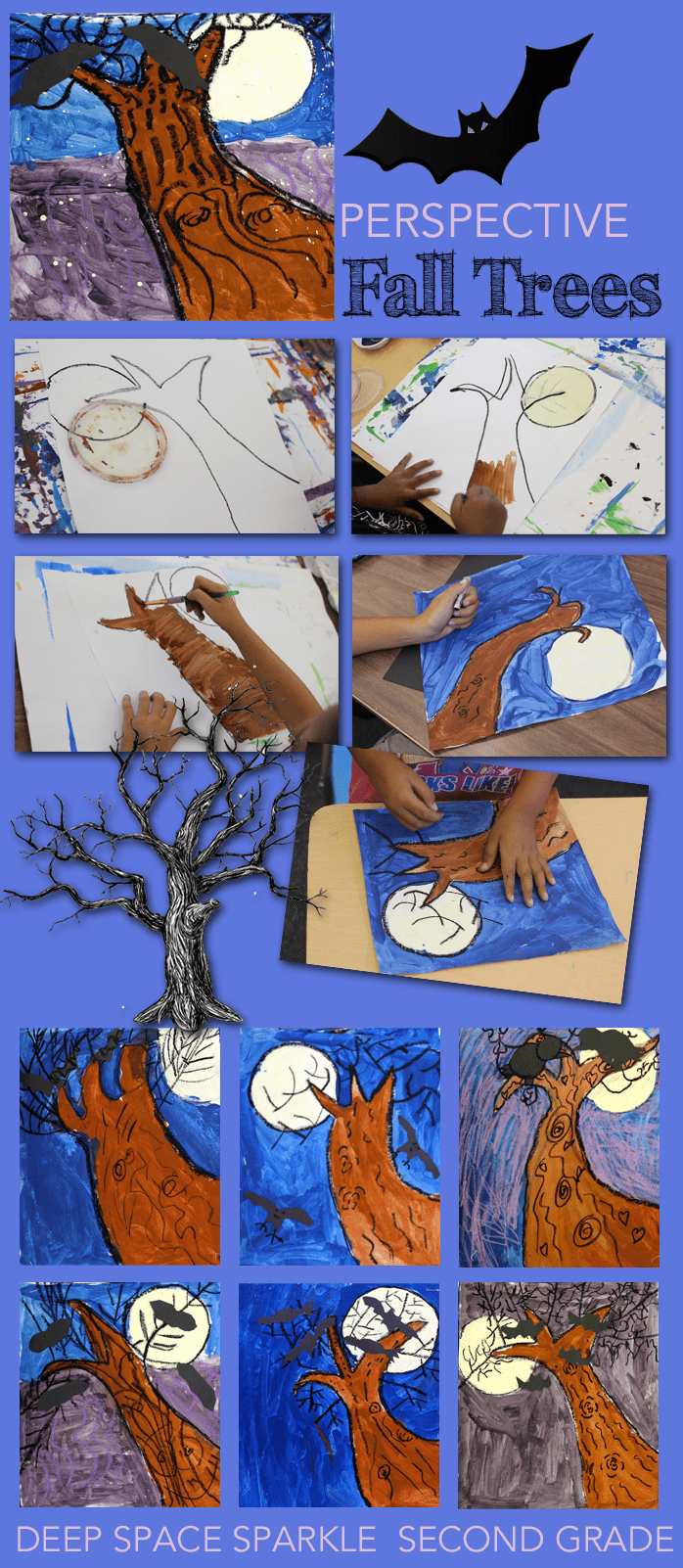 How to Draw a Bottoms-Up Tree Perspective
Use a 12″ x 15″ piece of white paper (I cut mine down from a regular 12″ x 18″ sheet).
Place the oil pastel near the bottom right hand side of the paper (close to the middle) and draw a slightly curved line towards the opposite corner. Stop before reaching the corner (about a hands width away).
Place the oil pastel on right hand side of the paper about 2-3″ above the corner. Draw another curved line towards the opposite corner. Note: these two lines are not long.
Now for the hard part: draw three main branches. I showed my students how to draw the branches so that the ends grow smaller. Smaller tree branches will extend off the ends. Most little kids in second grade will have a tendency to round the tips of the branches. So hard to remedy this!
Using a small circle template or container top, trace a moon behind the tree branches. The moon can be as big or as small as you wish. Bigger is a lot easier.
Paint the moon using white tempera paint.
Using some brown, blue or purple liquid tempera paint, paint the tree and sky. If you have cake tempera paints, you can use them and will result in less mess. This usually marks the end of the first session.
Using a black oil pastel, draw lines to represent the bark of the tree, add lots of small branches growing from the main branches and outline the moon (being careful not to trace over tree).
If you have some extra time (which I did), use some black paper and cut out some bats or crows to place on the branches or in the sky. The kids LOVED this part!
My take and what I would do again…
I found this lesson a bit challenging for second grade kids so I would advise third or even fourth grade. Also, using colored pencils or even oil pastels would result in a less messy sky and tree. It would take longer to color but the results might be a bit cleaner.
Have you tried this lesson before? How did it work out for your kids?
---
Want more lessons for your fall art activities? Download this lesson guide by clicking the yellow button below and we'll send you a PDF on How to Draw a Pumpkin!