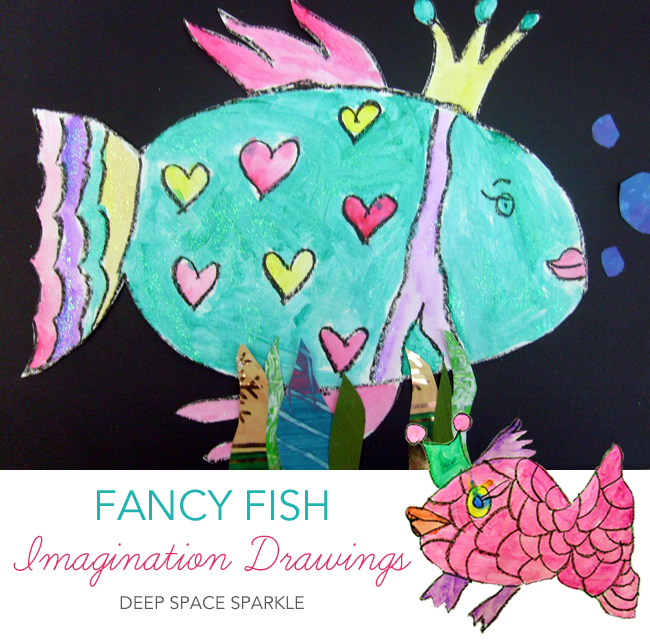 I love seeing the expressions on the faces of my second grade students as they arrived into the art room and view the whiteboard. Eyes wide, big smiles and yes, even a few squeals from the girls. Fanciful drawings are always a welcomed project. Drawing from the imagination is one of my favorite types of projects as I truly believe this is what excites kids the most. Their imaginations will never be quite as expansive than at this age, so why not indulge it?
Drawing a Fancy Fish
I begin by asking my students the difference between realistic and whimsical drawings. I show a photograph of a fish and an animated illustration of a fish for reference. They know the difference. After all, how many fish do you see wearing crowns?
I tell them that they can draw any type of fish they want as long as it has a body, a mouth for eating, a tail for propelling and fins for steering.
They get busy drawing in oil pastel. If they make a mistake or are not pleased with the beginnings of their fish, they can turn over their paper. Show how large they should draw their fish (or sea creature) by providing a few examples on the white board of a small fish compared with a too big fish. Ideally, the fish should be centered with enough white paper around each side of the fish.
Encourage fancy shapes such as curly-cue tails and fins, crowns, eyelashes, fire fins, bubbles and dots, stripes and zig-zags, etc. There is no limit. Many of my students drew other types of fish such as jellies and octopus.
Painting the Fish
I pass out the paint. Not just any paint, but glitter paint.
I purchased some glitter paint at the beginning of the year but it was a disappointment. It was too sheer and didn't offer the impact I was hoping for. To remedy this problem, I created my own hand-made glitter paint.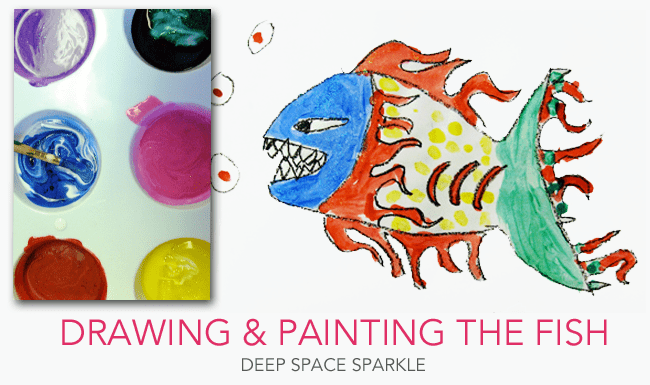 How to make Glitter Paint (and a little warning):
Add a few squirts of glitter liquid watercolor and a dollop of Mod Podge mixed with a small amount of water. Give it a stir and you have the perfect glitter paint. Keep in mind that you cannot save this paint as the Mod-Podge dries and hardens. If you mix in a plastic palette, once the paint dries, it is easily removed by peeling the dried paint off with your fingers. If you clean the palette when the paint is wet, make sure no clumps of dried Mod-Podge go down the drain. This can clog your sink.
Creating a Habitat:
Part of the fun with this project is cutting out the fish and creating a habitat. To do this, cut out the fish carefully with scissors and glue to a piece of blue or black 12″ x 18″ sulphite paper. Then, using your piles of scrap paper (I know you have one!), dig through and find your favorite colors and textures.
Add seaweed, small fish, bubbles, textures or patterns for the fish or even an under-sea castle. Whatever suits the children's fancy!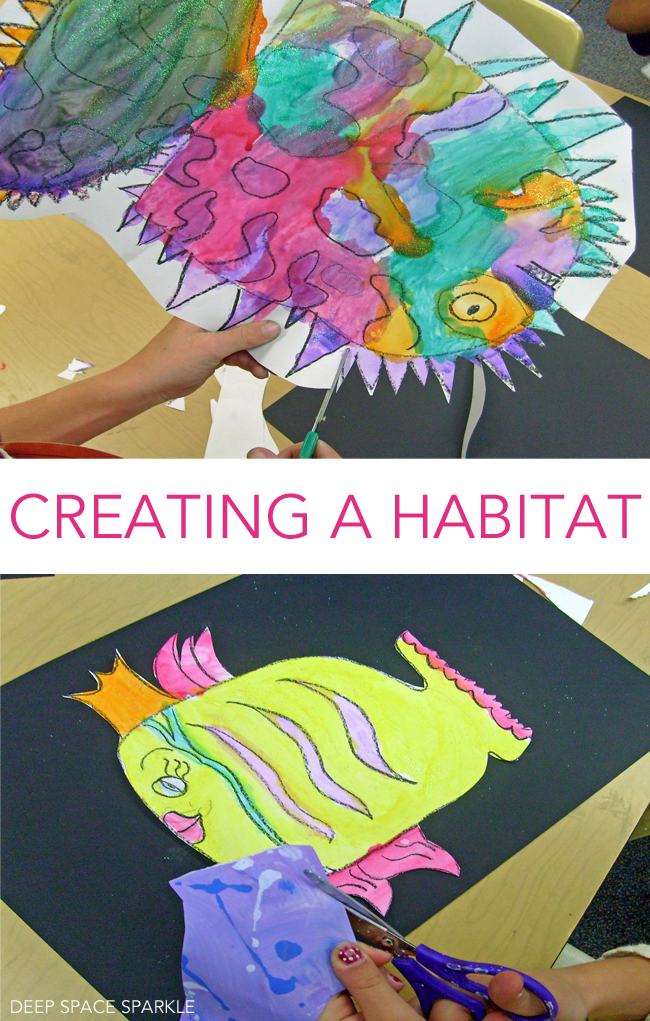 Second grade student Fancy Fish!