5 Art Rules to Simplify your First Day
Ahhh… the first day of school
No doubt you've already been into your art room putting new art supplies into rainbow colored bins, throwing out all the junk that you stuffed into drawers last June and dreaming about all the perfect students you'll be teaching.
If you're really ambitious you might create stations in your art room where kids can go to free draw, or to flip through art books or perhaps examine a color wheel at length. Images of children working on projects, cleaning up their work area (without being asked) floats through your head as you sip coffee while planning your art curriculum.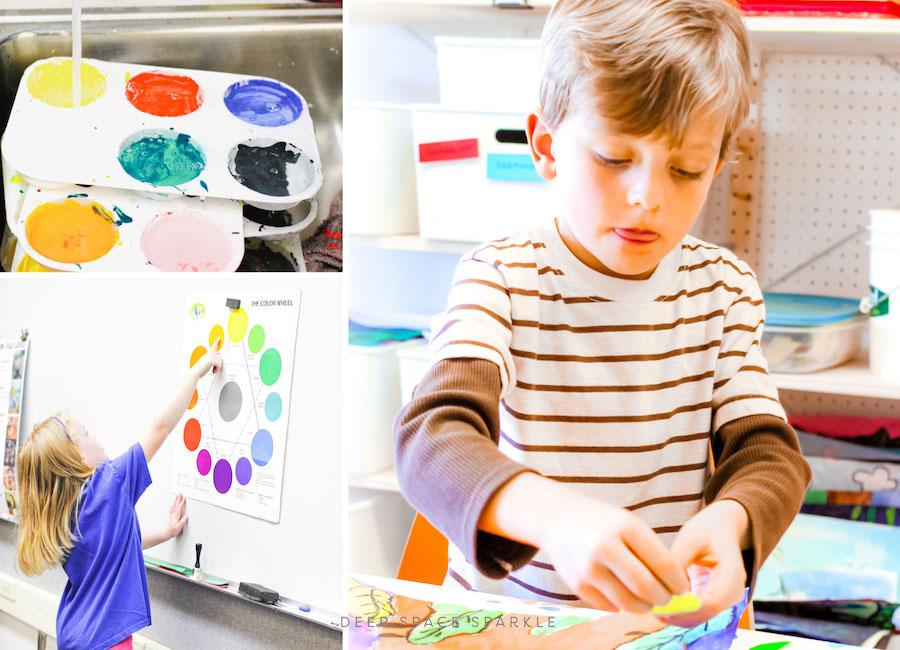 Sounds nice, doesn't it? I admit, I'm a bit of a idealist but I truly believe a few solid strategies will help you realize your dreams of an organized, fun and balanced classroom.
For me, my first art class begins like this: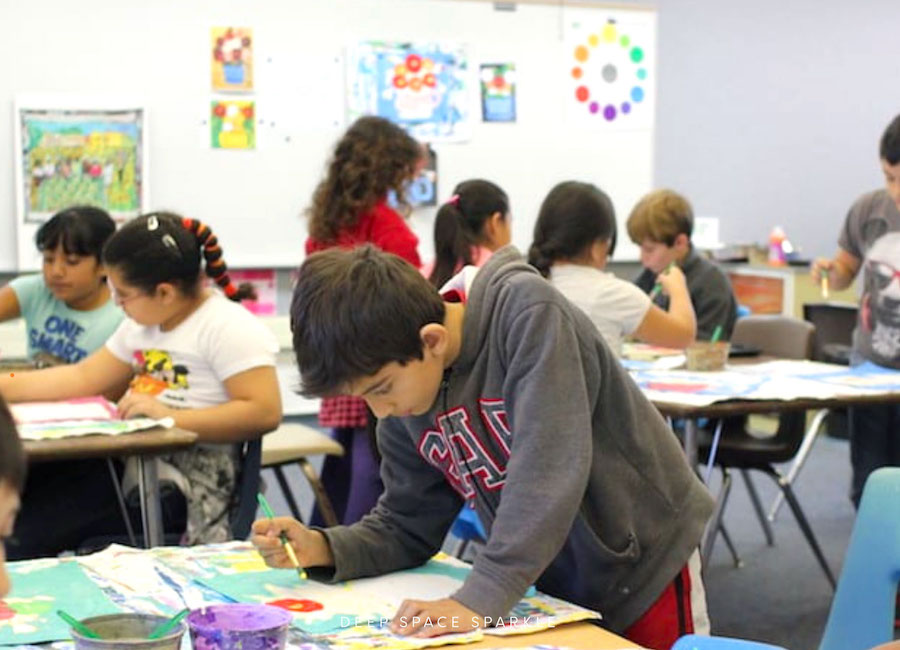 The classroom teacher peeks into the art room before she allows her students to enter. She checks to see where I want them to sit (on the floor, at special tables, etc) then once she knows, she asks the children to enter quietly.
Usually, if they are excited (which is surely the case) and are talking a mile a minute, I stand at the front of the room and smile. I stay smiling until the kids look at me as if there is something wrong. When they're convinced that I'm weird, I welcome them.
I talk fairly low so that the kids are forced to stop chatting (I don't want to be a yeller).
I tell them how excited I am that they are here (and this part is no exaggeration. I do love seeing them after a long summer) and I ask if there is anyone who doesn't know who I am.
I meet the kids that are new and explain my "rules".
Here are my 5 art rules: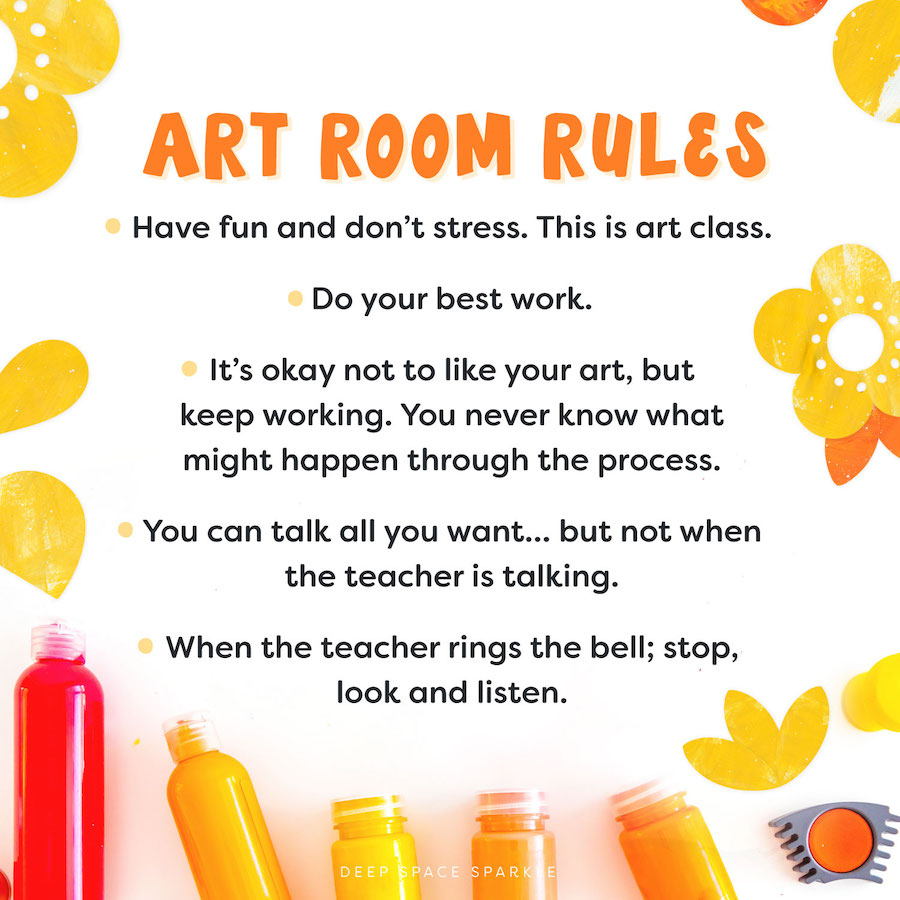 ---
That's it. Those are my 5 art rules.
After I tell them these important things, I move right into my first lesson.
No wasting time talking about supplies, clean-up duties, table responsibilities, what bugs me, where to sit, etc. I get on with the fun.
No child wants to sit through forty minutes of rules and procedures.
They want to do art.
Of course, I'm with them on this point and it's because I have a very good reason. I have little time with my students. I only see them 15 times a year. Many art teachers see their students 32-36 times a year. So you could argue that you have the time to devote a whole class to the rule stuff.
You want your kids to come into art class excited, not worried about remembering the art teacher's rules. Let's face it, between the homeroom teacher, the science teacher, PE coach and the librarian (and we all know how many rules they have), the first few days of school for kids is basically rule week. And who can remember them all?
Rules & expectations can be explained and put into action as the month progresses.
I know from raising three kids that in order for anything to stick, behavior expectations need to be consistent.
I never allow students to talk when I'm talking. I'll stop what I'm doing and not proceed until the kids figure it out. This includes parent helpers or even classroom aids. This doesn't mean that the kids always follow this rule, but I stay consistent and hopefully it sinks in by the end of the month.
I share best practices on how to treat art supplies, how to clean-up, and when to chat with the children gradually….a little bit each class. It only requires 2-3 classes to get my expectations demonstrated.
Do you know what is the best behavior management tool of all?
Creating art.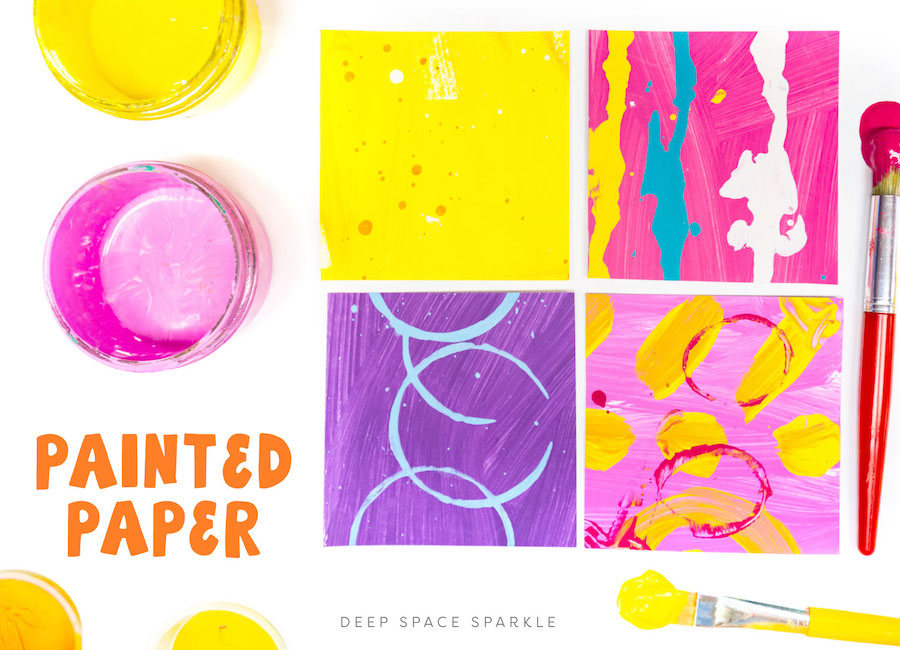 So plan an art lesson for your first day.
Shock the heck out of the students and teachers by doing a painted paper project on the very first day ( just make sure it's not Picture Day!). Think of the bright side; you'll have all that pretty paper to use up for the rest of the year.
So temper your excitement about starting the year off fresh by holding back on all those fabulous rules. They can wait. Unleash them gradually and consistently. Enjoy your student's energy and enthusiasm.
So temper your excitement about starting the year off fresh by holding back on all those fabulous rules. They can wait. Unleash them gradually and consistently. Enjoy your student's energy and enthusiasm.
Need some help figuring out what to do after the first day?
This download shares:
– What art supplies I love to use and what I don't bother with
– Tips on planning your curriculum
– What supplies to use with each grade level
– Handy art technique checklist
Download the free ART TEACHER'S TOOLKIT. Click the yellow button to receive your Art Teacher's Toolkit via email!
I can't wait to hear how your first week goes. And I'd love to hear what YOUR 5 ART RULES are.
You can share them in the comments below…
Patty xo
PS Have you heard that a complete art curriculum based on the Elements of Art and the Principles of Design is included in the Sparklers' Club membership? Oh yeah. This curriculum is pretty epic–and that's what it's called EPIC– and it includes resources, posters and all the lessons you need for a full year.
Find out more right HERE.