This tin foil sea turtle and fish collage was a huge hit with my third grade class. The kids loved how the sea turtle and fish looked, swimming in the glittery waters.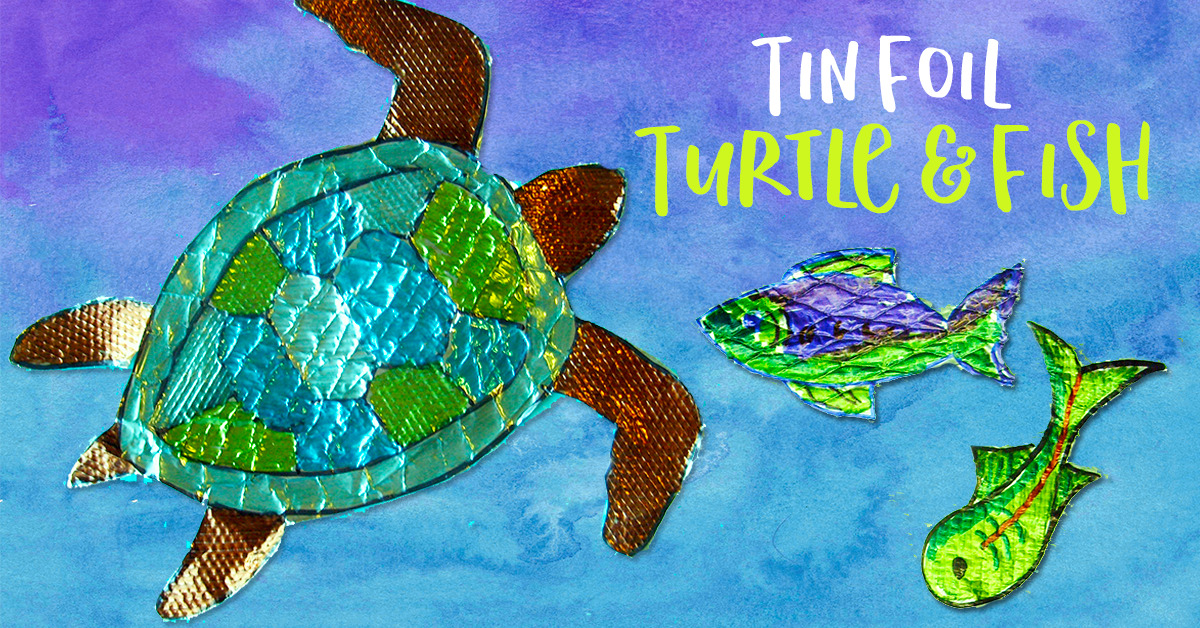 WANT A DRAWING GUIDE? CLICK THE IMAGE BELOW & WE WILL EMAIL IT TO YOU….
HERE'S HOW
CREATING THE BACKGROUND
There are a couple of ways to make the water background for the sea turtle and fish. One method is to use liquid or tray watercolors and table salt to make a traditional speckled background as shown below or you could use Mod-Podge and glitter liquid watercolor paints.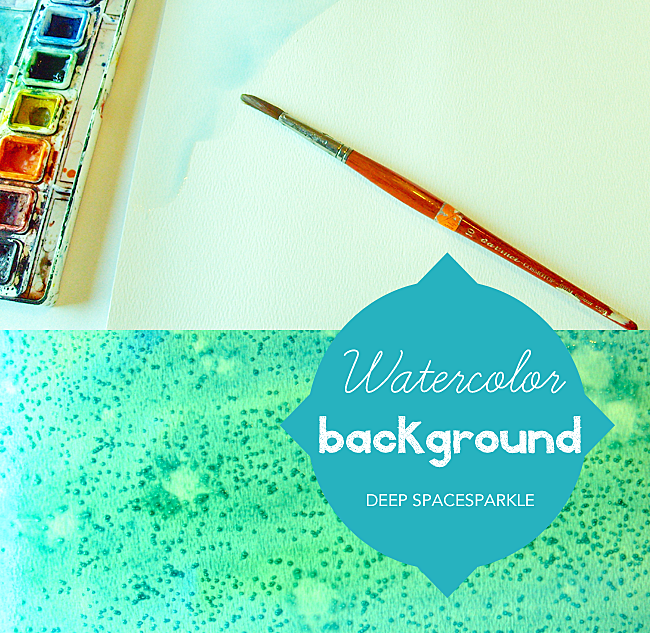 HOW TO MAKE SHIMMERING WATER
To make a watercolor and salt background,  use 6″ x 9″ pieces of 90 lb watercolor paper and regular watercolor paints.
Wet the paper with a sponge or large brush, then mix blue and green watercolors onto the wet watercolor paper (wet-on-wet technique).
Sprinkle regular table salt or Kosher salt over the damp paper. Salting the surface will give the "ocean" a sparkly quality.
MAKING GLITTERY MOD-PODGE
I made glittery paper by brushing a combination of glossy Mod-Podge and glitter watercolor paints together.  The students brushed the home-made "glittery paint" onto a piece of blue or lavender drawing paper. The results were shimmery and ocean perfect.
The recipe isn't exact, but I used about ¼ cup of Mod-Podge and pour enough glitter paint into the solution until I saw the color emerge. It's good to remember that the Mod-Podge dries to a clear finish, so don't be discouraged if you don't see the glitter at first. It will dry and the sparkles will emerge!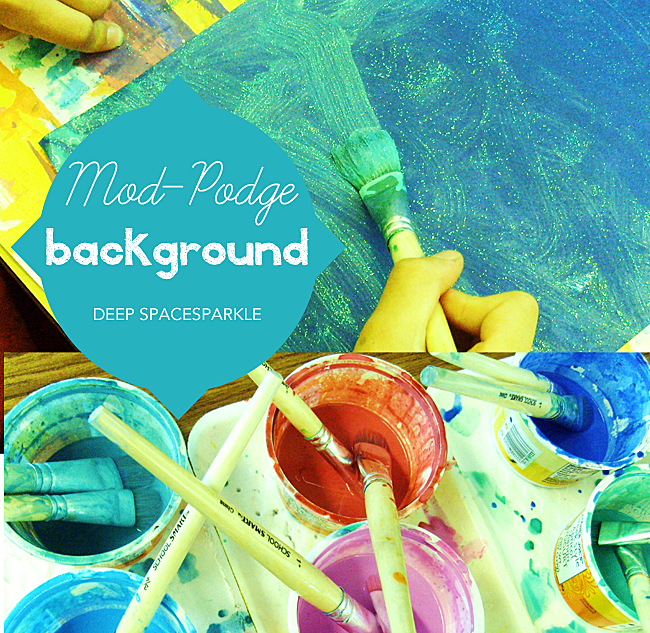 After making the background, decide of you want to draw a Sea Turtle or Fish. If you draw fish, you can draw two or even three to fit onto the paper. The sea turtle is larger and is best to draw just one.
---
ADDING COLOR & TEXTURE
Set the ocean paper aside and use the handout to draw the fish or sea turtle.  The idea is to keep the drawing very simple because the drawing will be created on tin foil. It may be helpful to do a practice drawing on a piece of paper cut to the same size of the tin foil.
Draw one turtle or 2-3 fish on a piece of 6 x 9 heavy duty tin foil. Do not color in yet.
MAKING THE TEXTURE MATS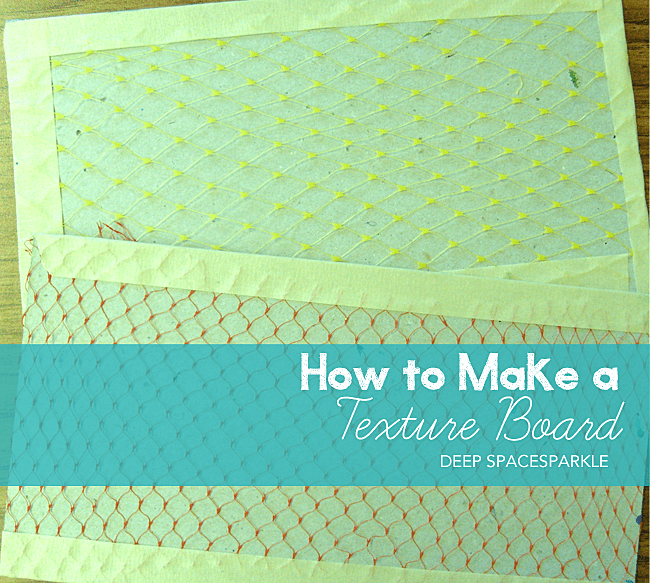 To make a texture board, cut heavy board (tag board, etc) into 9″ x 6″ rectangles.
Cut up old mesh vegetable bags and tape to cardboard. I made about 25 and had a few 6th graders help with the taping.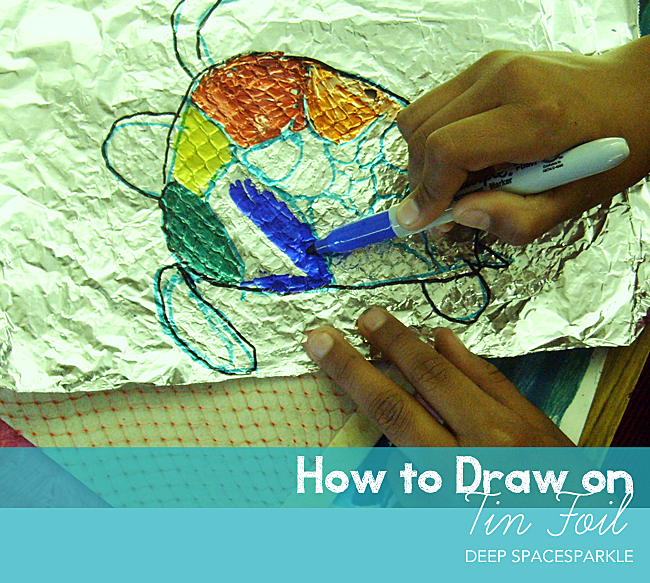 CREATING THE TEXTURE
Hand out pieces of tin foil, colored permanent markers and texture boards. Make sure to use permanent markers as regular Crayola markers will smudge. I like Sharpie brand markers.
Put tin foil directly onto texture boards and COLOR fish or turtle with Sharpies and watch the texture of the netting show through. The kids LOVE this step. I do, too. It's really cool.
After coloring the turtle and fish, carefully cut out fish and glue (white school glue) onto dry glittery or watercolor paper. This part isn't easy as sometimes the tin foil will tear. If you can persuade your students to draw large turtles and fish, the process will be much easier and far more satisfying.
---
Here's a free drawing handout PDF you can get by email:  CLICK to get the Handout for How to Draw a Sea Turtle & Fish Handout
Third Grade Gallery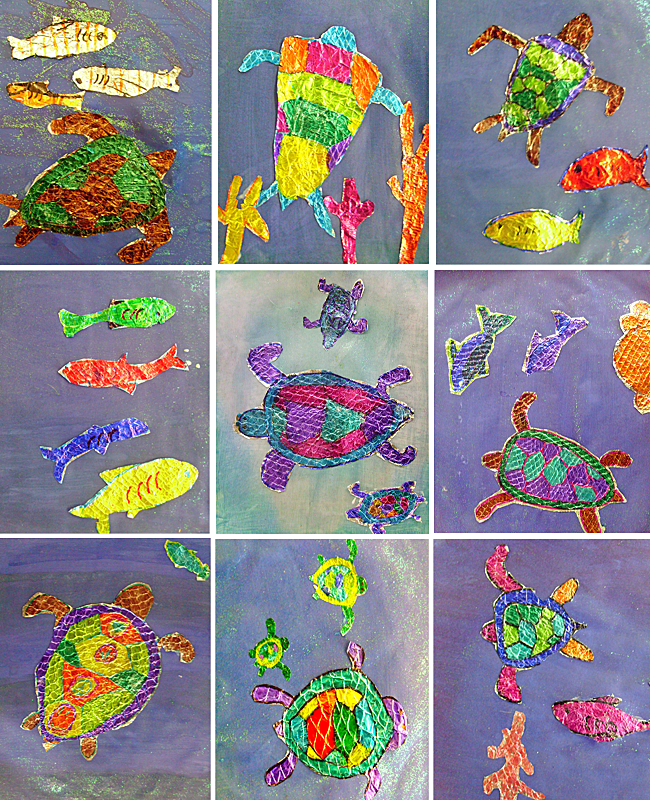 For more art lessons on other various animals, click HERE.
HAVE YOU TRIED THIS LESSON? Let me know what you think…