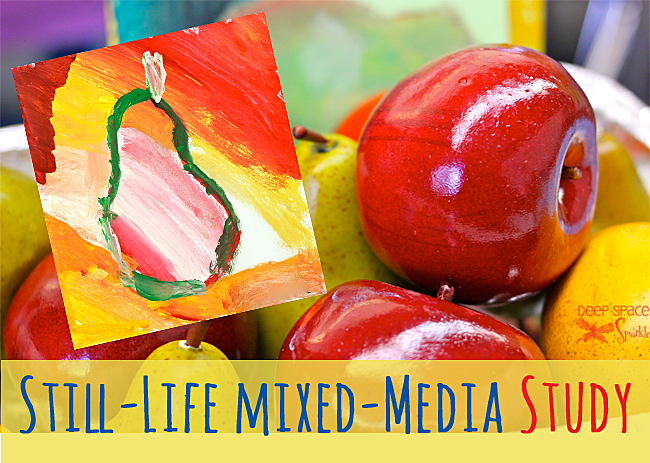 Need a lesson where each component takes less than 15 minutes? Consider adding a mixed-media still life study to your art curriculum. I opt to teach this still-life study to older children (grades 4-6 or ages 10-12) as part of our fine arts unit and instead of only using one medium, I mix it up and allow children to create as many as four still-life studies with 4 different techniques.
These are the techniques we used on 6″ x 6″ paper squares
Chalk Pastel

Oil Pastels
Collagraph printmaking
Tempera paints
Set-Up
Use art supply boxes for risers and cover with fabric or paper. Set one box on each table so all children can view the fruit. Give each child a 6″ x 6″ square of sulphite/construction paper.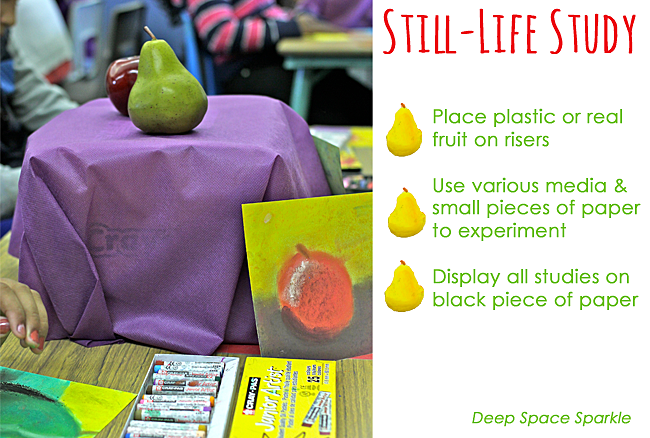 Oil Pastel Study 
Set a tray or trays of oil pastels on each table (I like to set two trays per table. I have 6 tables). Children draw the fruit (apple or pear) and create a table line. I give little direction for this study with the exception of encouraging the children to keep the drawing large so that they can color in easily. We looked a samples of Van Gogh's work and I suggested that they could use a similar technique to create their fruit.
Chalk Pastel Study Inspired by Cezanne
Chalk is a natural medium for creating a still-life. The colors are easy to blend and they are easy to control for a small piece of paper. Point out the areas of the apple or pear that receives the most light and the ares that receive the least light. Using dark and light pastels, have the children add the contrasts where they see it. Don't forget to add shadows along the table top. To make the project challenging, remove all black chalk from the trays and ask the children to use complimentary colors for creating the dark areas.
Collagraph Printing inspired by Cubism
Give each child a 6″ x 6″ cardboard square (I used corrugated cardboard) and a tray of foam craft sheets. Discuss abstraction and cubism with your students and ask them to craete an abstract pear or apple with their foam pieces. Here's how:
cut foam pieces into small triangles, squares and other shapes

glue small pieces onto cardboard
Once pieces are dry, use thick tempera paint (or acrylic) and a flat paint brush to apply paint onto foam surface
Press painted side down onto white paper
Tempera Paint Study inspired by Expressionism
My students are most familiar with tempera paints as we use them all of the time. If you would ike, you could try watercolor paints instead. The beauty of the tempera paints is that it is more forgiving than watercolor paints. The children can draw with an oil pastel or a pencil and paint the fruit in whatever style they choose. I encourage them to be expressive with their colors. Many did but some chose to go the realistic route.