Learning how to connect the dots to form lines looks easier than it really is. That is not to say that this project is difficult, but it is best for upper elementary students.
I highly encourage you to experiment with the process you find most appropriate for your students. Not only is it quite relaxing but you'll pick up on the potential sticky areas that the students may encounter.
The idea is to create polygon shapes inside the heart. There are a couple of ways to go about this: free form and by using a set of lines or even a template to start.
Watch the video tutorial here…
Click the yellow button below to DOWNLOAD the drawing handout for the Geometric Hearts template as well as this months February Freebie Pack. Add your name and email and we'll send it straight to you!
WHAT YOU'LL NEED:
– 12″ x 9″ white watercolor paper
– Pencil
– Watercolor paints
– Water & small round tip brush
THE DRAWING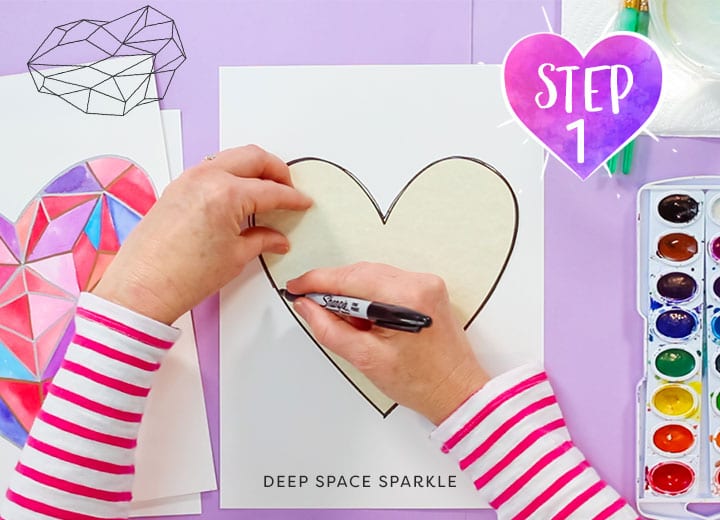 On 12″ x 9″ white 90 lb watercolor paper, draw or trace a heart using a pencil. I'm using a black marker ONLY because pencil's don't show up well in videos. But I recommend a pencil so children can erase any unwanted lines.
Teacher Prep Tip: If you are photocopying the heart template, you may want to enlarge it on your copier and photocopy onto cardstock. It's easier to trace this way.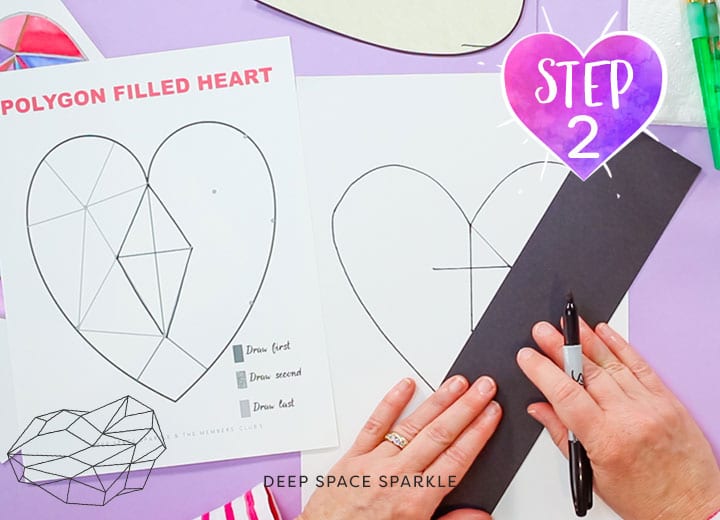 Using a straight edge (I'm using a piece of tagboard), draw dots around the edges of the heart about 2″ apart and two or three on the inside of the heart.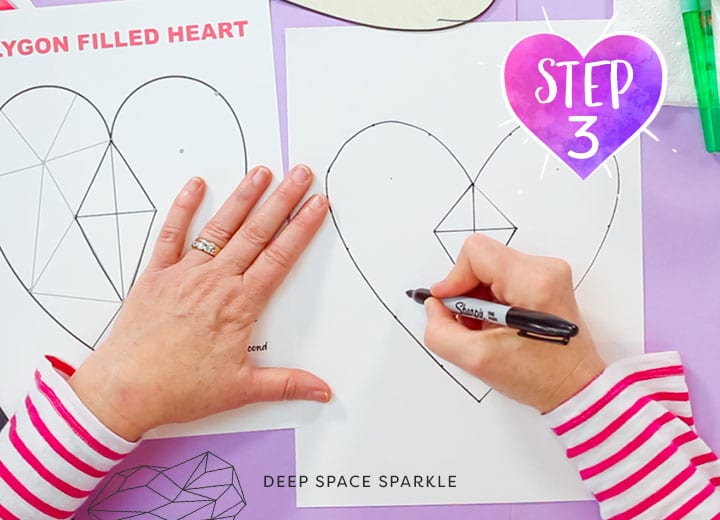 To make polygons, draw a rhombus shape first just below the midline of the heart, then place a dot near one of the sides.
Continue to connect the dots with one of the end points of the rhombus to create a straight lines.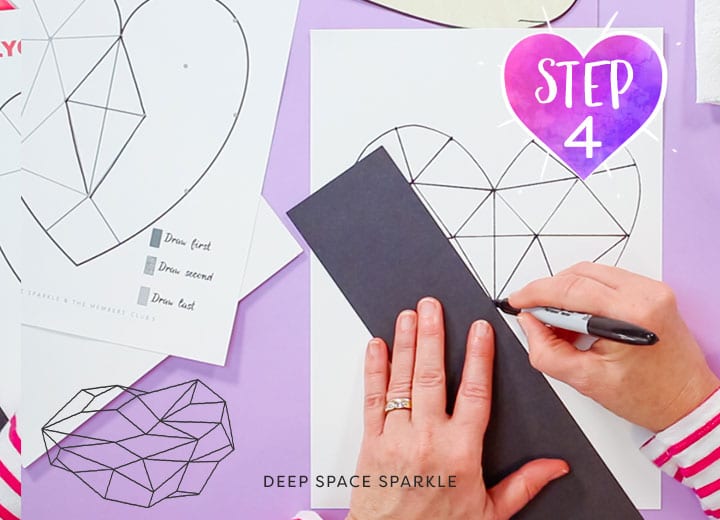 THE PAINTING
Using a limited palette of watercolors (3-4 Analogous colors), begin painting each individual polygon a separate color. I find it very helpful to use a small brush then outline each polygon then fill in with color.
To make a color lighter, add more water. The final project looks best when there are light and dark colors to create contrast.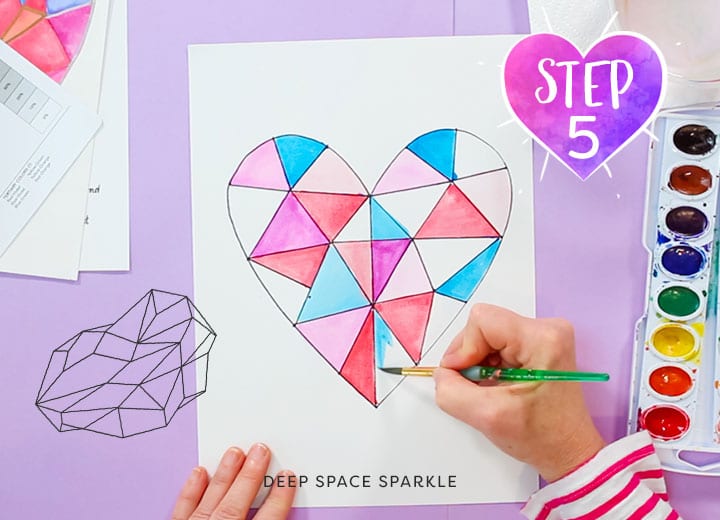 *Optional: Once the watercolor paint dries, use a metallic marker to go over all of the pencil lines. Outlining with a Sharpie is also a great way to add the final flourish.
---
Have you done this lesson? I'd love to hear how the instructions worked for you or if you tried a new technique.
I created a detailed lesson plan within the Sparklers Membership Club where you can get a more detailed lesson plan including National Core Art Standards for 5th & 6th grade, an Assessment Checklist, full length instruction video and plenty more Valentine's day art lessons to choose from.
For more information on joining, sign up to our waitlist HERE.
Click the button below to DOWNLOAD the February Freebie Pack for more fun art lesson you can use this month!
Pin me!