GEORGE RODRIGUE'S BLUE DOG ART LESSON
George Rodrigue was born and raised in New Iberia, Louisiana.  What a colorful character he must be to produce such wonderful pieces of expressive art! His personal website is filled with his paintings and all the things he cares about, like the George Rodrigue Foundation in which he promotes and supports art education. He is famous for many paintings, but I think the most beloved is his series of Blue Dog paintings. I spent some time in the Santa Barbara Museum bookstore a little while ago. They have the most impressive collection of children's art books. I picked up Rodrigue's Are You Blue Dog's Friend?
 It's fantastic in color and concept.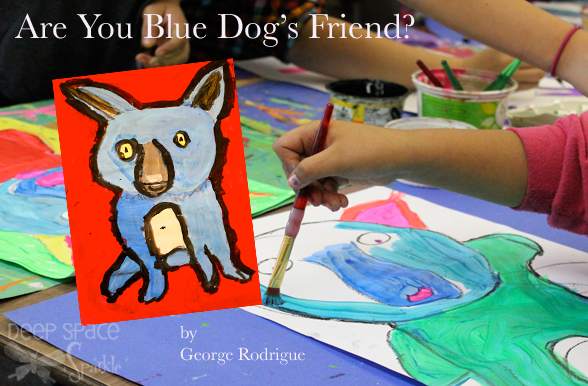 Despite the picture book being meant for much younger children, I couldn't help but show my fifth graders the beauty of Rodrigue's artwork and the different ways he incorporated a theme into his paintings. We stopped at the pages of the various dogs painted in bright, expressive colors. I know the kids were imagining what colors they were going to use.

Drawing Blue Dog art lesson

The project was really quite simple for fifth grade students. It wasn't necessary to do a directed line drawing with them as we all read the book, looked at the pictures and then went over various ways in which to draw blue dog. The kids used black oil pastel (they are very used to this medium by now!) and had fun drawing their own blue dog (1). I brought out egg cartons filled with lots and lots of metallic, florescent and regular tempera paints (2) and let the kids go at it! After the painting dried, the kids outlined their artwork with black tempera paint (mixed with a bit of water) and a small brush (3). You could use a black oil pastel but paint imparts a more painterly style.
Believe it or not, this lesson was a one-time deal. It took us 50-minutes to start and finish this project.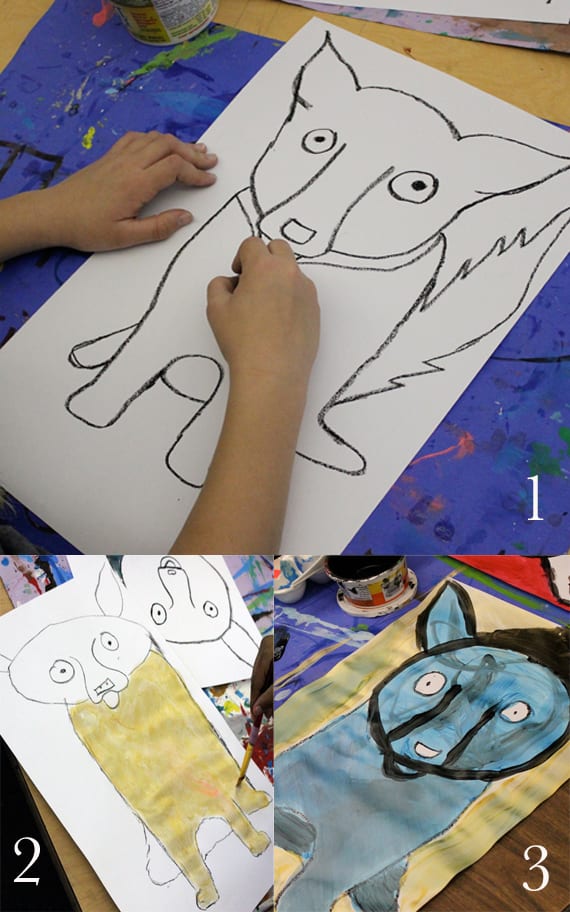 What fun they had! I guess kids are never too old to be inspired by picture books. I know I'm not!