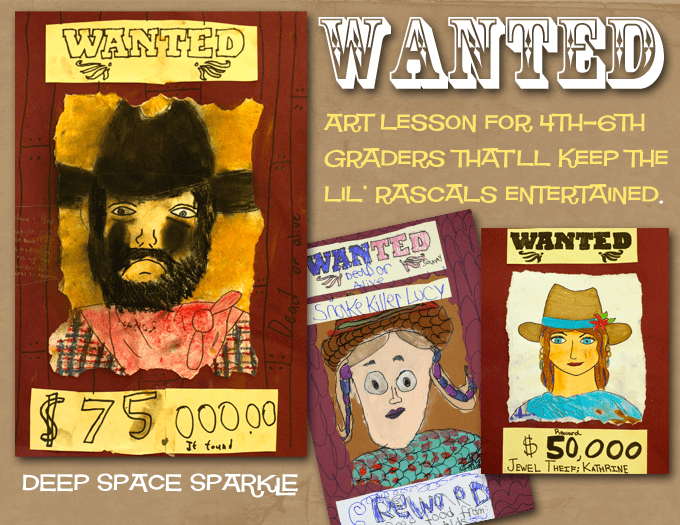 I introduced this Gunslingers & Outlaws lesson way back in 2010 and it instantly became a favorite of classroom teachers. I created the lesson after experimenting with ways to teach my 6th graders how to draw hats. I had a cowboy book on my bookshelf so I pulled it out.
The lesson morphed into an Old West WANTED poster and for many teachers, the opportunity to add narrative. Since I published 3-Ingredient Art Grade 5 & 6, many teachers have told me they use this lesson as an activity for 4th grade Gold Rush days. Brilliant, right?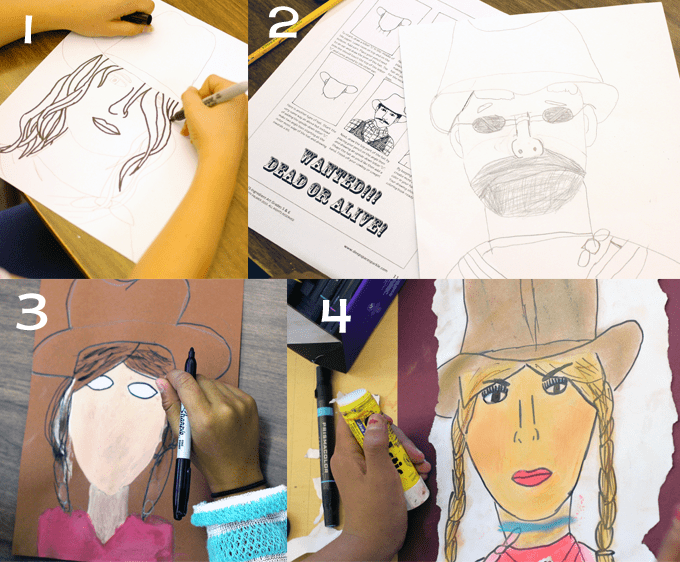 I used both white sulphite paper like the PDF Lesson plan and brown sulphite paper. I was interested in eliminating the spray bottle step and create an aged poster without the dappling. I must say that drawing on the white paper using a pencil then tracing with a black marker was less time consuming than the original instructions. The students used one, 50-minute class session to draw their cowboy/cowgirl/outlaws and start tracing with pen. Many got to the stage where they could rip the edges of the white paper.
I used the handout that is in the lesson plan because it works great.
For the kids who drew on the brown paper, the steps were just a wee bit different. First they drew with a pencil, then they painted with liquid tempera paints. Once the paint dried, they traced over the original lines with a black marker.
After using colored pencil and chalk pastels on the white paper and pen and paint on the brown paper, the kids tore the edges and glued the portrait to a green or burgundy colored paper.
I didn't teach the lettering to my two classes because we had less time. This is what I did instead: photocopy the WANTED text from the lesson plan onto cream colored copy paper. I lightened the ink so that only a trace amount was shown. The kids used markers to trace over the wording. Some students colored in the text and others added on to it. I was a bit concerned at first that I was cheating and not offering the students a creative lettering experience, but the results felt very original. Every child was able to create his own version of the WANTED text.
We used the bottom part of the WANTED copy paper to add a description or a story to our poster.
Here are a few outlaws from my fifth grade class: