GUSTAV KLIMT ART PROJECTS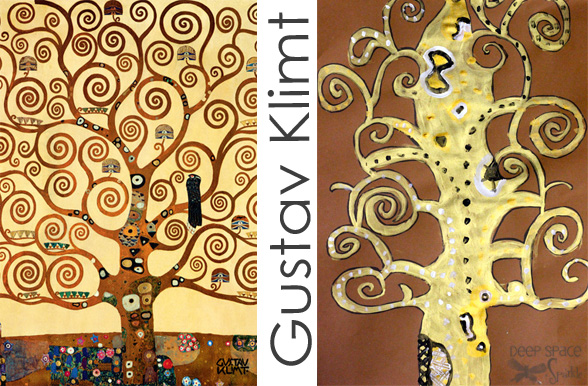 OPTION ONE: TREE OF LIFE PAINTING
Despite the detailed elegance of Gustav Klimt's "Tree of Life" painting, this quick, calming art lesson can be completed in under an hour.
You'll need metallic paint for this project. I used Sargent Metallic Tempera paint but other brands work just as well. There is a quality to the metallic paints that makes the paint glide over the paper. It's quite lovely and the children enjoy the process.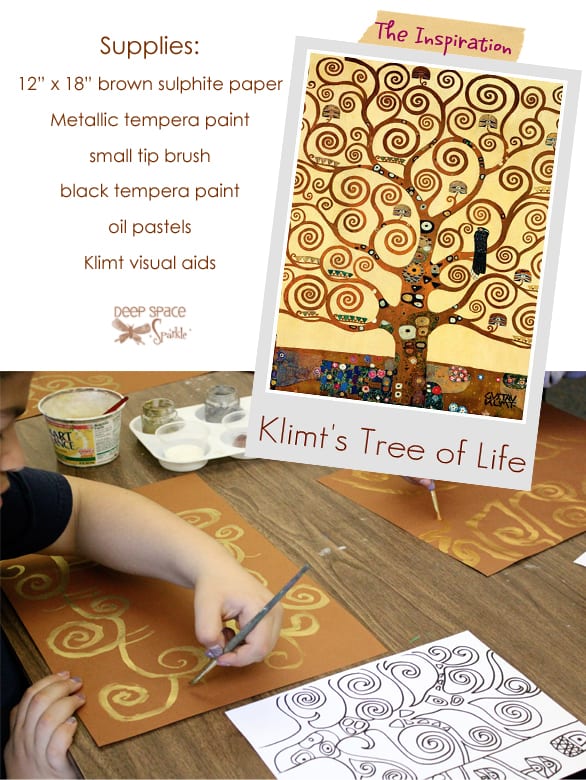 Start by painting the trunk of the tree. Some children will have a tendency to draw the trunk quite straight, so make sure to show them how to paint the trunk in fluid motions by drawing the sides swaying as opposed to drawing straight lines. Extend branches from the center and use swirls at the tips of each branch.
Use some white tempera paint (I neglected to add that supply in the list!) and paint over the gold paint. Let these areas dry completely and then the children can paint over these patches of white with black paint to make patterns or designs. Some of my students used oil pastels to add designs which I thought was a good addition.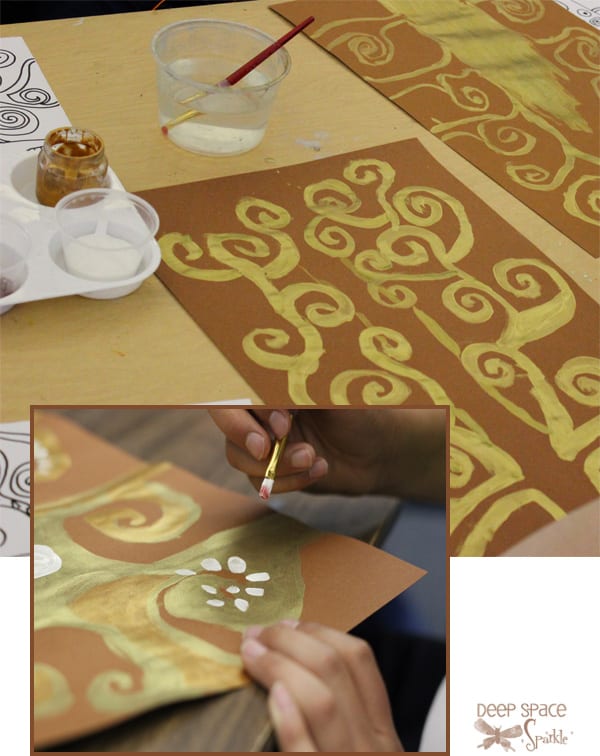 The final step is to use black paint to outline all of the tree branches. I think this makes the piece. Some children are hesitant about using black paint and a brush, so it may be a better option for them to use a thick black marker. Make sure the gold paint is dry before adding marker or you will ruin your marker.
This lesson is a great way for children to use their own creativity and style to create a piece of art all their own. Klimt's example is beautiful but what's even better is seeing how children use the piece as inspiration. Try not to give too many instructions while drawing the tree; there isn't a wrong way and the children might surprise you with their interpretations.
Sixth Grade Tree of Life Paintings…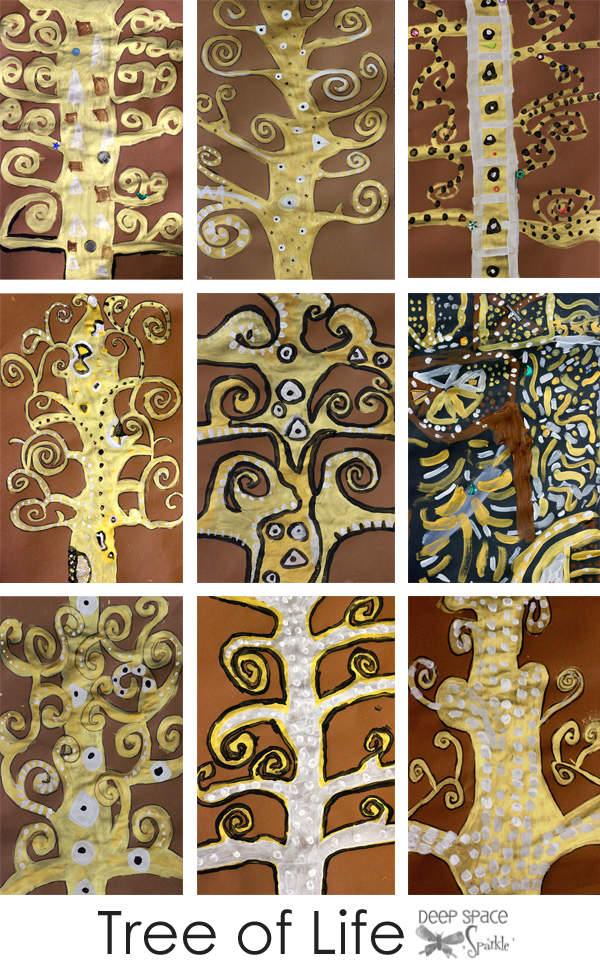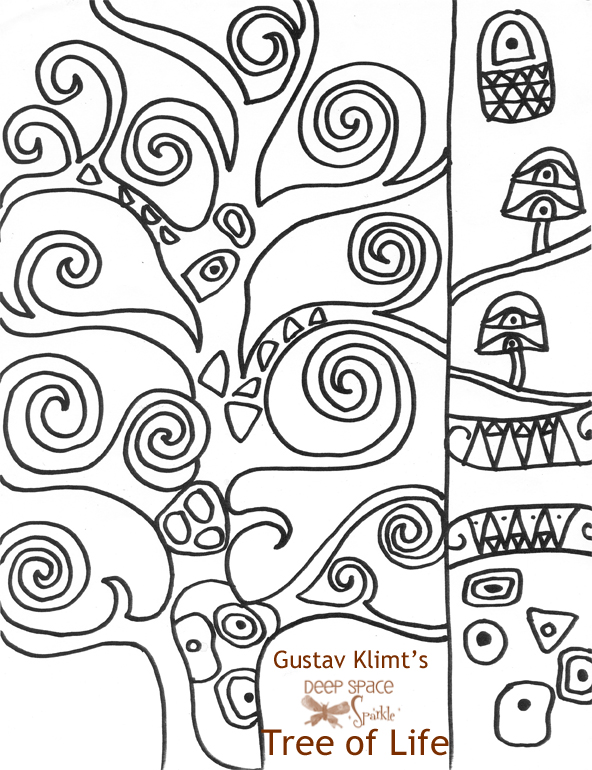 Here's a handout that may help your students with the drawing.
---
OPTION TWO: KLIMT INSPIRED WOMAN
Sometimes inspiration comes in many forms. I was perusing one of the many art supplies catalogs that happen upon my desk and I saw metallic paint for sale. Gold, bronze, copper, silver…rich, showy colors. I immediately thought of Gustav Klimt. I picked up a copy of Klimt and His Cat
by Berenice Capatti. The story was great but it was the illustrations by Octavia Monaco that drew me in and had me devising an art lesson for my sixth graders.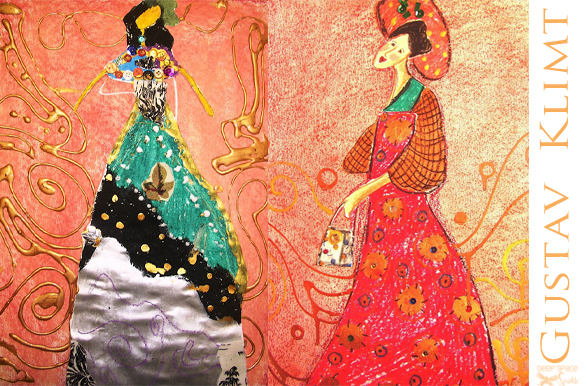 I thought this would be the perfect opportunity to incorporate my old profession as a fashion designer, into my new one, an art teacher! I had a variety of collage type materials on hand…sequins, buttons, fabric scraps, and now metallic paint.
I photocopied some of the illustrations from the book to serve as inspiration, but challenged the kids to come up with their own Klimt woman. We talked about how Klimt drew stylistically; small heads atop long, graceful (and often distorted) necks. I was in heaven. It was fun watching the children draw in such proportions; small heads with large bodies, but they did it.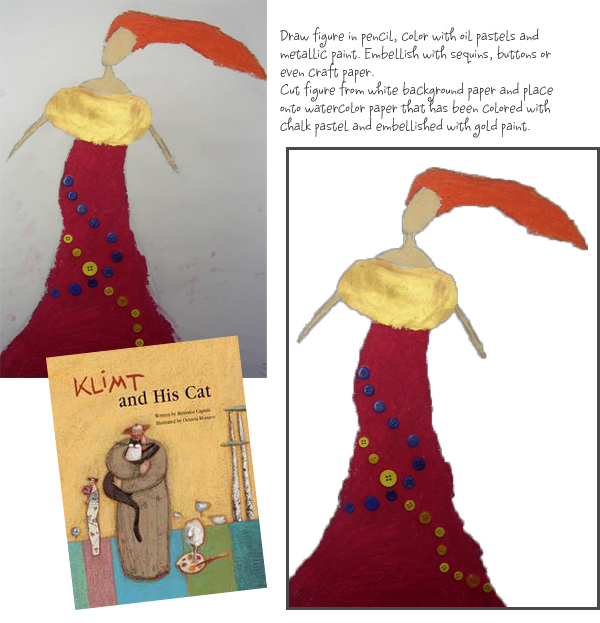 After our first session of our Gustav Klimt art projects, most of the children were able to draw figure with pencil (small head, dress flowing off the page, hair sweeping off to the side) color deeply with oil pastels and decorate with collage materials (buttons, fabrics, etc.)
For the second session of our Gustav Klimt art projects, we continued to decorate the dress with geometric designs, focusing on layering our patterns. We added faces with colored pencils, although some children left their faces blank. Hmmm.
Background
Using watercolor paper, we smeared two chalk pastels (use rich, earth tone colors) over the entire surface. The children were careful not to chose colors opposite of the color wheel less they get "mud". Then, using glue bottles mixed with white glue and metallic paint, we created designs in swirly curlicues, geometric patterns, etc. After the paint dried and set slightly, the students cut out their "women" and glued it onto the watercolor paper. Many students didn't finish their faces but we all were happy with the results and the process.
Gustav Klimt Art Projects Gallery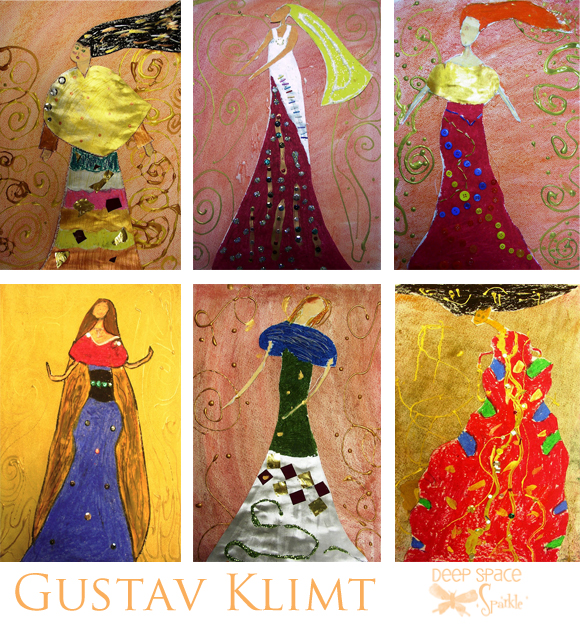 ---
ARE YOU A SPARKLER? Over 300 art lessons are available inside the Members Club. Access to videos, resources & trainings for one low monthly fee.
CLICK THE IMAGE TO SIGN UP FOR NOTIFICATION OF OUR NEXT ENROLLMENT