Winslow Homer was born in Boston, Massachusetts on February 24, 1836. His mother was a watercolor artist and taught Homer how to draw and paint. When Homer was old enough, he moved to New York City to make illustrations for a magazine. When the Civil War broke out, Homer was sent to the battlefields to draw what he saw.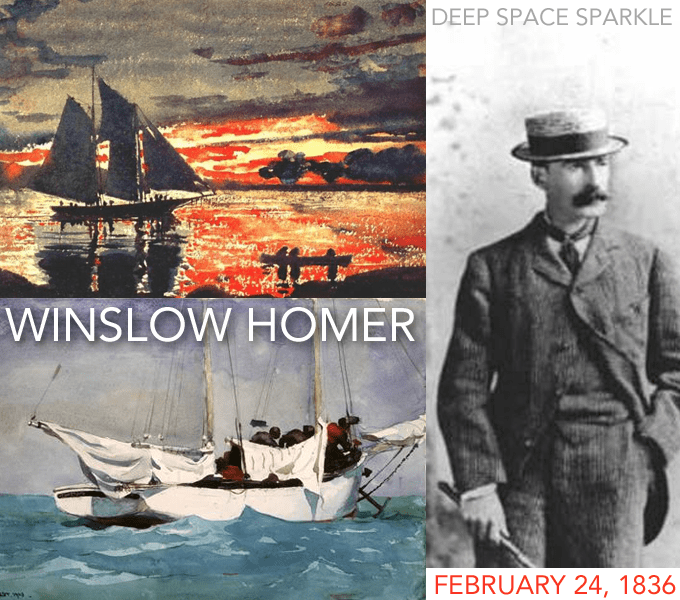 Homer liked to show the relationships between people and nature. He loved the outdoors and moved to Maine to paint. He is best know for his seascapes which are paintings of the sea. He is famous for capturing the many moods of the ocean from the cold, grey waters of New England to the warm waters of the Caribbean.
Over my dozen years of teaching art, seascapes remain one of my favorite subjects to teach. I grew up near the ocean and love the changing moods, colors and textures of the sea. Drawing clipper ships, sailboats and viking ships have become a standard lesson for my 5th graders. It's easy to tie in a clipper ship or sailboat with Homer. Using watercolors like Homer did, offers the opportunity to teach the many colors of blue.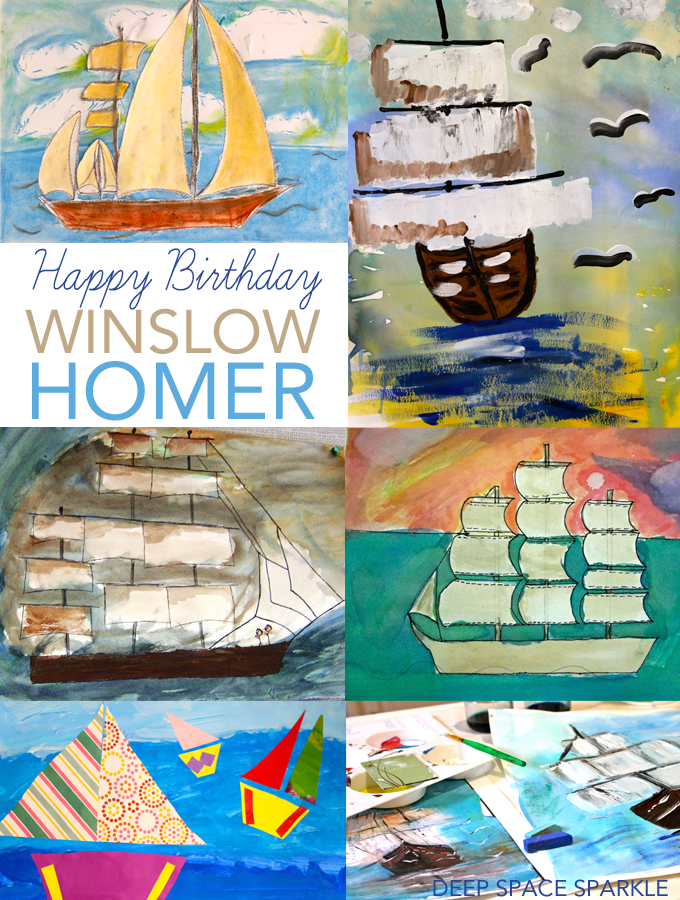 Here's an exercise to try:
With a pan of watercolor paints and a small piece of watercolor paper, ask your students to paint as many different variations of blue on their paper. At first, you'll get a small range of royal blue and turquoise. Basically the paint colors that are available in the palette.
Now introduce black. Swirl paintbrush into the blue paint and make a puddle in the tray. Dip brush in the black and add a very small amount to the blue. The kids just created navy blue.
Next, try something a bit different. Make a small puddle of blue paint in the tray cover. Clean brush then swirl in orange paint. Mix the orange paint with the blue puddle. What color forms? Navy. Mixing complementary colors is a great way to show how to add depth and mood to a seascape.
My favorite Homer-Inspired Art Lessons
(Top left) Chalk Sailboat: Students draw a sailboat on one paper and a chalk seascape on the other. The sailboat is cut away from the paper and glued to the background.
(Top right) Mixed-Media Clipper Ship: This time my students drew a clipper ship from a front view and used watercolors, acrylic paints and a cool texturing technique to make the sails.
(Center row left and right) Clipper Ships with marker and watercolors. The first sample was created by an 11-year old boy in my first year of teaching. A few years later, another 11-year old created this clipper ship using the same lesson. I love how different they are and like Homer, both capture different ocean moods.
Even little kids can create Homer-Inspired art. This shapes and value lesson teaches the colors of the ocean (dark towards front/light towards horizon).
Need more ideas? Check out my Winslow Homer Pinterest Board:
Follow Deep Space Sparkle's board Winslow Homer: Art Project for Kids on Pinterest.
Do you have a favorite Homer-Inspired art lesson?