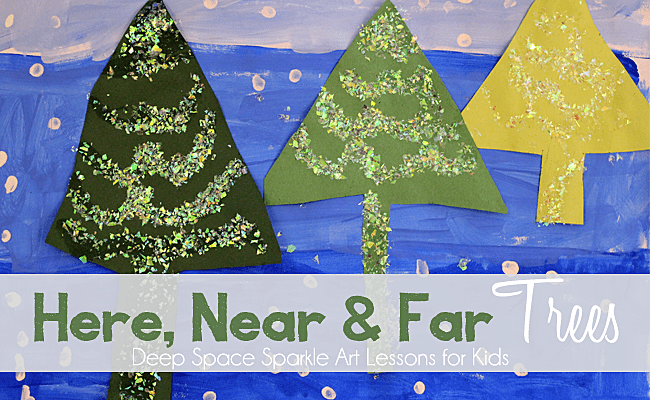 Atmospheric perspective is a big word for kinder and first grade students but in this lesson they get to play with color value and distance to achieve it. To set a tranquil mood and frosty atmosphere, I read the book Once Upon a Northern Night by Jean E. Pendziwol.
Always on the lookout for books with a winter (but not holiday) theme, Once Upon a Northern Night captures the essence of cold northern winters. Most of my California kids have never seen snow and very few know about frost, but they all can relate to the quiet stillness of nighttime.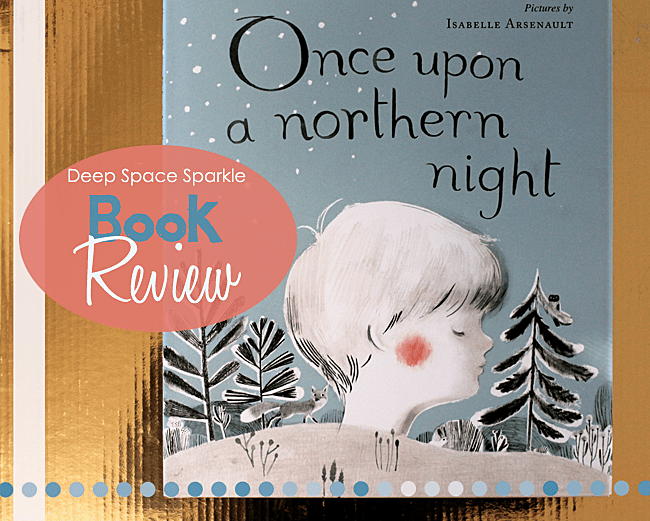 Starting out with snowflakes falling from the sky, the author offers a glimpse into the world of nocturnal creatures. The black and white illustrations grow in detail and color as the book progresses until the child wakes up and discovers a sparkling winter wonderland.
The book takes about ten minutes to read so take your time and enjoy the words as the children sink into Arsenault's wintery world.
After I read the book, I showed the children a landscape painting that clearly illustrated how objects near the bottom of the picture (rocks, trees, grass) are brightly colored where as the objects near the top of the picture (sky, mountains, etc) are faded or lightly colored. This shows how colors recede the farther that are away from the viewer.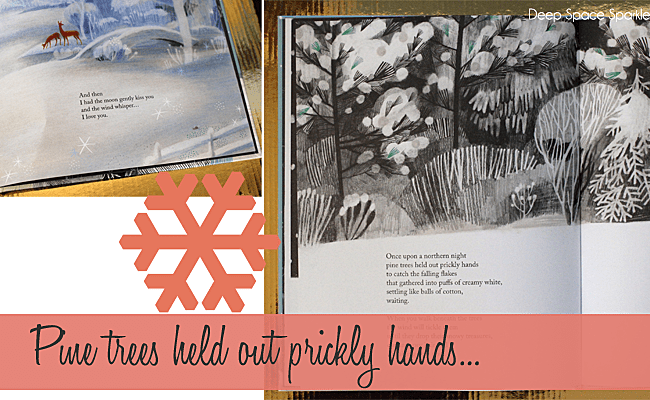 Here's what you'll need:
1 sheet 12″ x 18″ white sulphite paper
1 sheet of dark green, medium green and light green sulphite paper cut into 12″ x 6″ pieces.
Green and black oil pastels
Blue and white liquid tempera paint (I mix mine with a bit of water)
Fat paint brushes to make quick work out of painting the background
White paint and Q-tips for snowflakes
Snow glitter (entirely optional for the I-hate-glitter-crowd)
Scissors
White school glue mixed with a bit of water and poured into containers. Us sold brushes to apply glue.
Some water containers
Placemat for wiping off paintbrushes and keeping table clean
Vocabulary Words & Objectives:
Atmospheric Perspective (okay, that's a big one for Kinders. How about understanding Here, Near and Far)
Value (the light and dark of colors)
Coniferous Trees (trees that don't shed their leaves because they have needles instead)
The Background
To begin, place a sheet of white paper on each child's table setting. I like to put paper placemats underneath the artwork so kids won't be afraid to paint off the edges of the paper and it's a good spot to clean and wipe brushes without having to use sponges.
Place a palette of white and blue paint on the table for kids to share. Give them some big brushes and some water to loosen it all up….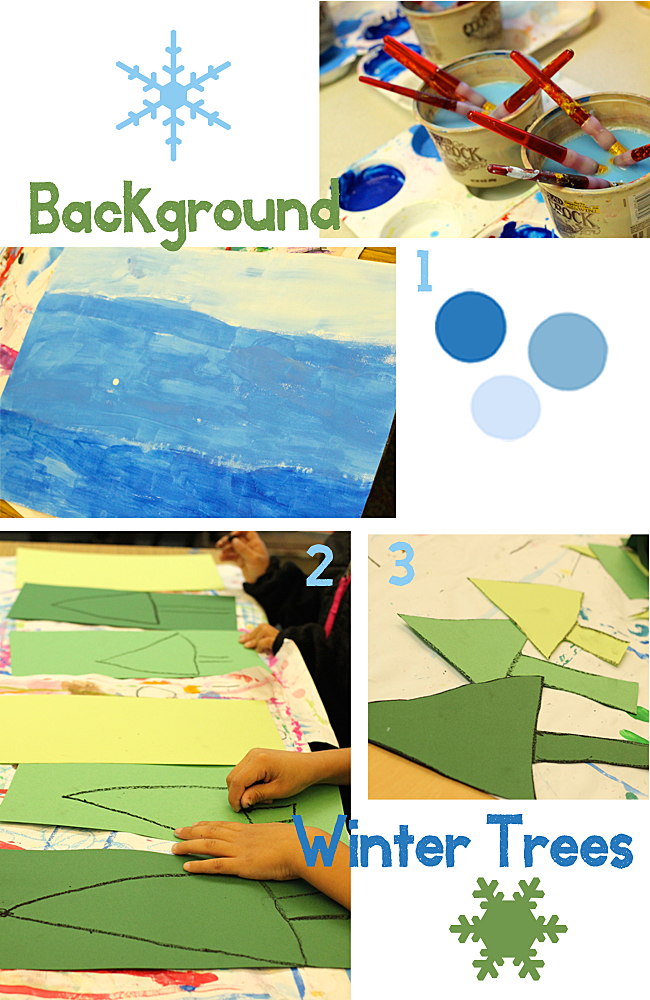 Painting the atmospheric background
1. Dip paintbrush in water and draw two lines across the paper. If your art room is like mine, the paintbrushes aren't perfectly clean, so there will be a trace of some color on the white sheet.
Dip brush in blue paint and apply a layer of paint across the bottom of the paper. Without cleaning brush, dip paintbrush into white paint and allow the two colors to mix onto another layer. If the child runs out of paint (which he will), dip brush into blue paint and then white paint and finish the middle layer.
The top layer is mostly white so don't clean brushes as the blue remnants that are on the paintbrush will suffice.
Creating the Trees
2. Set background aside (write names on back of artwork) and hand each child the 3 colors of green paper. This will need to be prepped before the children arrive. For a class of 24 children, you'll only need 8 sheets of each color cut into 3 pieces. Draw a large tree on the dark green paper (closest to viewer), medium size tree on the medium green paper and a baby tree or a small tree on the lightest green color.
Tip: If you don't have 3 colors of green paper, you can apply the same technique as the background paper and paint your own shades of green to use for this step.
Cut out trees. Paper clip the trees together and write t
he child's name on one of the trees. Set aside for day two….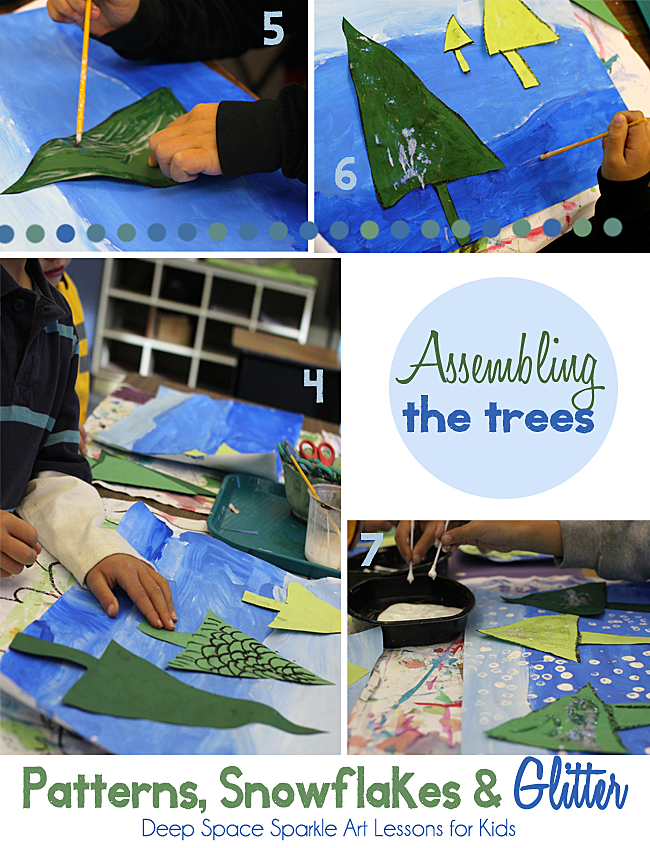 4. The next day, hand back background and trees to each student. Set oil pastels on tables and encourage the children to add patterns, branches or whatever they like onto their trees.
5. After the patterns are finishes, they can glue the trees to the background keeping in mind that darkest colors go near the bottom and lighter colors are at the top.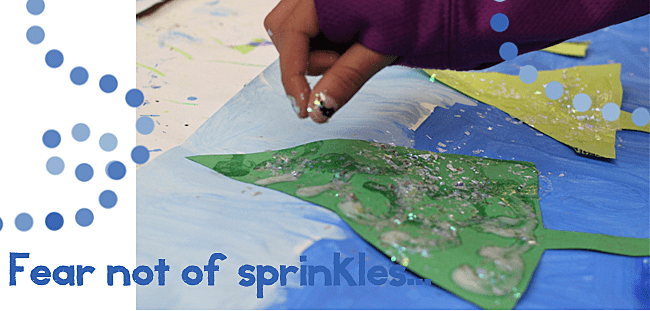 First Grade and Kinder Winter Forests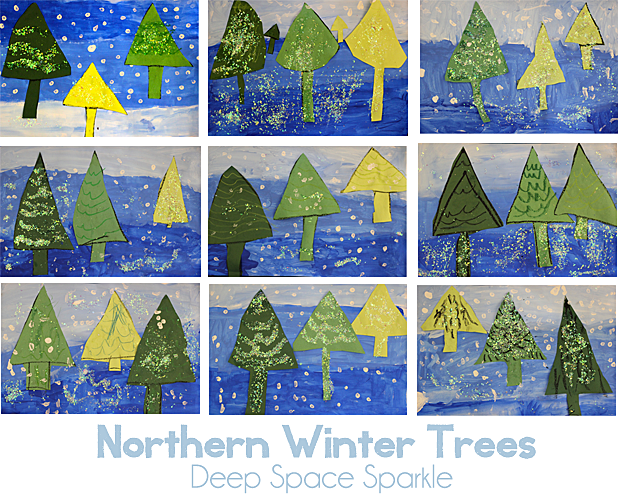 Winter Scene/Drawing & Painting Lesson
---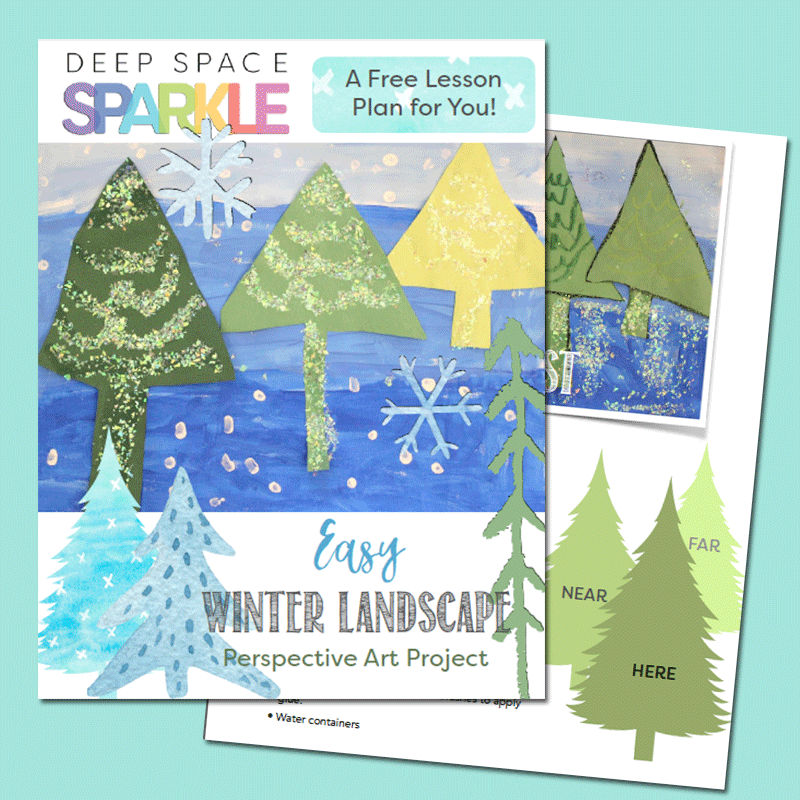 DOWNLOAD THE FULL LESSON PLAN
Instructions: click the yellow tab below, enter your name & email and we'll email you a PDF