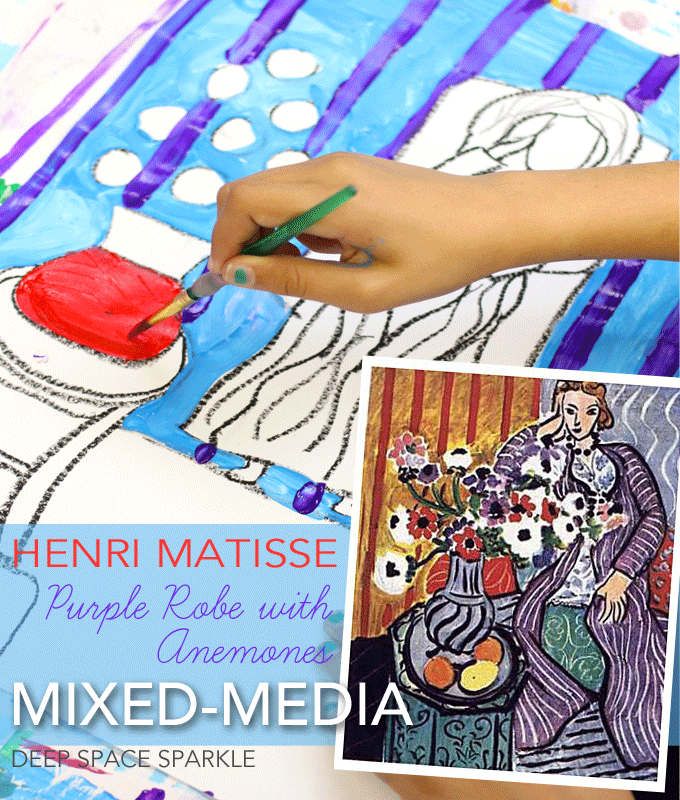 Henri Matisse may be best known for his colorful cut-outs, but I love his paintings.
Purple Robe with Anemones is bright, colorful, fluid and offers a high interest level for kids. There is so much to look at: the colors, patterns, textures, etchings and perspective.
I created a Purple Robe with Anemones Lesson for my Modern Masters Art Project a few years ago. My students used oil pastel and tempera paint to create layers of interesting colors and textures. This time around, I opted to add chalk and colored oil pastels to the list of materials. The process involves drawing with an oil pastel then adding layers of tempera paint. With cold and flu season hitting one particular 5th grade classroom hard, many children missed the "painting" lesson. To help these children catch up, I showed them how to use a combination of oil pastel and chalk to create an equally interesting painting.
DAY ONE: DRAWING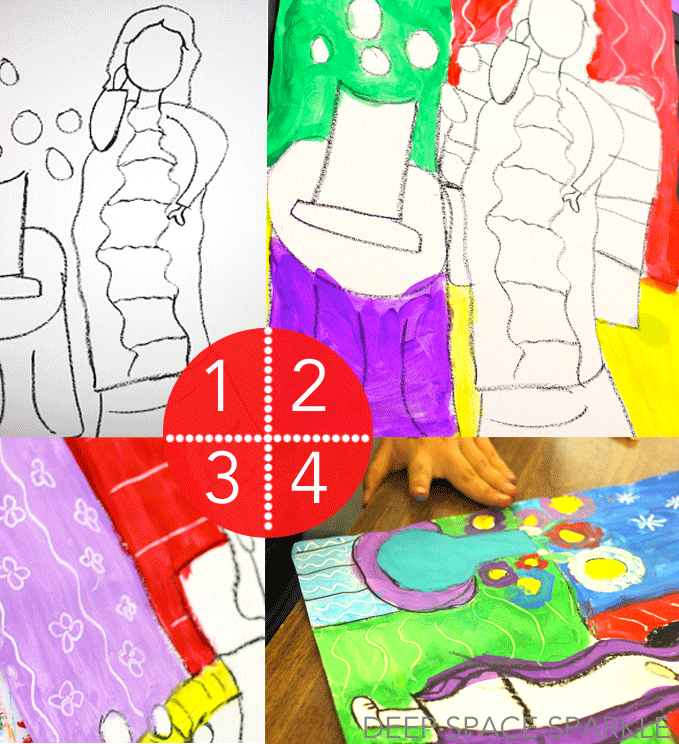 One: Figuring out what to draw first is always a challenge for kids. We started with the flowers, moved to the table then drew the figure. We used black oil pastel and white sulfite paper.
DAY TWO: PAINTING
Two: Using a variety of colored liquid tempera paint, the children painted the big areas (wall paper, table, robe) first.
Three: To create texture, the kids doubled up the paint and scratched away the top layer to reveal the bottom layer. Each student created something unique to them.
Four: If a child missed the painting step, they had the option of using oil pastel (you can layer oil pastel and scratch the top layer away to reveal the bottom layer) or chalk.
DAY THREE: DETAILS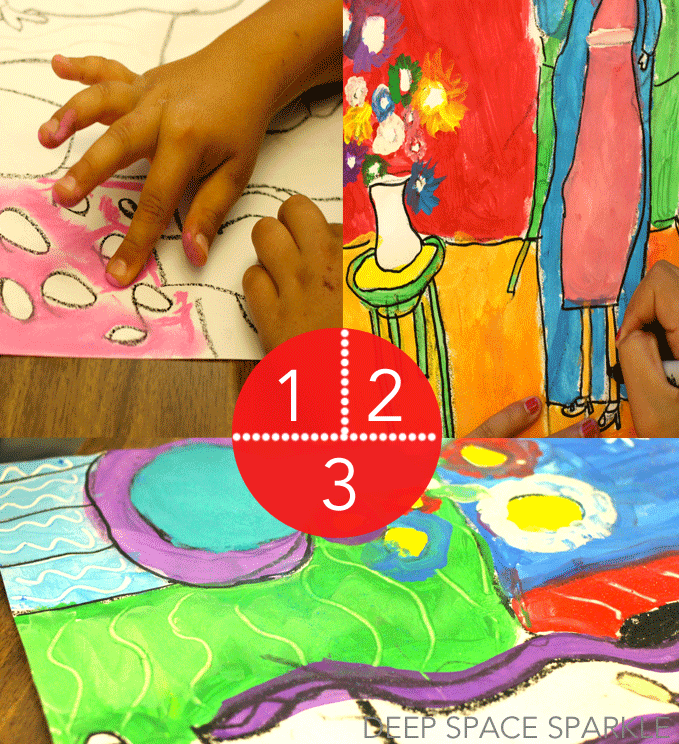 For most kids, the third session was spent creating details but a few kids had some catching up to do. If their drawing was completed, they skipped the paint and moved directly to the oil pastel or chalk pastel.
One: Instead of using paint, use chalk pastel to color in big areas.
Two: Once the main areas of color were filled in, children had the option of using a black oil pastel or a black marker to outline their shapes. This step mimics Matisse's efforts.
During the painting step, I asked the kids not to paint the faces or skin tones. We left these areas alone until the final step. Use chalk to color in skin tones and then a black marker to draw the facial features.
Three: The final step is to add details with chalk or oil pastel. Some kids added chalk to brighten up muddied painted areas, added stems, created the face (if they hadn't already done so) and added more patterns to the wall paper.
These are the results of three, 50-minute sessions with my fifth grade students: