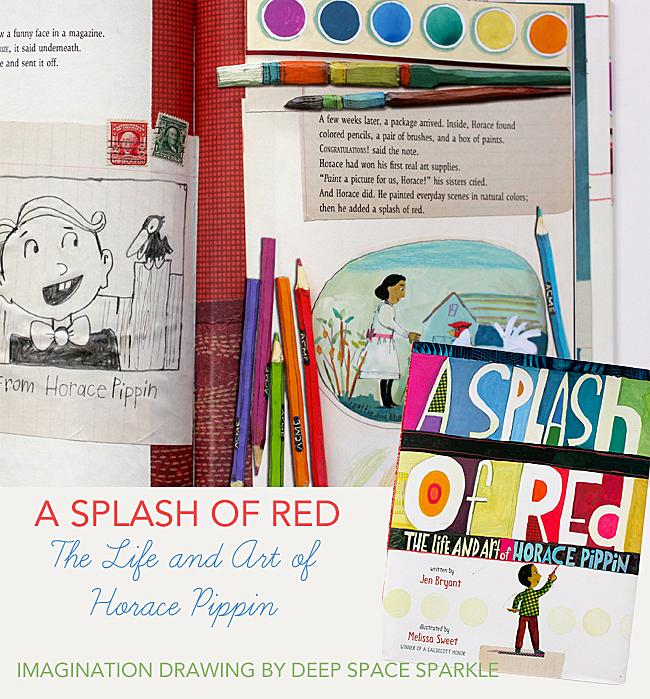 A Splash of Red: The Life and Art of Horace Pippin is a beautifully illustrated and written book about American self-taught painter, Horace Pippin. It's what I call a perfect "art class" book as the story is riveting enough for older readers (in my case, 5th graders) and the illustrations are simply inspiring.
My goal with this lesson was to teach my 5th graders about a relatively unknown American painter and how every artist's journey is different. There is a spread in the book that shows Horace painting in his studio. He paints what he knows, sees and recalls. He uses his imagination and likes to add a touch of red.
This is the page that gave me the inspiration for this art lesson….

 My questions to my students were:
What would you paint on your easel?
What does your room look like?
What colors would you use?
What would appear outside your window?
I gave each student a piece of 12″ x 18″ 90-lb watercolor paper, a pencil, a tray of watercolor paints, colored pencils, a brush and some water. The students shared a 4″ x 6″ cardboard template to draw the easel: the main subject in the composition. We did a guided drawing for the easel, chair and artist.
On the whiteboard I drew a large rectangle to mimic the watercolor paper then drew a small rectangle inside to mimic the easel. I demonstrated a few options for chair which could be drawn first. Then showed the kids how to draw a back-facing person sitting in the chair.
Here are some tips:
Encourage the kids to draw as large as possible. When drawing with pencils, 95% of children will draw very small even if given a large piece of paper. This is why I rarely use pencils but in this project, I wanted to give them a try.
I used 12″ x 18″ paper but a better choice would be a 9″ x 12″ paper. The large paper took a very long time for most children to fill. This was exacerbated by the use of pencils. Pencils=Perfectionism.
Use a larger easel template so that more of the paper can be filled, thus encouraging larger shapes to paint.
Drawing the room:
Talk about the various items that are commonly seen in bedrooms like beds, dressers, curtains, light fixtures, etc. Then ask the students to fill up the paper with these items. Many children will forget rules of perspective and if you try and teach perspective here, it is time-consuming. Trust me! I felt as though the students were successful if they were able to draw large enough.
After all the details were drawn with pencils, I encouraged both colored pencils and watercolor paints to be used to add color.
This project can take a very long time to do and in the end, it wasn't a great project for my art program because it consumed a little less than a third of the classes I have with my 5th graders. You will find that many children will obsess over the tiny objects in the room and ignore the bigger pieces like walls, floors and beds. That's just a developmental thing.
If I were to do this lesson again, I would use 9″ x 12″ paper and focus only on the easel and the artist. That way, the images would be larger, more focused and still would allow a great deal of imagination.
Have you done an imagination painting before using pencils? What are your tips for getting students to draw large? Share your experiences in the comments below….
In the end, there were some very proud fifth grade artists!