My art room is stripped bare, supplies sorted and cupboards cleaned. The last thing I want to think about is pouring paint and cleaning brushes but summer can be a great time to test out new art lessons and even make a few bucks with a summer art camp.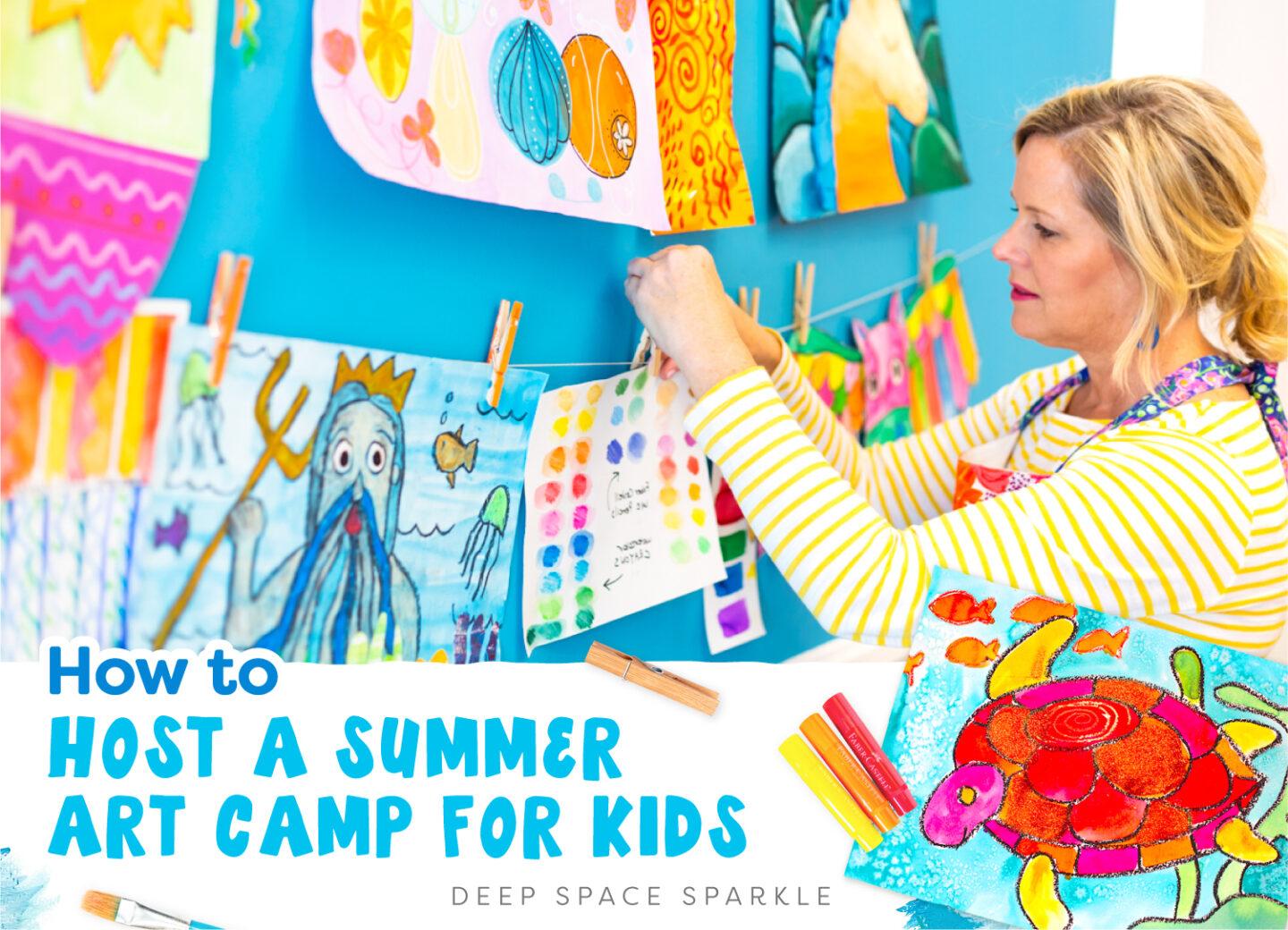 Use these tips to generate ideas to turn your expertise, talents and love of art into a summer art camp business that you may want to do year after year.
1. LOGISTICS
The first thing you need to do is to determine what type of space you have, how many students you can host and how long you want to make the sessions.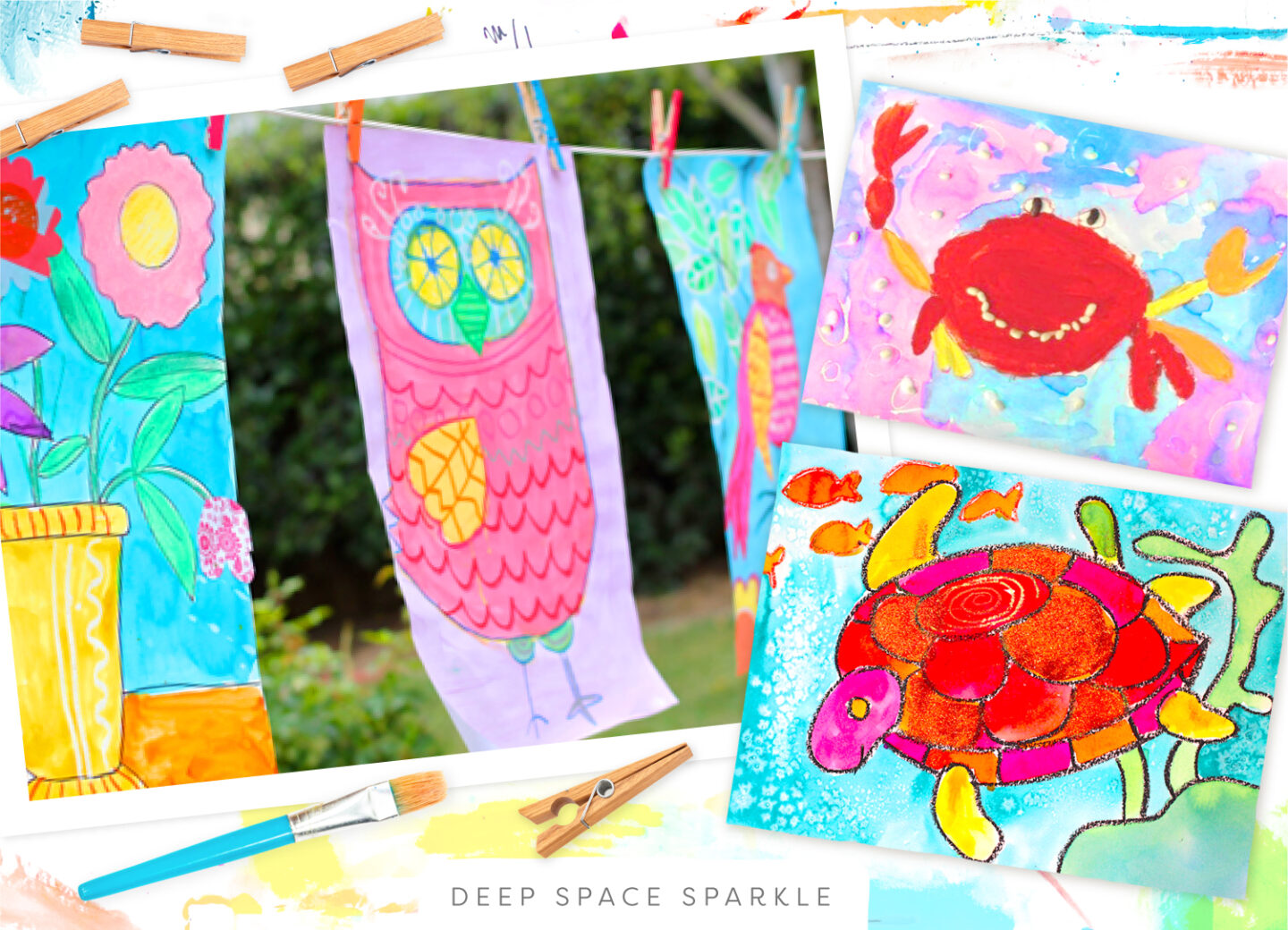 Here are some things to think about in terms of your summer art camp plans:
Space
Be creative with your space. You can go beyond your kitchen table and head outdoors if you live in an area with little rain threat (hello California!). Set up a picnic table, cover with a plastic table cloth and you are set. If you have access to a sun canopy, use it!
Connect a string to a couple of trees, buy some clothes pins and you have an instant drying rack. To go a step further, tie the clothesline or string closer to the ground so children can hang their own art work.
Have a dining room? If you are anything like me, you probably won't be using your dining room until Thanksgiving so give it a little make-over. Remove your good dishes from your hutch, line with craft paper and fill with your summer art supplies. Remove side chairs or decorations that are too precious for paint splatters and store in a spare bedroom, in a closet or a garage. Basically, stash the good stuff until art camp is over then spend a few hours converting it back to a dining room once the kids vacate.
Take it one step further and remove your dining room or kitchen chairs and replace with inexpensive stools from Ikea.
Go to a home store and buy a padded table protector. Cut to the exact size of your table. Cover with craft paper and start drawing & painting.
Taking it inside is necessary in rainy climates and if you don't have a spare bedroom or dining room to convert, think about creating a studio in your basement or garage. I like the idea of a garage studio as you can open the door on nice days allowing lots of sunshine and bright lights to infuse the art. Use a decorated backdrop to hide any junk, laundry areas or tool benches that you may not want your campers to see.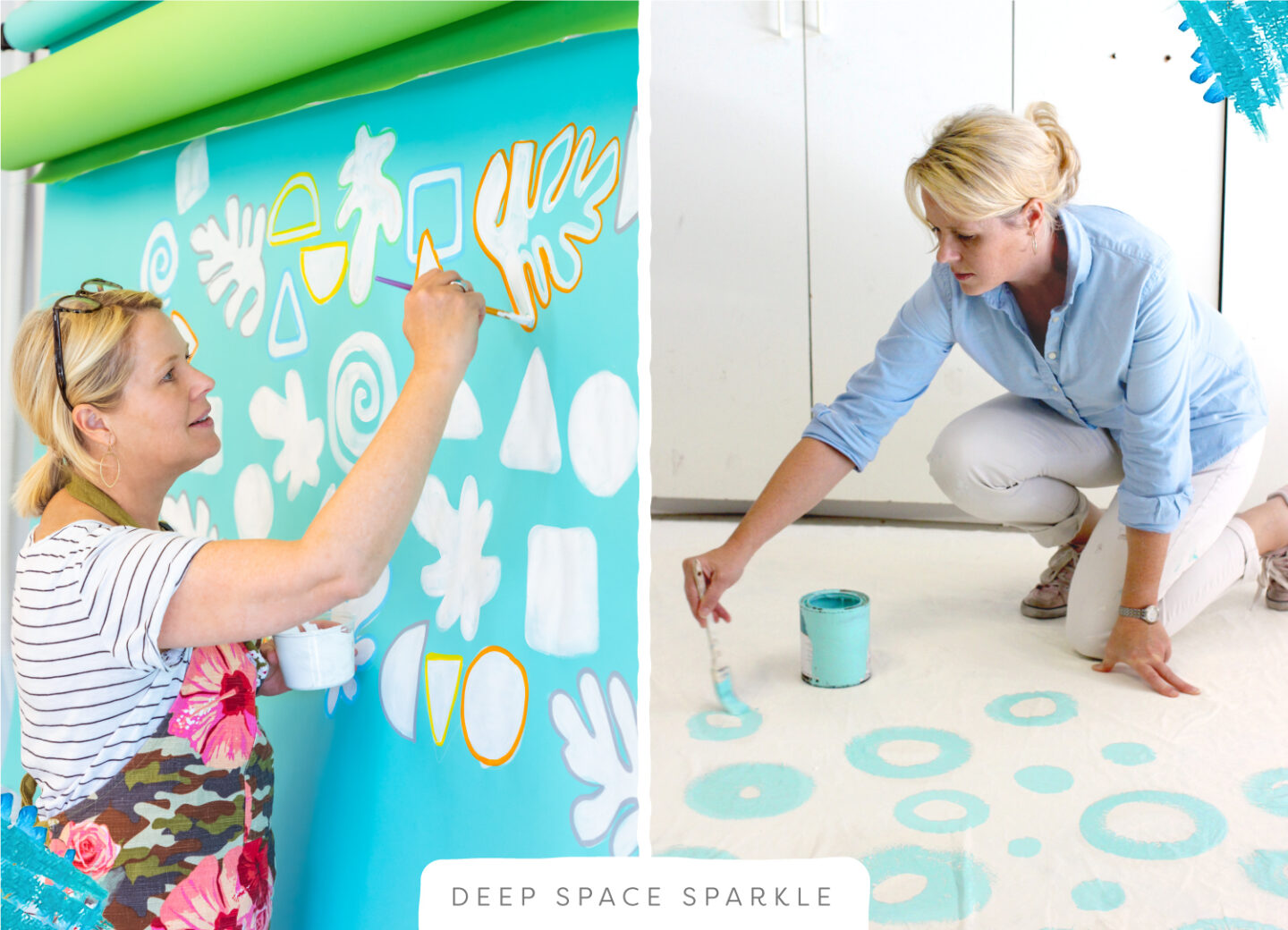 Consider painting an old flat sheet or length of fabric with latex paint to create a fabulous backdrop for your studio. If you take pictures for your blog, this painted background makes everything look a little bit prettier. I used a double wide length of sheeting and painted with a latex primer. Then, using latex paint from a household project, I created a simple background of swirls and dots. I hang my backdrop on my wall using thumbtacks. No need to bring in the husband for this job. The simpler the better.
Do have a clubhouse in your neighborhood? These facilities can be perfect for art camps. They usually have tables, chairs and a kitchen available, so it eliminates the need to rent furniture. If you book early enough, you can block off a two-week window for the summer.
2. FEES
You may or may not want to charge for your art camp or art classes but I certainly hope that you will consider doing so. Unless you are brand new to teaching art and you just need some experience for your portfolio or resume, you should absolutely charge your attendees.
How much should you charge?
This is a sensitive topic and there is a great deal of psychology behind it. Here is my take. You must make sure you charge enough to cover your art supplies and snacks, but also cover a good weekly rate for yourself. A good rule of thumb is to charge just a teensy bit out of your comfort zone. You need to have a minimum number of enrolled students to cover your expenses but aim for as many students as you can without affecting quality of service.
Many parents are very happy to pay for a quality art program. If you charge $125 for 20 hours of art instruction, that is only $6.25 per hour. Sounds crazy but if you teach 6 kids, your rate goes up to $37 per hour. Parents don't think of this hourly-rate when deciding about how much they can afford. They generally look at the broad picture and how much value and convenience you are offering on a weekly scale.
Charging more than $125 (which is just a number I am throwing out there) is entirely possible. The older the children, the more in depth you can create your program and the more you can charge. Of course, you need to make sure you are offering professional and personal service. This means, you should be very prepared, know what lessons or projects you will be teaching and have a good handle on managing different behaviors to ensure that all students get the most out of your program.
Can you do that?
Of course you can!
I can tell you one thing. If you are not paying yourself well enough, you are sending a message that you may not be worth it. If you charge $40 for a week long art camp with 20 kids, parents may assume that you are running a play date not an art camp. Of course, if this is what you want, then do it.
Here is some math: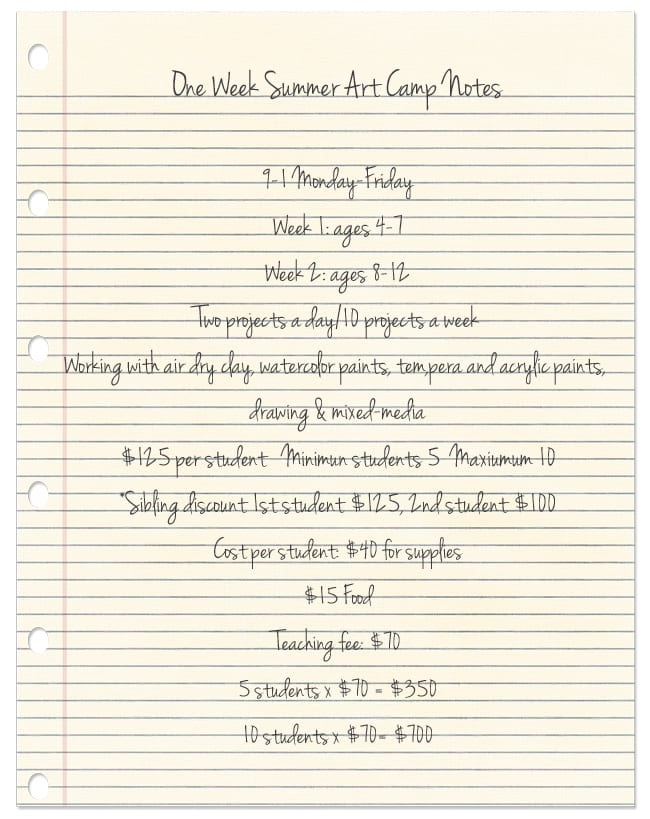 You may want to charge even more than my example. Check comparative fees in your area by doing a bit of research. Look online or call art studios and museums to find their weekly rate. Remember that museums and art studios can accommodate a larger number of students so don't be afraid if your prices are on par or a little higher. If you have been teaching art at a local school you have credibility and authority, so take advantage of it.
Be confident that you are offering enriching art projects. Conduct your art camp–even if it is at your kitchen table–with enthusiasm and professionalism. This means having art projects that are aged appropriately, use quality art supplies and offer a variety of instruction.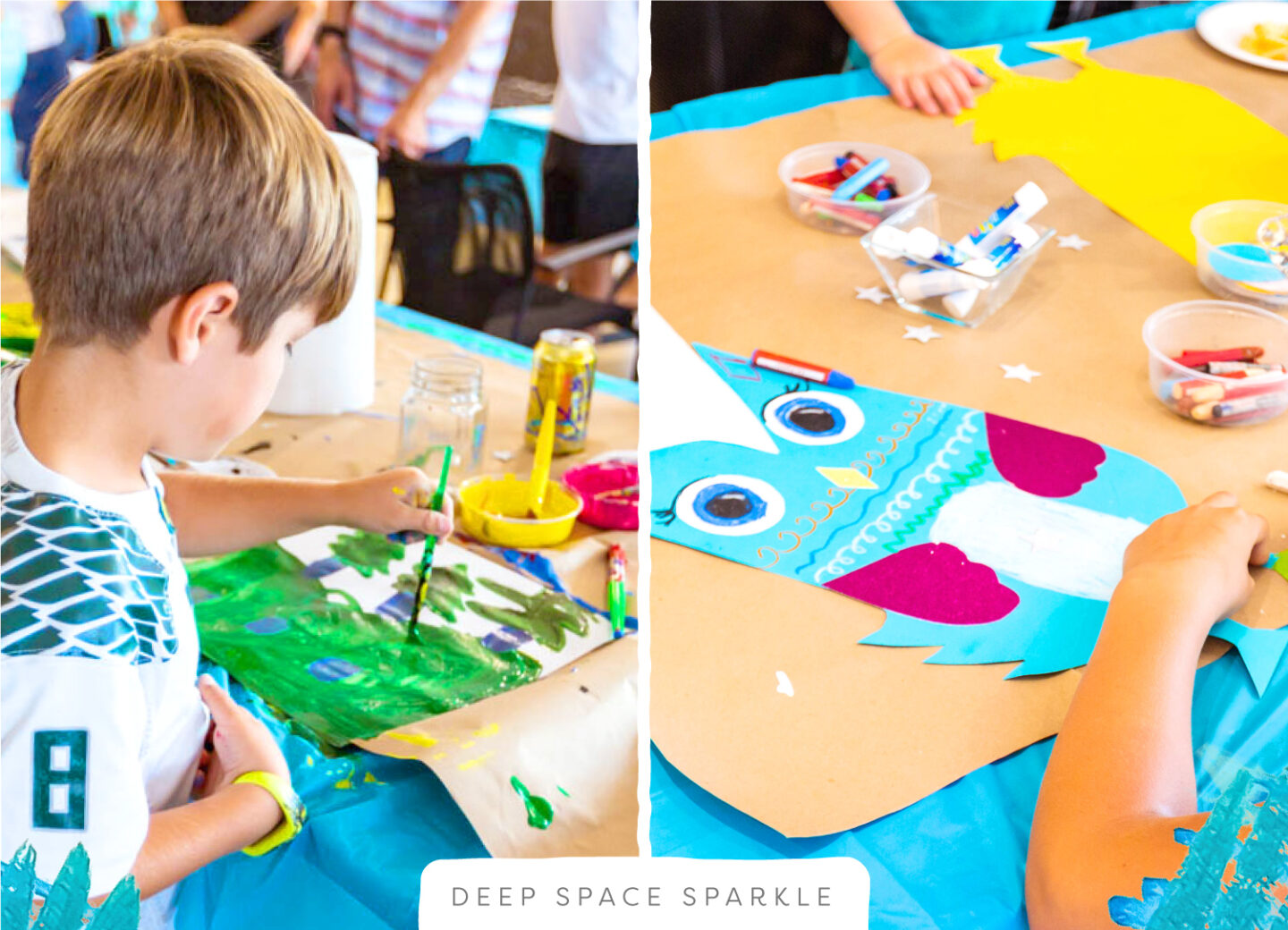 3. AGE GROUPS
How wide of an age range you accept depends on your own comfort and situation. You may be the mother of two kids ages three and seven. Of course you'll want to include both ages in your art camp and one way to do this is by getting some help. Managing ten, 7 and 10-years olds is a lot easier without preschoolers in the mix. Their attention span will just not be as long. I would consider hiring a high school art student who loves kids to be your assistant and emergency babysitter to the 3-year old.
The best situation is to create different sessions for the different age groups. I like to divide the kids into two groups: 4-7 and 8-12. The children within these two groups can do many of the same projects.
Combine Efforts
Another way to increase profits, offer a valuable community service and engage the kids for a longer period is to team up with another professional. Perhaps your school PE teacher or music teacher would like to create a camp with you. You could do art with the first group in the morning, and art with the second group in the afternoon, while the other teacher creates her own music or PE camp during the alternative times.
Or even combine efforts with another art teacher–they do upper grades and you do lower grades.
Here's what a summer art camp day could look like:
9-12 Art for Group 1 (ages 4-7)
9-12 Cooking Camp for Group 2 (ages 8-12)
12-1 Lunch for all
1-4 Art for Group 2 (ages 8-12)
1-4 Cooking Camp for Group 1 (ages 4-7)
4. LEGALITIES
Check with your State to see if you need special licensing or insurance for your summer art camp. States differ and many are dependent on how long you run your camp.
If you keep your group small, you may be covered under your home-owners insurance.
You can establish a business name for your camp, but it's not necessary for tax purposes. Simply keep your expenses and earnings and file as a sole proprietor.
If you have a neighborhood clubhouse, and are planning to use it for your camp, they usually require a copy of your household insurance. At least that's all mine requires.
5. ADVERTISING
A few years ago this would have been your biggest hurdle, but now with social media, you can target parents of children in your immediate neighborhood with Facebook ads. Of course, you probably don't need to advertise at all. You know many children from school and through your children.
If you have some creative energy you need to unleash, I would suggest making a poster. Make it colorful, easy to read and include all important information (name of camp, when, contact info, maple of projects).
PLANNING YOUR SUMMER ART CAMP PROGRAM
Once you have determined the age range of your summer art camp kids, you can plan your curriculum. The art projects you do depend on how many art mediums you want to tackle. You can stick with drawing & painting projects, a combination of mixed-media lessons and clay, thematic units or even a combo of art & crafts.
I would opt for trying as many mediums and subject matters as possible because you want to ensure that all students love at least a few things in the camp. This is also an opportunity to offer children the opportunity to work with materials they might not get a chance to work with like acrylics and canvases or clay.
SUMMER ART CAMP PROJECT IDEAS
I have compiled a long list of art projects according to techniques and art supplies.
Keep in mind, this PDF contains project ideas and lesson links not actual lessons. Use the list to generate your own summer art camp program and create a balanced, art technique-rich camp.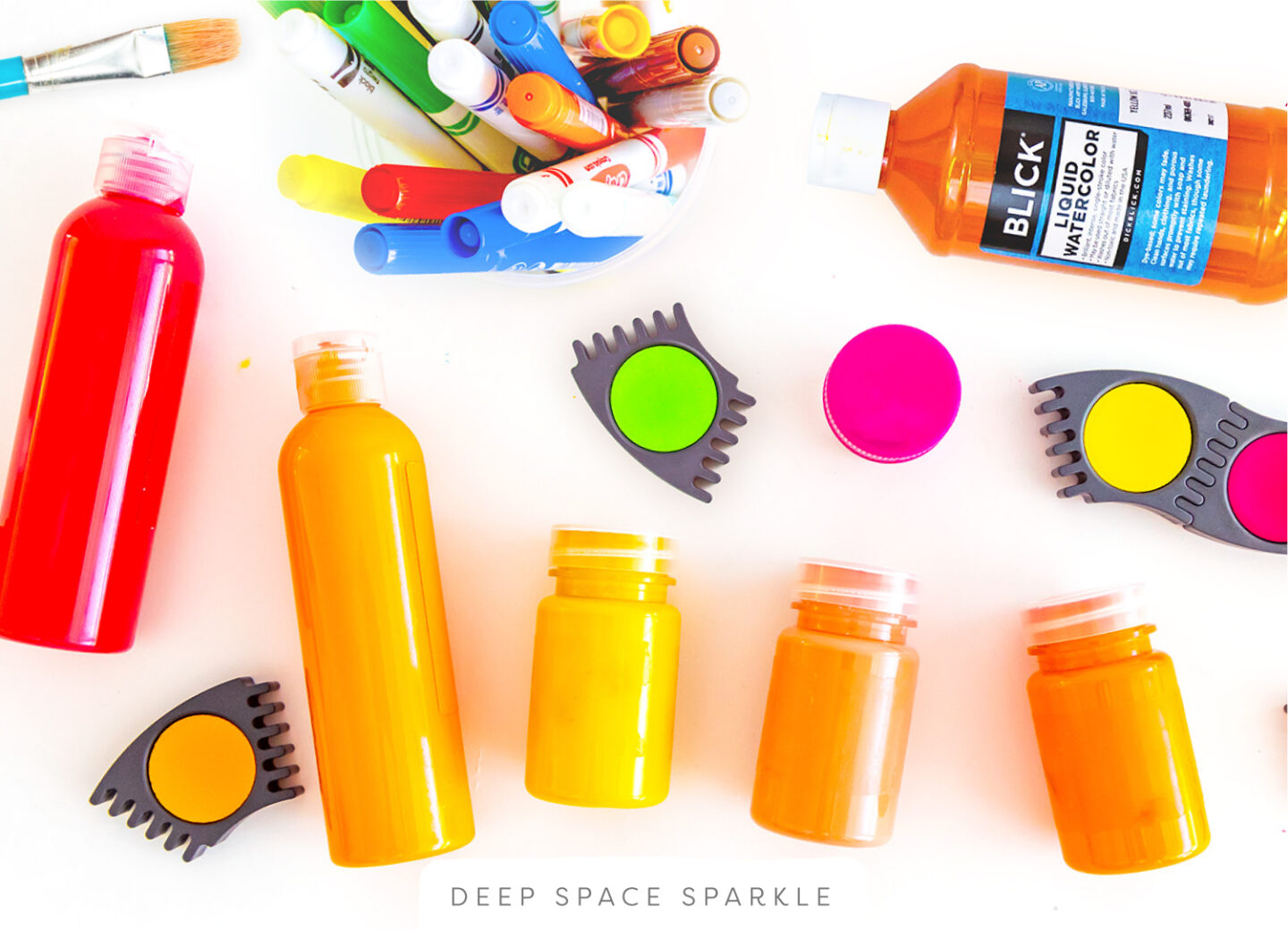 What art supplies you order depends on what lessons you tackle. The art projects in the download use inexpensive supplies that are available at most art stores or online vendors.
Here's what you'll need for a 2 week class of 5-10 kids
Drawing & Painting Paper: I love the 76 lb Tru-Ray Drawing Paper. It is a perfect weight for drawing with pencil, oil pastel and painting with tempera paints. Buy 8-10 packs.
Watercolor Paper: Buy the cheapest school-grade paper you can find. Children draw with crayon and oil pastels on watercolor paper and it's easier to draw on a smoother surface. Expensive papers tend to have a highly textured surface which isn't necessarily what you need for children's art. I like Canson's Watercolor Paper Packs. Buy 3 sheets for each child assuming you'll do 2-3 watercolor projects. The 100-sheet pack of 12″ x 18″ is less than $50 so it may be worth buying in bulk.
Tempera Paint: I love Crayola Washable Tempera Paint and have used it almost exclusively in my art room since I began teaching. I recently tried Faber-Castell's Connector paints and they are very, very nice. Unlike Crayola paints, they dry to a smooth, non-chalky finish. Buy 1 container for each primary & secondary color plus 3 whites and 1 black.
Cake Tempera Paint: Cake tempera paints are the paints that look like big blocks of watercolor paints but they have an opaque finish. They deliver a lovely painting experience but tend to dry to a chalky finish. Still, they are a great paint to have with young kids and classrooms. I've heard Alphacolor Biggies are great, but I have only used the Blick Tempera Paints. They work great for me. Buy 3-4 sets so kids can share.
Brushes: A good brush makes all the difference in kid's art. The brush should be soft, yet firm and have a good quality handle. This doesn't mean you need to spend a lot of money. I love Royal Langnickel Big Kid Choice Brushes. They have a variety of brush sizes and tip options so make sure to scroll through their options. I buy the small, medium and large round tip brushes (green plastic handle) plus a medium and large flat tip brush (red plastic handle). If you were to buy one brush, make it the round size 8.
Oil Pastels: I buy Sakura Oil Pastels. They affordable and don't smudge when wet. They also allow me the option of buying individual black and white which I use in abundance. Buy 12-24 color sets multiples by the number of students.
Chalk Pastels: The best chalk pastels I have purchased were the most inexpensive. I love the classroom pack of Sargent Art Square Chalk Pastels. They do kick up some dust but I love the rich color they produce. Buy 12-24 color sets multiples by the number of students.
Watercolor Paint Sets: I love the refillable 16-color sets from Crayola. Or try the Connector paints from Faber-Castell. More expensive but amazing quality. One tray per student.
Liquid Watercolor Paints: If you love painting with children you must purchase liquid watercolor paints. You can read why I absolutely love them HERE. I don't favor any particular brand as they do seem quite similar. The Blick Liquid Watercolor Brand does give you the option of buying a small 4 oz jar, which is great when you just want to try a few. Buy a few 4 0z bottles in the following colors: blue, turquoise, red, green, yellow.
Markers: Crayola Broad Tip Marker for budgets and classrooms and Prismacolor Markers when your budget has more wiggle room. Buy a big set for kids to share.
Air-Dry Clay: Crayola air dry clay is especially good for young hands as the clay is very soft. Tall shapes don't hold up too well but anything slab-created works well. I love Laguna air dry clay but it is more expensive. Still, you don't need much to create some really beautiful pieces.
There you have it! My ideas to help you generate some fun and income for a summer art camp in the hot summer months ahead. I'd love to hear from you.
If you have ever hosted a summer art camp of any kind, please share your links and ideas in the comments below.