I had a request from one of my kinder teachers to teach a class on drawing animals. Not exactly my forte, but I remembered a cute lesson in the Art Projects for Kids Blog. Kathy created an adorable cow, complete with a graphic on how to draw the little Holstein.
I experimented with the instructions, but with only 30 minutes to draw and paint the cow, I knew my instructions had to be fool proof. I debated whether or not to use a pencil.
As you might know, I'm not a fan of pencils for most elementary art projects because it gives the kids a chance to draw too small and be too perfect. But I knew if the kids drew directly onto the paper with a black crayon, there would be lines where lines shouldn't be (neck and legs).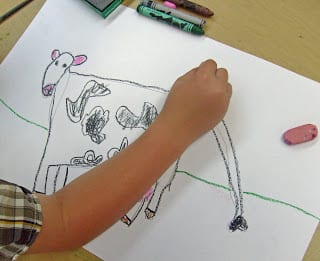 WHAT YOU'LL NEED:
Crayons
Watercolor
Cardboard templates
1 @ 30-minutes
HOW TO DRAW THE COW:
I threw caution to the wind and decided to try both methods. For my first class of kinders, I handed out crayons and proceeded to show them how to draw the cow. I drew it on the white board and used lots of adjectives so they'd remember the steps. Then, I let them go to it. Some kids eliminated steps on their own, thus didn't have the extra lines. (Unfortunately, I didn't take photo's of this step).
For the next wave of kinders, I used pencils and we drew the cow together in direct line sequential. Here, I found my original theory to be accurate. The legs looked like toothpicks and a few kids added way too many details. Not a bad thing mind you, just harder to paint. After the pencil drawing (and yes, many requests for an eraser), the kids traced over their pencil lines with a black crayon.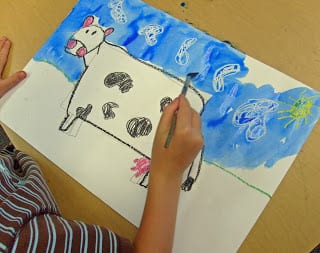 I encouraged the kids to add clouds, a sun, flowers, large back spots, etc. The painting part was super fast. Set out large wash brushes and premix some blue and green watercolor paints. Easy peasy.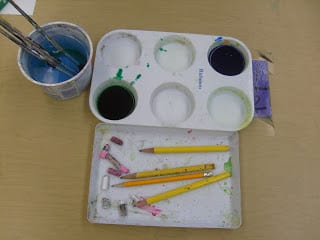 So, the lesson in all this? Don't use pencils.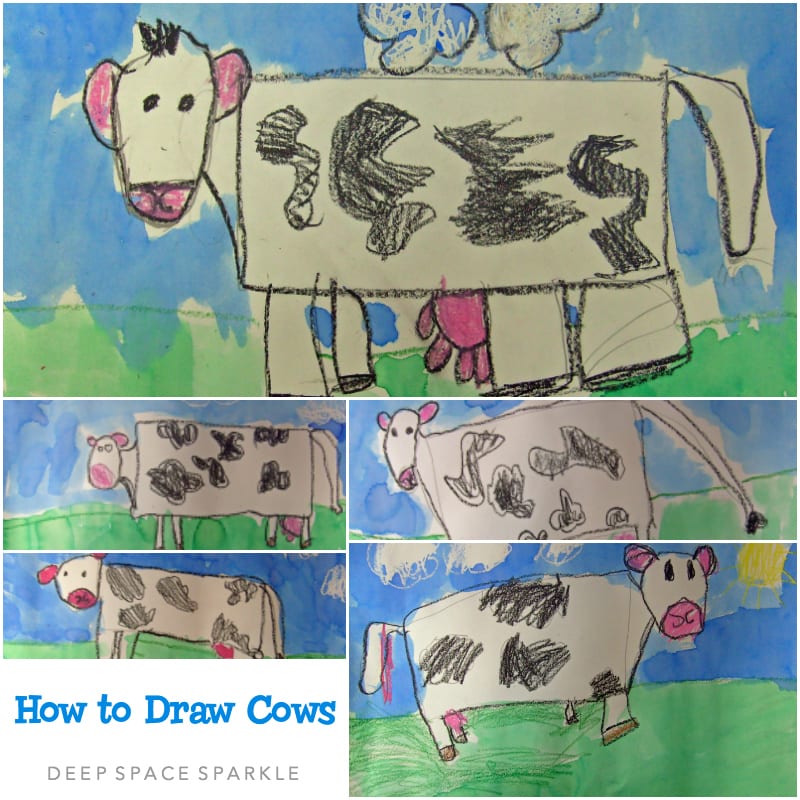 I saved my best tip for last: If you're in a time crunch, use a cardboard template to trace for the cow's body. I set a couple of these per-cut templates on each table and gave the children the option of using them. Some kids turned up their noses at the extra help, while others dove right in. For teachers, it's really a quick way to get the project started and makes for a good sized cow.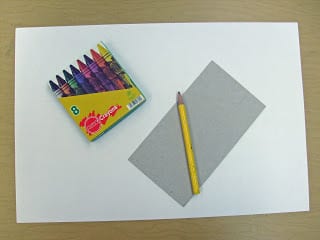 Related Posts:
"Watercolor Art projects": Detailed watercolor lesson plans
---
Download this free lesson guide on our Chicken Little template for more farm animal art inspiration!