For the last day of my Fall rotation, each of my kinder students create an adorable Thanksgiving Turkey.
I haven't done a guided drawing lesson with this group yet, but since they have all settled down and are great listeners, I figured a directed line drawing lesson was due!
The project is quick and easy, and should only take around 40 minutes to complete with either kindergarten or 1st grade students.
WHAT YOU'LL NEED:
– 12″ x 18″ piece of sulphite paper
– Black oil pastels
– Colored oil pastels
– Liquid watercolor
– Craft feathers
– White school glue
– Small plastic container lid
DOWNLOAD my free handout below! Click the button to receive a step-by-step project guide for this Thanksgiving Turkey lesson.

THE PROJECT
I must admit that my own version of drawing a Thanksgiving turkey looks more like a peacock than a turkey, but at the time, it was the best I could do.
I experimented with a few body shapes before deciding that tracing a container top was the best way to begin this lesson with my Kinders. I was not alone with this assessment.
A group of students who like to help me prep in the morning all agreed that tracing a circle was not only far cuter than my previous sample, but they liked the simpler lesson for their little buddies.
Who's to argue with sixth grade girls?
Another KEY component in helping this project along, was to fold the paper in half to create a crease line. You might think this is silly but for my group of Kinders, many have low spatial awareness and although we've been working hard on this, many drawings tend to start way at the bottom of the paper.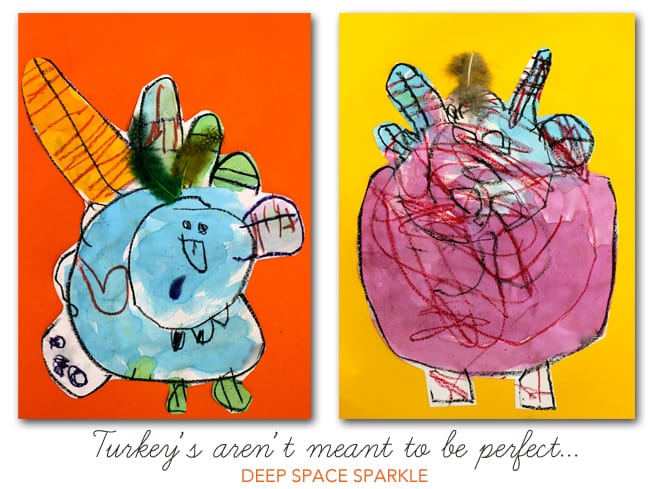 HOW TO DRAW A TURKEY
– Fold paper in half to achieve a crease line and place container template on top of the crease line. This helps not only center the turkey, but sets the stage for the turkey's size.
– Trace container top with a black oil pastel
– Draw two dots for eyes and an upside down triangle for a beak.
– Place oil pastel on crease line right next to the head and draw a BIG, FAT belly. Go all the way around to the other side of the head. Most kids (75%) got this so it really helps to use both the container top and the crease line.
– Draw a GOBBLE GOBBLE WIGGLY neck under the head.
– Add two legs by drawing two straight lines connected by claws. Repeat for second leg… or third as some Kinders did.
– Now draw the tail feathers. Like I said before, I must have been thinking peacocks because we made some very long tail feathers. Start by drawing a straight line above the head and go all the way to the top of the paper.
– Draw a big curved line around the line. Repeat around the sides of the body until you have as many tail feathers as you desire.
– With colored oil pastels, add lines, dots and patterns to the tail feathers and even to the body.
– Painting the turkey is much easier with liquid watercolor paints. I place mine in baby food jars and give each child a brush. Not sure what it was with this group of Kinders but boy-o-boy, did they keep the paint clean. That's usually the problem with little ones and liquid watercolors but this group really got into cleaning their brushes!
– Paint each area or shape with a color of paint. No one listened to this. Some children used one color for the entire turkey and others painted rainbows. I love them all.
– When the children finished painting, add some white glue to the top of the head and allow each child to place a craft feather on the head. This is just for fun but a very good motivator to finish painting.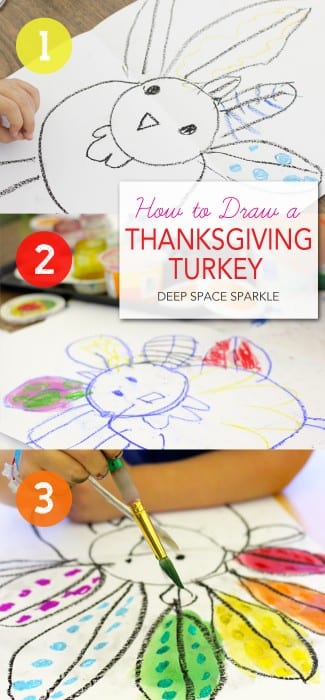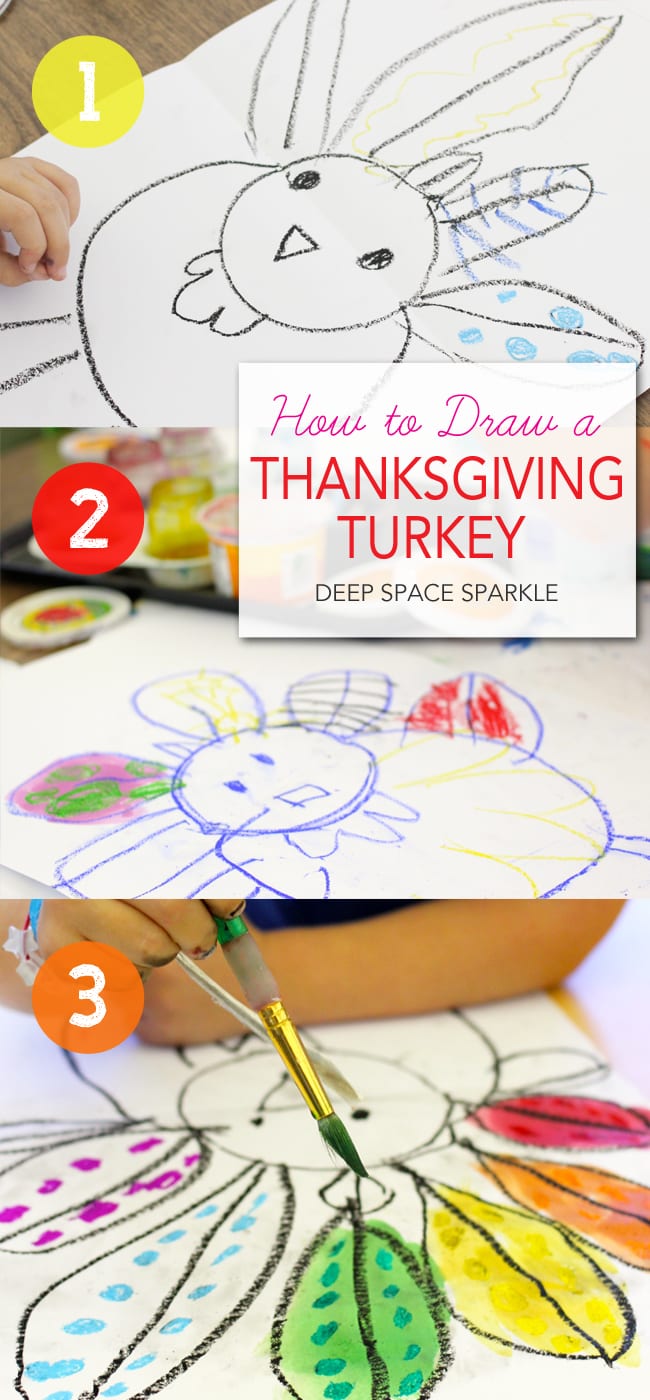 Things don't always work out the way you hope. Many Kinders have a very hard time with shapes and lines. It's not only hard to control their little fingers but most often they don't connect the shapes with an object like a turkey. I get a few strange looking creatures in each class and this is almost always from a younger Kinder.
How precious does each students Thanksgiving turkey look?