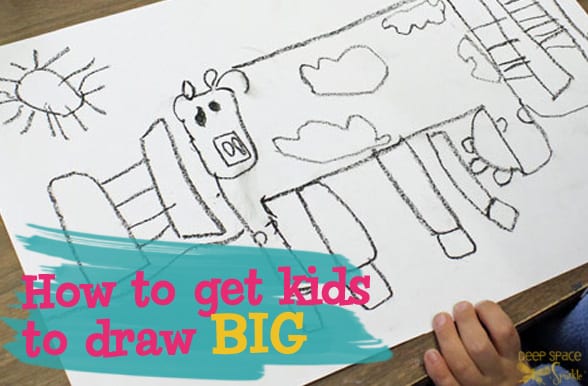 How do you encourage children to produce images large enough to paint or color? It's a great question, isn't it? One of my DSS Facebook readers asked this very question so here is my response….
How you choose techniques and tools will greatly determine how "big" a child will draw. Pencils are not a regular part of my art room for the mere fact that they encourage details and details are usually small in nature. Of course, there are other reasons why I don't use pencils but one of them is because you can erase a pencil line. That's not necessarily a bad thing, but that's a whole other post!
Use oil pastels…
In most of my art lessons, I have my students use oil pastels or paint brushes to draw with. This is especially true with my Kinders through 3rd grade students. I love how forgiving an oil pastel is. There is no pointy end to draw the tiny details with. Oil pastels literally beg to be stretch across the entire page. If a child makes a "mistake", we simply paint over it and if we aren't using paint, we may just ignore the pesky problem altogether.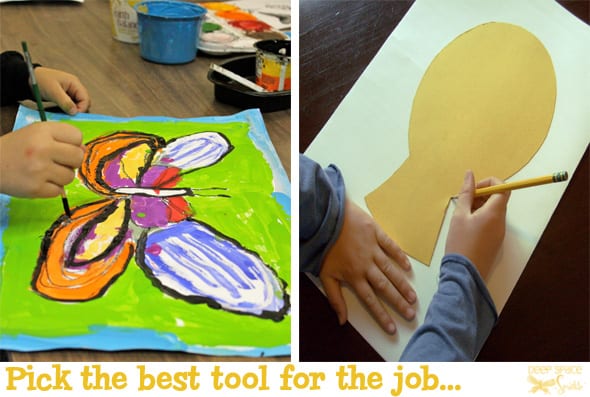 Try templates…
No matter how you feel about them, templates (or tracers) are a great way for a child to draw bigger. I love to use an oval template when doing portraits lessons with my Kinder classes. Once the main shape is made, children create facial features, hair and clothes for their portraits.
What about crayons?
You would think that crayons have a similar quality and outcome as oil pastels, but they are really different. I rarely use crayons for drawing because the nature of the crayon means that you need to press just a little bit harder to achieve a smooth line. Drawings tend to be more rigid anytime pressure is applied. Go ahead and try it. Draw an image (say a butterfly) using crayons and then again using oil pastels. What did you discover? How does the medium feel in your hands? Think about this before you teach your students.
Filling up the paper…
Technique also plays a big part in determining how big a child will draw. I like to do directed line drawings with my younger students. Simple tricks such as finger placement, making a dot where the eye should go and talking about the edges of the paper will help develop the space children view as their canvas. I continue with these instructions all throughout the grades and soon, the children realize that small drawings are hard to paint and large ones are much, much easier!
When to use pencils…
Sometimes I will use pencils to help develop the drawing techniques for older students (grades 5 and 6). These drawings are often done on smaller sized paper so that the student can focus on the details. Pencil is used to lay down the foundation lines when a project calls for detailed work such as castles or victorian homes project.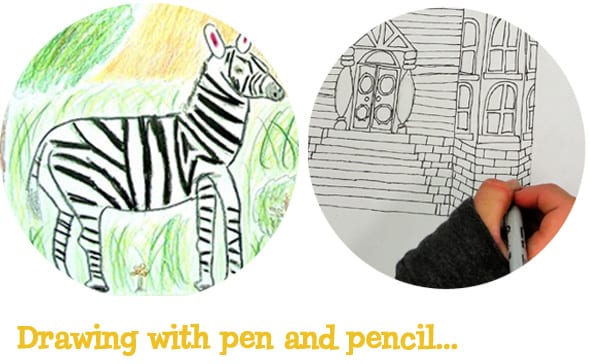 ---
New to teaching art in the classroom? Download my free classroom art teachers toolkit by clicking the yellow box below!