Looking for art project ideas that will work perfectly for your summer art camp? This post outlines lesson ideas that will engage, delight and inspire your group of summer artists. The first part of this series detailed the business side of running an art camp. Today we will dive into the fun part: art projects.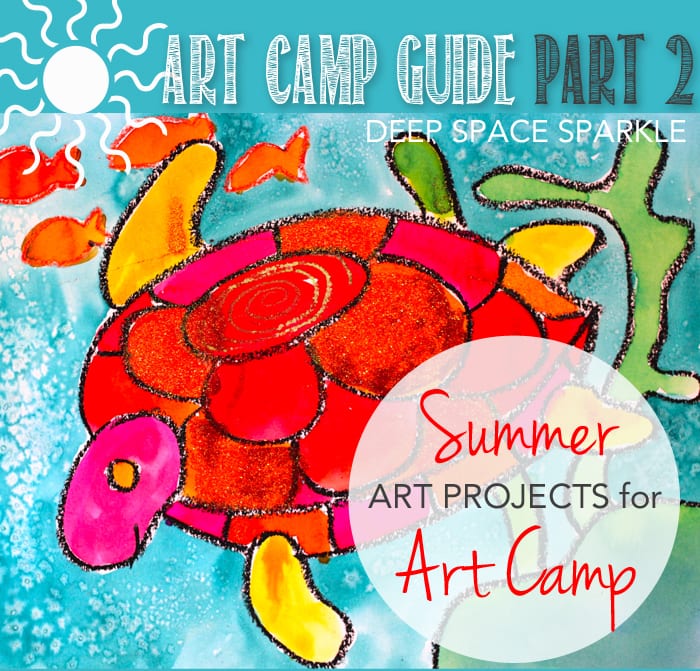 This 2-part series is designed to help you plan your own art camp for kids.  Use the tips to generate ideas to turn your expertise, talents and love of art into a summer art business that you may want to do year after year.
PLANNING YOUR SUMMER ART CAMP PROGRAM
Once you have determined the age range of your art camp kids, you can plan your curriculum. The art projects you do depend on how many art mediums you want to tackle. You can stick with drawing & painting projects, a combination of mixed-media lessons and clay, thematic units or even a combo of art & crafts.
I would opt for trying as many mediums and subject matters as possible because you want to ensure that all students love at least a few things in the camp. This is also an opportunity to offer children the opportunity to work with materials they might not get a chance to work with like acrylics and canvases or clay.
ART PROJECT IDEAS
I have compiled a long list of art projects according to techniques and art supplies.
Click the yellow button below to download the free Art Camp Project Idea PDF
Keep in mind, this PDF contains project ideas and lesson links not actual lessons. Use the list to generate your own summer art camp program and create a balanced, art technique-rich camp.

What art supplies you order depends on what lessons you tackle. The art projects in the download use inexpensive supplies that are available at most art stores or online vendors.
Here's what you'll need for a 2 week class of 5-10 kids
Drawing & Painting Paper: I love the 76 lb Tru-Ray Drawing Paper. It is a perfect weight for drawing with pencil, oil pastel and painting with tempera paints. Buy 8-10 packs.
Watercolor Paper: Buy the cheapest school-grade paper you can find. Children draw with crayon and oil pastels on watercolor paper and it's easier to draw on a smoother surface.   Expensive papers tend to have a highly textured surface which isn't necessarily what you need for children's art. I like Canson's Watercolor Paper Packs. Buy 3 sheets for each child assuming you'll do 2-3 watercolor projects. The 100-sheet pack of 12″ x 18″ is less than $50 so it may be worth buying in bulk.
 Tempera Paint: I love Crayola Washable Tempera Paint and have used it almost exclusively in my art room since I began teaching. I recently tried Faber-Castell's Connector paints and they are very, very nice. Unlike Crayola paints, they dry to a smooth, non-chalky finish. Buy 1 container for each primary & secondary color plus 3 whites and 1 black.
Cake Tempera Paint: Cake tempera paints are the paints that look like big blocks of watercolor paints but they have an opaque finish. They deliver a lovely painting experience but tend to dry to a chalky finish. Still, they are a great paint to have with young kids and classrooms. I've heard Alphacolor Biggies are great, but I have only used the Blick Tempera Paints. They work great for me. Buy 3-4 sets so kids can share.
Brushes: A good brush makes all the difference in kid's art. The brush should be soft, yet firm and have a good quality handle. This doesn't mean you need to spend a lot of money. I love Royal Langnickel Big Kid Choice Brushes. They have a variety of brush sizes and tip options so make sure to scroll through their options. I buy the small, medium and large round tip brushes (green plastic handle) plus a medium and large flat tip brush (red plastic handle). If you were to buy one brush, make it the round size 8.
Oil Pastels: I buy Sakura Oil Pastels. They affordable and don't smudge when wet. They also allow me the option of buying individual black and white which I use in abundance. Buy 12-24 color sets multiples by the number of students.
Chalk Pastels: The best chalk pastels I have purchased were the most inexpensive. I love the classroom pack of Sargent Art Square Chalk Pastels. They do kick up some dust but I love the rich color they produce. Buy 12-24 color sets multiples by the number of students.
Watercolor Paint Sets: I love the refillable 16-color sets from Crayola. Or try the Connector paints from Faber-Castell. More expensive but amazing quality. One tray per student.
Liquid Watercolor Paints: If you love painting with children you must purchase liquid watercolor paints. You can read why I absolutely love them HERE. I don't favor any particular brand as they do seem quite similar. The Blick Liquid Watercolor Brand does give you the option of buying a small 4 oz jar, which is great when you just want to try a few. Buy a few 4 0z bottles in the following colors: blue, turquoise, red, green, yellow.
Markers: Crayola Broad Tip Marker for budgets and classrooms and Prismacolor Markers when your budget has more wiggle room. Buy a big set for kids to share.
Air-Dry Clay:  Crayola air dry clay is especially good for young hands as the clay is very soft. Tall shapes don't hold up too well but anything slab-created works well. I love Laguna air dry clay but it is more expensive. Still, you don't need much to create some really beautiful pieces.
There you have it! My ideas to help you generate some fun and income in the hot summer months ahead. I'd love to hear from you.  If you have ever hosted a summer camp of any kind, please share your links and ideas in the comments below.