Splatter painting (AKA embracing your inner Pollock) is an essential component of an elementary school art program. If you've never done splatter painting with your students, you are totally missing out.
Nothing – and I mean nothing – is more exciting to a kid than splattering wet paint over everything.
While creating a snowy forest or magical starry night sky may be your objective, unless you have a high tolerance for paint mess, you may want to contain the splatters somehow.
Enter SPLATTER BOXES!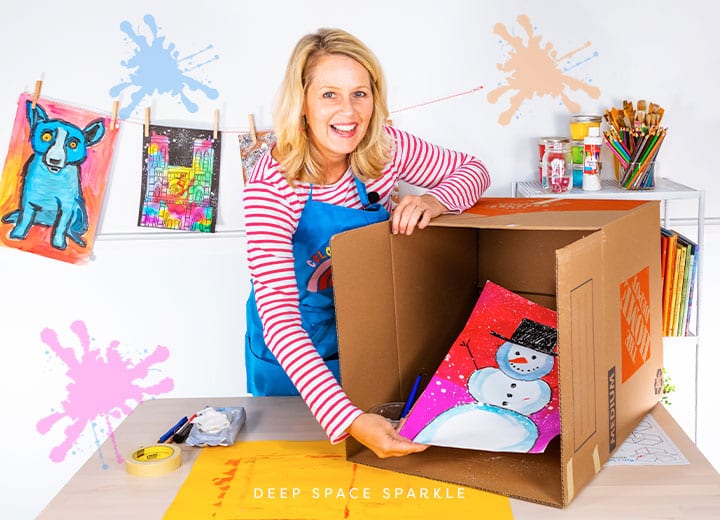 Watch the tutorial video below:
Making a Splatter Box is as easy as taping up a cardboard box from your last art supply shipment. The trick is creating an opening for the child to work comfortably inside.
Download my Splatter Box step-by-step guide from the December Freebie Pack below…
Here's what to do:
Remove 1 flap from a large cardboard box with a box cutter or heavy duty scissors.
Tape other flaps together and set box on its side with the OPEN section at the TOP.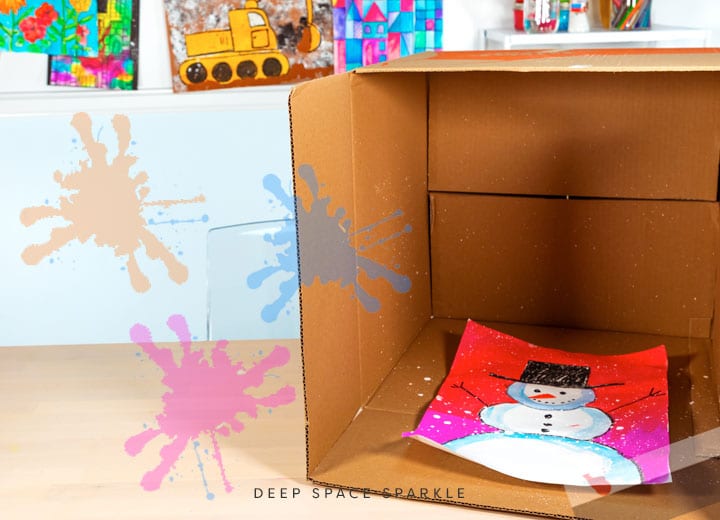 That's it! Really. Now you have a place in which children can splatter their individual work of art.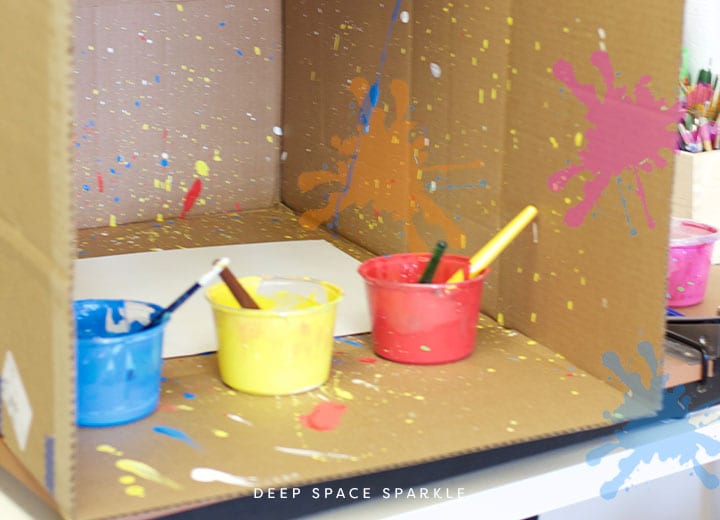 When I was teaching, I stored by 4 Splatter Boxes above my supply cupboards until Glitter season descended. Then, I would set up a station in the back of my art room for children to go to when they were ready to splatter their art.
Teacher Tip: Want to know how to make the BEST Splatter paint?
Mix one part liquid tempera paint with 2 parts water. Stir in a pint size container. The consistency should resemble heavy cream.
Use large brushes (regular splatters), toothbrushes (fine spray) and even super soft brushes (globby splats) for artwork.
Click the yellow button below to DOWNLOAD the December Freebie pack with Splatter Box guide inside. Add your name and email and we'll send it to you!