Creating a cohesive, schematic curriculum full of lessons that will excite your students is the dream of art educators. But it can be a daunting task. Sourcing and gathering a lineup of the right lessons that are designed to help students make connections and deepen their learning, is challenging.
After all, most of us don't want to spend our entire summer planning.
The good news is that you don't have to.
When resources are designed to meet your exact specifications and are exactly aligned with grade level expectations and skills, it's like pressing the easy button on program planning!
You might be wondering if devoting an entire year to teaching the elements of art and principles of design is worth it.
Truth is, there are many successful and valid subjects to build an art curriculum upon, but focusing on the elements of art and principles of design can help to build a well-rounded foundation for students that will not only help develop their art-making skills and decision-making, but also their ability to talk about and analyze art.
Here's how it's laid out inside our art teacher membership…
Take a look at our Creative Team explaining our new EPIC Curriculum:
SCOPE & SEQUENCE & PROJECT PLAN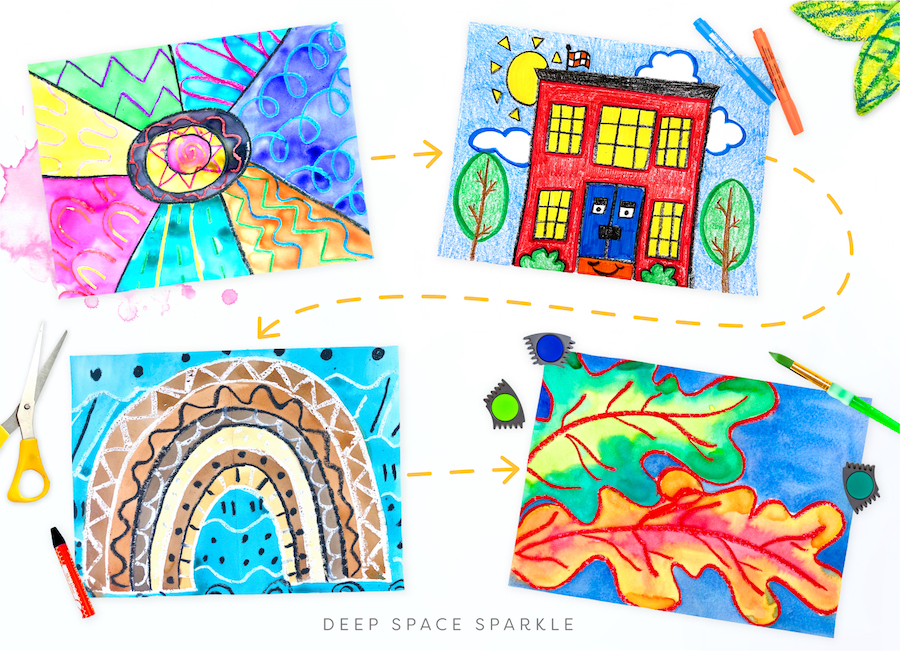 If you are new to teaching art, you might not know what a Scope and Sequence is.
Simply put, it's the arrangement of the lessons that build on skills of the child through the year and through the grade levels.
For example, our EPIC curriculum (Elements, Principles, Integration Curriculum) begins with LINE. It's the perfect element to start the school year because line is the most basic art-making technique.
The LINE lessons in the curriculum feature simple lessons that use minimal materials. This gives you the wiggle room to nail down beginning of the year procedures and expectations for materials without sacrificing lessons that are engaging and rich.
As the year progresses, a strategic line-up of one element of art or principle of design scaffolds skills both horizontally through the year and vertically throughout each grade level.
From kindergarten through seventh grade, the students understand and can apply the element or principle through art making, but also gain experience in a wide variety of art media throughout the year.
And for you, the teacher, we've balanced the curriculum to include many low-prep lessons that are rich in learning, but can be prepared quickly when time is limited.
Join me for a free workshop to explore different preparation techniques so you can get to the level of calm and consistency you crave (while still leaving a bit of space for art room magic).
---
Interested in starting your year refreshed, prepared and ready to go?
Download our back to School Guide | Resources to help kickstart your art program
It's a 3-part strategy on how to use the Elements of Arts when planning your art curriculum including ordering supplies, a grade level checklist for the scope and sequence of K-7 Elements of Art and What I'll Learn in Art Class posters.
---
THE PROJECT PLAN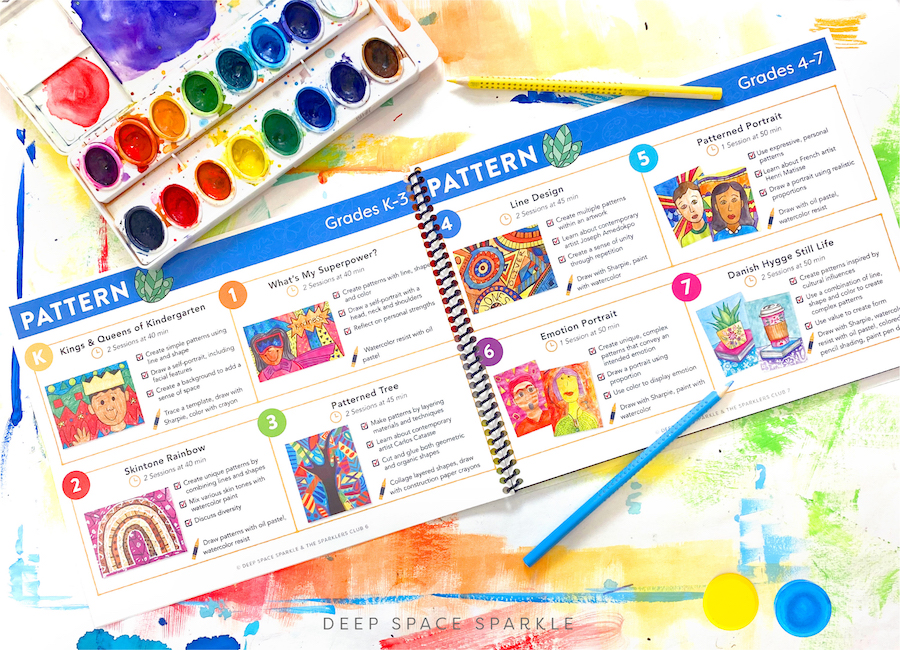 The project plan is the guidebook for the curriculum, outlining the learning objectives in each lesson, art techniques used and the time that each lesson will take to complete in one quick look.
Everything you need to plan an entire year of quality curriculum is put together into this one easy-to-use document.
TEACHING RESOURCES / PLANNING
Finding captivating lessons isn't typically what takes the most time when planning. Rather it's creating all of the additional resources necessary to support the lessons such as matching the standards to your school's requirements or preparing a slideshow or video to introduce an art concept.
In the EPIC curriculum, we've done the legwork for you so you can focus on creating with your students, instead of planning on nights and weekends.
The resources are where this curriculum truly shines.
We've gathered together a comprehensive array of resources that will help to not only save time in planning, but also help deepen students' knowledge and understanding of the elements and principles of art.
Here are a few of our favorite resources inside the curriculum:
RESOURCE CONNECTIONS PAGE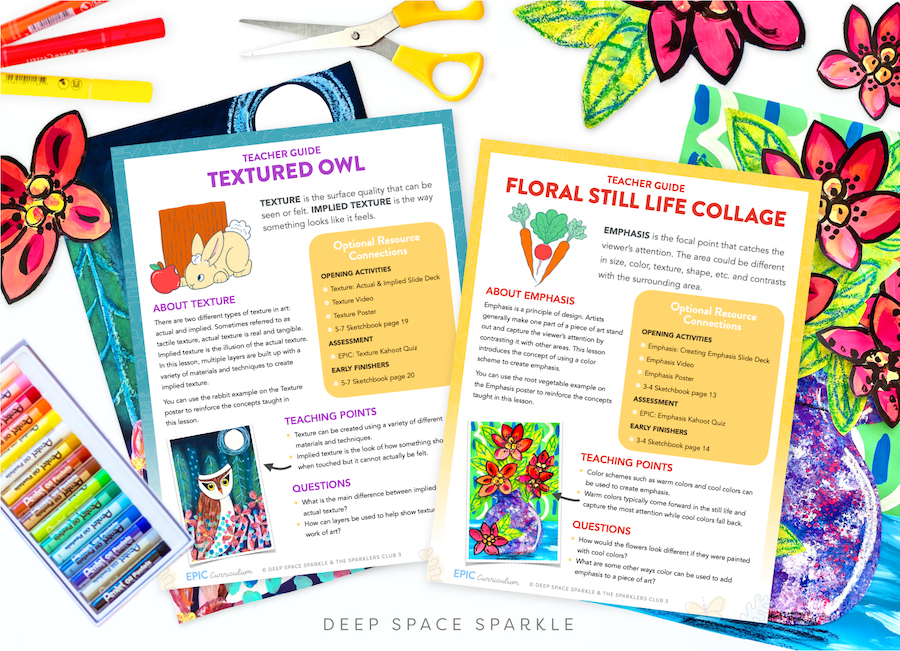 Within each lesson, we've included a suggested list of opening activities, resources and early finisher activities that pair perfectly with each lesson. Whether you choose to use one or use them all, the best part is that they're all included with the curriculum. There's no need for you to search elsewhere for any content, just pick and choose what works for you and your students.
SKETCHBOOK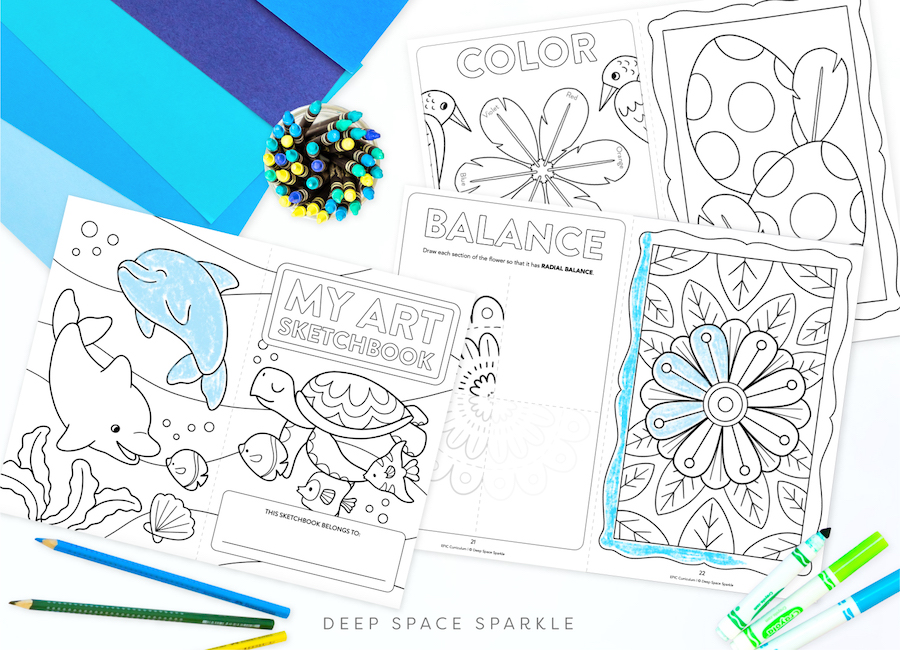 The printable sketchbook gives students both a place and opportunity to not only record their learning about each element and principle before beginning the lesson, but also a chance for reflection.
With a page of guided note-taking and prompts, plus an open-ended page for early finishers for each element and principle, this is the perfect bookend to a successful lesson.
We've also included a teacher's manual for the sketchbook with additional activity ideas for the sketchbooks and helpful information for using them with students. Imagine flipping through an entire year of learning all within one beautiful sketchbook.
SLIDE DECKS & TEACHING VIDEOS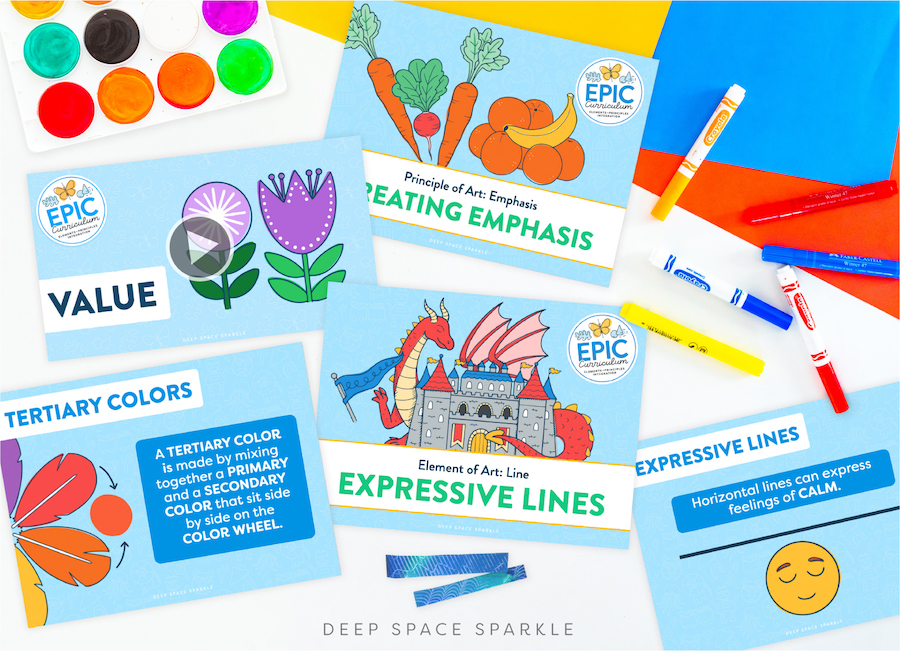 Gone are the days where you spend hours scouring YouTube or crafting slide decks to introduce a lesson for your students. We've created slide decks and teaching videos specifically for the curriculum that match perfectly with each lesson and concept and can serve as an introduction to the lesson in five minutes or less.
The teaching videos are designed to be a quick hook to introduce your students to the element or principle being taught. The slide decks are separated into sub-categories, based on the element or principle.
If you'd like to check out the EPIC curriculum for yourself, join the waitlist for the Sparklers' Club HERE. Enrollment will be starting soon!
---
FREE LIVE ART TEACHER TRAINING – 3 Must Have Strategies for a Stress Free Art Program
Join me for a free workshop to explore different preparation techniques so you can get to the level of calm and consistency you crave (while still leaving a bit of space for art room magic).