Have you ever started a project using colored pencils where students rushed through their work and end up with scribbles instead of a nice, evenly colored space? If so, then this video tutorial will help you encourage your students to slow down and relax into their work by teaching them a few simple techniques for success with colored pencils.
I'm going to give you a few tips and tricks to make using colored pencils a calm and peaceful addition to your art room.
Watch a quick video tutorial here…
Click the yellow button below to DOWNLOAD the free drawing handout for the coloring pages, as well as the March Freebie Pack. Just add your name and email and we'll send it straight to you!
WHAT YOU'LL NEED:
Coloring pages
Colored pencils
THE LADDER METHOD
To help avoid scribbling, especially with your students, I teach them the ladder method. The ladder method can help give students a bit more structure and focus and make their coloring more efficient.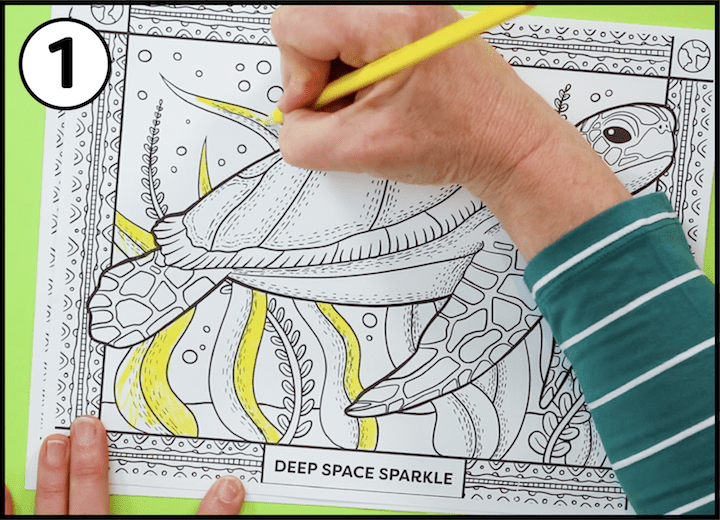 Choose one colored pencil and pick a shape to begin coloring in. Start at the top of the shape and color in a small section from left to right, like a thick stripe. Move down, like you're stepping down to another rung on the ladder, and repeat. Continue until you fill in the entire shape.
PLANNING YOUR COLORS
It can eat up a surprising amount of time if students switch their color each time they come to a new shape; especially if they're sharing materials with others.
Instead, I encourage students to use a bit of planning in their color strategy. If they use yellow first, encourage them to look at their picture and color in everything on their page that will be yellow first. Then they can move on to another color and repeat the process.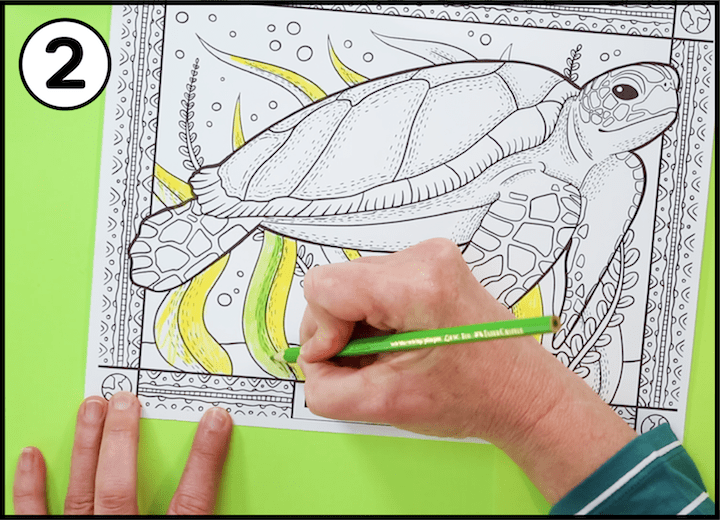 This avoids excessive time spent looking for certain colors and waiting for others to finish using those colors. It also helps students to focus and start thinking of their artwork as a whole.
ADDING DETAILS
Small detailed areas can be tricky to color in and it can take a long time to color around details, like the spots on the turtle.
Instead of coloring the details first and then adding the background color, which is typically what students want to do, I encourage them to color the background first.
Choose the color for your background first, then color the entire section (including the details). After the background is colored, then choose another color to layer on top for the details.
ADDING FORM
Colored pencils are great for their ability to layer and produce lots of values. Value is the lightness or darkness of a color. Using both light and dark values can help give the look of form, or being three-dimensional which helps make your artwork look more realistic.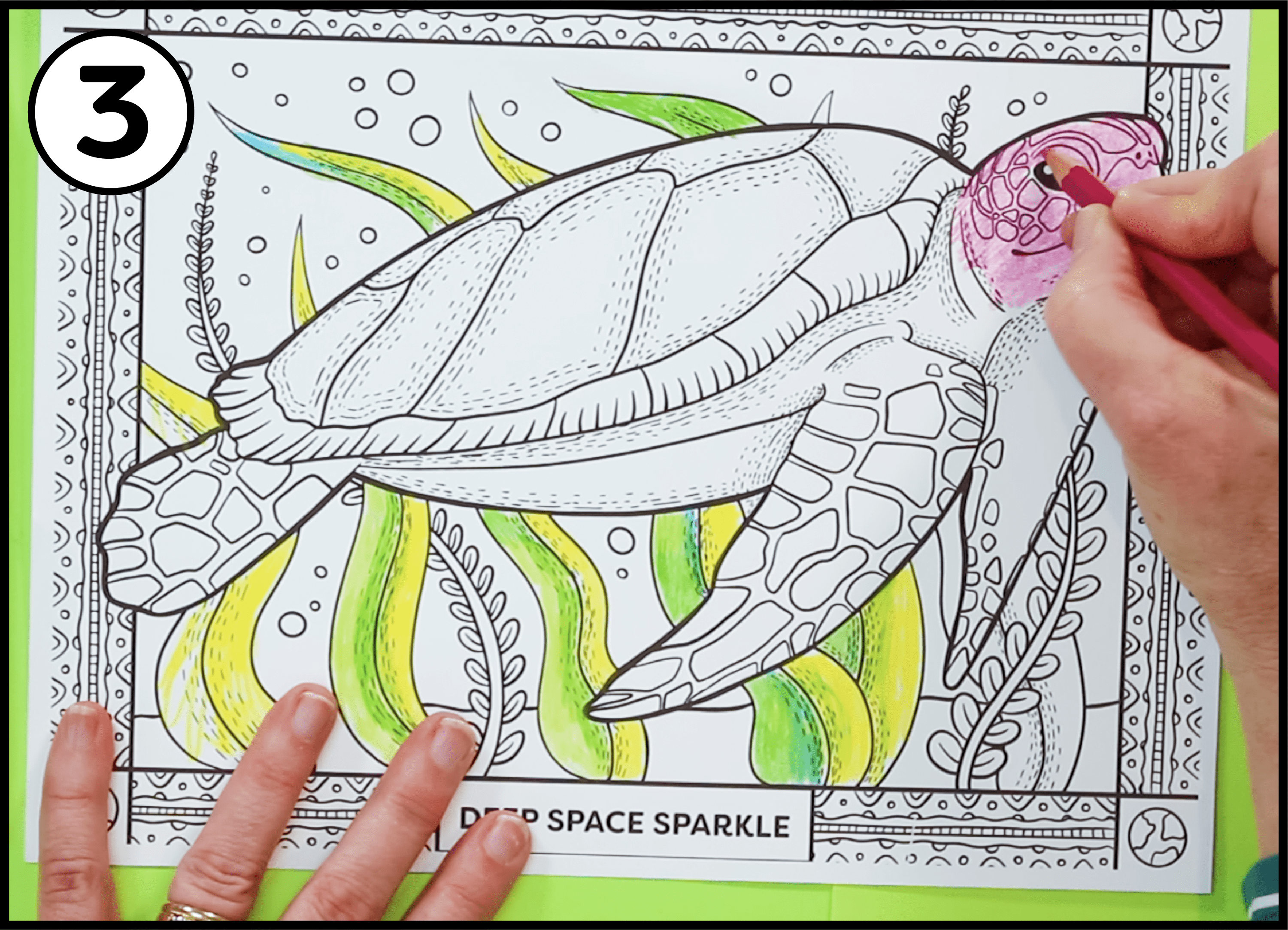 To add form, choose some areas to add darker colors to. Think of where shadows might be, on one side and underside of an object. You can either layer a darker color over top of you can press harder with the same color to produce a darker value.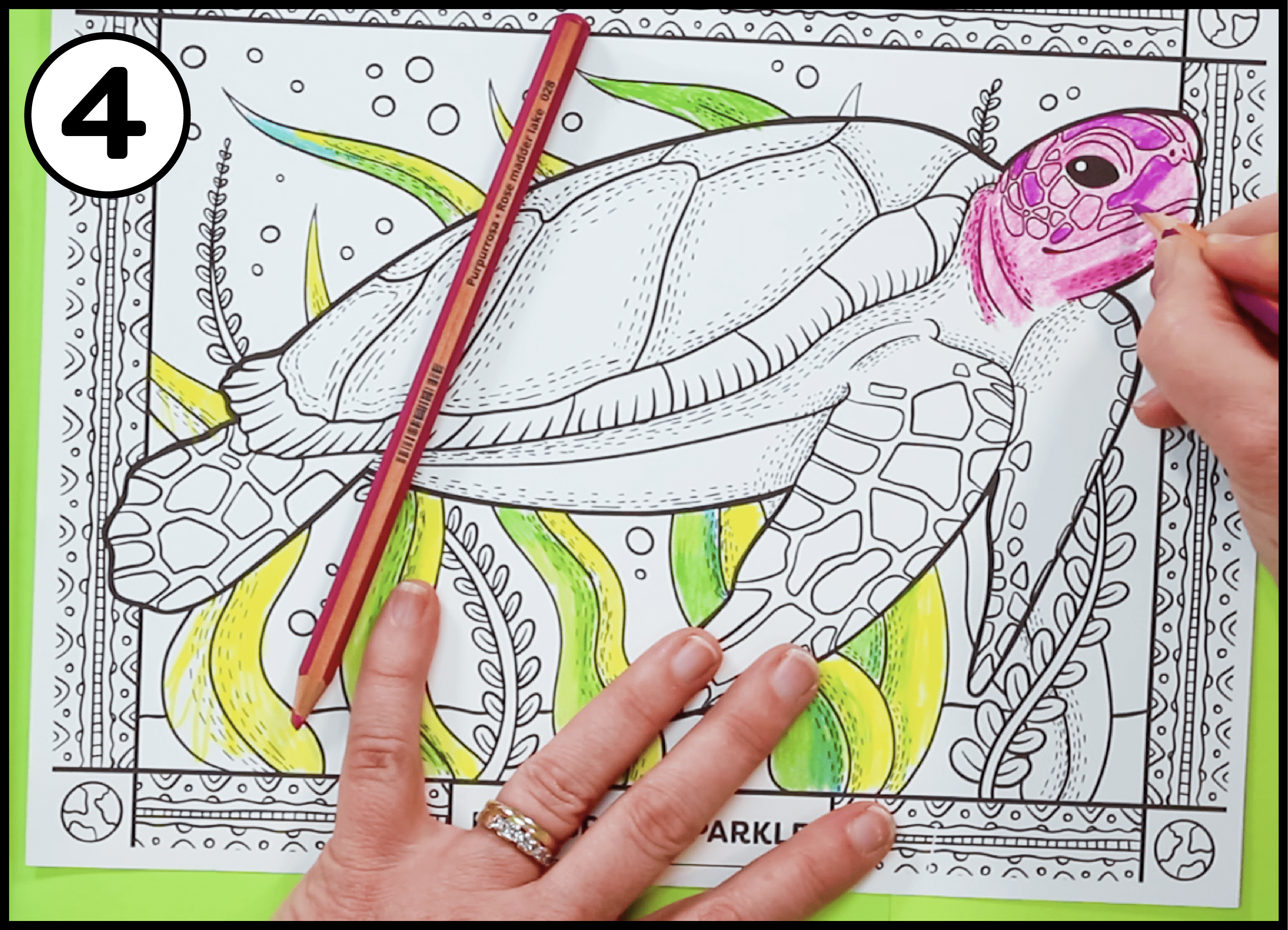 Don't know where to add value? We have you covered! Look for the areas with dashes on DSS Coloring Pages.
With these simple tips, your students are bound to find more relaxation, joy and success while using colored pencils. You might be tempted to jump right in and join them!
Have you done this lesson? I'd love to hear how the instructions worked for you or if you've tried a new technique using colored pencils
I created a detailed instructional video within the Sparklers Membership Club where you can also get more detailed lesson plans including National Core Art Standards, Assessment Checklists, full length instruction videos and plenty other art lessons plans to choose from.
For more information on joining, sign up to our waitlist HERE.
Click the button below to DOWNLOAD the March Freebie Pack for more fun art lesson you can use this month!